U.S.: Why Rising Pay Isn't Courting Inflation
by
Is inflation creeping back into the picture? Several recent developments make you wonder: surging gold prices, higher commodity prices, anecdotal evidence of shortages of skilled labor, and last year's increase in core inflation, which excludes energy and food. True, the rise was small, but it was the first in five years.
For the surest tips on price pressures, look to the labor market, since labor makes up some 70% of the cost of producing U.S. output. Although the latest data are a bit old (delayed by the prolonged government shutdown), the trends in wages and benefits, productivity, and unit labor costs support the view that consumer prices will grow by 3% or less in 1996 for the fifth year in a row.
At the same time, increased labor demand, especially for skilled workers, and past productivity gains mean that, after a decade of stagnation, real wages are growing. The gain in buying power will lift consumer spending, if at a modest pace. The bad news for consumers is that slower economic growth means that companies eager to maintain their profit surge of recent years will continue the "rolling downsizings" that have become a fixture in this economy. And lower-skilled workers will still struggle.
THE LABOR DEPT.'S employment cost index is signaling that all is quiet in inflation's corner (chart). The fourth-quarter ECI for all compensation rose 0.9% from the third quarter, and for the year it was up only 2.9%, a record low. That growth rate was slightly below 1994's 3% increase, and it marked the sixth consecutive year of downtrend.
Last quarter's advance was pushed up by a 1.3% jump in benefits costs. That increase reflected payouts of bonuses, which are becoming a more widespread form of compensation, and a reversal of the recent downtrend in the pace of health-care costs. Still, health-care inflation is the lowest in more than two decades, and overall benefits were up only 2.8% for the year, also a record low. Straight pay in the form of wages and salaries rose only 0.7% last quarter, the same as in the two previous quarters, and it was up 2.9% for the year.
Of course, some occupations are garnering bigger raises than others. White-collar employees, particularly those in executive and managerial positions, did better than blue-collar employees last year. Although the Labor Dept. does not break out cost indexes for specific jobs, this split offers some evidence that higher-educated, better-skilled workers are in hot enough demand to command higher wages.
This cost pressure has not escaped the attention of that bastion of inflation-fighting, the Federal Reserve. In the past two beige books, the Fed's roundup of regional economic activity, the central bank has noted the spot shortages of skilled workers and the effect on wages.
One result of this imbalance is that average wage growth is outpacing inflation. Using the Commerce Dept.'s new chain-weighted price index for consumer spending, real wages have been increasing steadily since 1993 (chart). The index is a better cost-of-living measure than the consumer price index because it is not based on a fixed basket of items but allows for changes in spending patterns.
THE CLEAR UPTREND in real wages, along with profit growth that has gone from spectacular to still respectable, all within a period of low inflation, seem at odds with each other. Usually this far into an expansion, these trends begin to fight each other. Higher productivity growth is about the only explanation for this ongoing harmony.
That's why the Labor Dept.'s recent downward revision to productivity growth seems so counterintuitive. The new data on output per hour worked in the nonfarm sector, which currently run through the third quarter of last year and mainly incorporate the Commerce Dept.'s chain-weighted measure of national output, show productivity growth in this expansion of only 1.4% per year, vs. 2.2% for the old data. That's well below the average pace for recent expansions. More startling, productivity growth over the past two years, using the new numbers, drops to a mere 0.9%, from the 2.6% originally thought (chart, page 28).
The key implication here for the inflation outlook is that the annual pace of nonfarm unit labor costs, instead of rising 0.3% over the past year, as the old data showed, is now reported to have increased by 3%, and that 3% is a steady acceleration from a 1% annual growth rate a year earlier. In the old data, the pace of unit costs had been lounging generally below 1% for the past two years.
Unit labor cost, which is the cost of producing each unit of output, acts like a floor under prices. The new productivity numbers suggest that, despite still-modest growth in wages and benefits, there's more inflation potential in the labor markets than the old data implied.
THE PROBLEM SEEMS TO EXIST more in the productivity data than it does in reality. The new chain-weighted output numbers will probably be shown to understate output growth when Commerce makes further revisions later this year, and even then, productivity in services remains extremely difficult to measure.
For example, one little-recognized statistic from the productivity revisions is that, during this expansion, productivity in the manufacturing sector, where output is easy to count, was actually revised slightly higher in the new data--3.5% per year, vs. 3.4%. But it was the factory sector that took the biggest hit in the downward revision to output. As a result of still-strong productivity growth, unit labor costs in manufacturing are actually falling.
One thing that the factory productivity data ignore, however, are the shifts in today's labor force. Hours worked in the factory sector are probably understated because the total does not include the thousands of temporary or contingent workers who are on the factory floor but not the factory payroll. Instead, these workers are considered employees of temporary-help agencies, which Labor classifies as a service industry.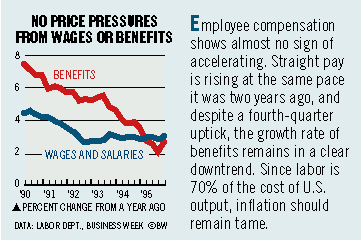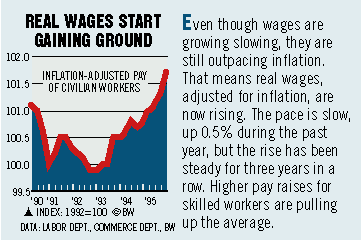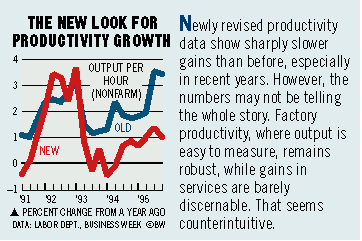 That and other measurement problems are reasons to question the implication that service-sector productivity during this upturn appears to have grown at an annual rate of little more than 0.6%. That result hardly seems believable, given the technology-driven substitution of capital for labor in various service-sector industries.
Technology can only go so far toward getting the product out, though. Businesses need knowledgeable workers to understand and run the sophisticated machinery appearing in offices and factories today. At this late stage of the expansion, companies will have to be willing to shell out more money for scarce, high-tech skills. But if the result is greater productivity, bigger paychecks will not automatically trigger higher inflation.
Before it's here, it's on the Bloomberg Terminal.
LEARN MORE