The Chemistry At Eastman Chemical
by
Merger mania has yet to hit the chemical industry in a big way. But that may change, say some buyout investors who have been loading up on Eastman Chemical (EMN), a worldwide producer of plastics, chemicals, and fiber products. These pros are betting on whispers that Dow Chemical (DOW) and Germany's Hoechst are in the market for an acquisition--and Eastman Chemical is the prey.
Eastman's stock doesn't yet look like the company is in anyone's gunsight. At 68, the Big Board stock is a shade below its September, 1995, high. So far this year it's up about 6 per share, or 9%, keping up with the market. One analyst values Eastman at 90 to 100 a share in a takeover, based on solid earnings and a broad portfolio of products. Formerly a division of Eastman Kodak (EK), the company, headquartered in Kingsport, Tenn., was spun off to shareholders on Dec. 31, 1993, as the photo giant tried to rid itself of businesses unrelated to photography and imaging.
One investment manager who has been accumulating Eastman shares sees a "very natural strategic fit between Eastman and the rumored suitors." Dow Chemical, the nation's second-largest chemical company, produces basic chemicals as well as plastics and household, drug, and agricultural products. Dow, which continues to be plagued by lawsuits over silicone breast implants manufactured by its 50%-owned Dow Corning unit, is looking for new growth through acquisitions in its core business. "Eastman Chemical is one of the companies Dow is looking at," adds this money manager.
Hoechst is pretty much in the same lines--chemicals, agricultural products, and pharmaceuticals, and it has acquisition experience: In the mid-1980s, it acquired Celanese. The $8 billion or so it would take to acquire Eastman would not be a problem for either of the deep-pocketed giants.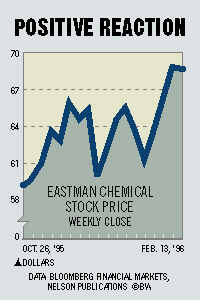 This manager thinks even at 90 to 100 a share, Eastman isn't expensive considering its strong earnings growth plus "management's effective and productive performance." He doesn't believe Eastman is looking for a buyer but that an offer of 90 to 100 may prove irresistible. In 1995, the company earned $559 million on $5 billion in revenues, or $6.78 per share, a 67% per-share gain over 1994. So far, 1996 earnings forecasts are not much higher than 1995's. But in 1997, analysts figure, earnings should show a neat rise (chart). Spokesmen for Eastman and Dow Chemical declined comment.
Before it's here, it's on the Bloomberg Terminal.
LEARN MORE