Saddam May Snatch Yet Another Victory From Catastrophe
by
Is Saddam Hussein about to come back to haunt the West? In the five years since his humiliating 1991 defeat at the hands of the Persian Gulf war coalition, the Iraqi dictator has been kept under tight control through a trade embargo and diplomatic isolation. But at the same time, awareness has grown in the outside world that many of the 20 million Iraqis are paying a huge price for Saddam's sins. Iraq's inability to finance imports is leading to widespread malnutrition and other severe public health problems.
Now, Saddam is attempting to turn this impending human disaster into a victory for his embattled regime. In late January, Saddam indicated that he was willing to consider the one partial lifeline left to him by the U.N. Security Council: permission outlined in Resolution 986 to sell $1 billion worth of Iraqi oil every three months under strict, almost vise-like U.N. controls. The money would go into a U.N.-controlled escrow account and could only be used by Iraq for humanitarian purchases such as food and medicine. Thirty percent of the revenues would go to pay war claims, and an additional $130 to $150 million each quarter would have to go to the Kurdish areas in northern Iraq. Saddam--looking for a total end to the U.N. embargo--had always rejected such plans as a violation of Iraq's sovereignty.
GUNFIRE. But there are signs he has changed his mind. The Iraqi delegation negotiating with the U.N. in New York seems serious. And Saddam is preparing Iraqis for an oil sale. The Iraqi press has proclaimed that a deal would represent a great victory for Saddam and a humiliation for the U.S. Anticipating a shift, jubilant Iraqis hit the streets in Baghdad, firing off guns, and the battered Iraqi dinar soared against the dollar. Shipping oil would "open a psychological barrier," says Christine M. Helms, an Iraq specialist at Washington's Petroleum Finance Co. "It would give Saddam a new lease on life domestically."
That's one reason why the return of Iraq to oil markets--even in a limited form--is fraught with risks for Washington and its allies. The U.S. and key Arab states like Jordan, Kuwait, and Saudi Arabia grudgingly support the oil sales for humanitarian reasons--and as a way to bankroll the hard-pressed U.N., which would use part of the proceeds for costly weapons-monitoring operations inside Iraq. Also, a weakened Iraq able to sell some oil is preferable to the complete, Bosnia-style breakdown of a country that has long been a buffer against Iran.
But it may be hard to draw the line at limited sales. The French and the Russians, who have long been trying to bring Iraq back into the market, may take any deal as a cue to push for more. At the same time, it will be hard to cut off the flow if Saddam misbehaves. Turkey, which will receive fat transit fees from Iraqi shipments, will resist any cutoff. So will Egypt and other key developing countries that are disturbed about the deteriorating conditions in Iraq.
Even limited sales will whack the oil market. John H. Lichtblau, chairman of the Petroleum Research Foundation in New York, reasons that the impact of 700,000 to 800,000 barrels a day of Iraqi oil suddenly coming to market would cause a "significant" decline in prices of $2 to $3 a barrel. That would be unwelcome news for Saudi Arabia, which is still struggling with $100 billion in domestic debt. But the real fear for the Saudis and other gulf states is that Iraq will eventually find a way of getting its production back to its prewar 3 million-plus barrels per day.
More disturbing for the U.S., Russia is emerging as a wild card in the Iraqi game. Signs point to Russia pursuing a much more assertive policy in the Middle East under new Foreign Minister Yevgeny Primakov--one of the former Soviet Union's key Mideast experts. "We've come to the conclusion that Iraq's policies and conduct comply with the demands of the U.N. Security Council resolution," says Viktor A. Kremenyuk, deputy director of Russia's U.S.A.-Canada Institute. "We think it's high time to end the embargo."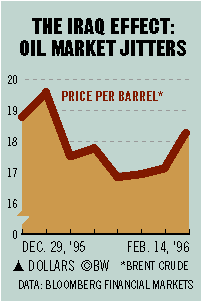 The motive is partly economic: Russia wants to see repayment of Iraqi debts of $7 billion and give a boost to its arms and energy industries. Russian oil giant Lukoil, eager to put down stakes in the Persian Gulf, is behind a recent $10 billion agreement to rebuild Iraq's damaged oil industry. France's Total and Elf Aquitaine also have Iraqi deals lined up.
But there is a political component, as well. The view in Moscow is that Russia has given up too much of its global clout, especially in the Middle East, where it once rivaled the U.S. Russia is already letting the West know that a projected expansion of NATO into eastern Europe could result in Russia's unilaterally lifting the Iraq embargo.
So, battered as he is, Saddam is still a thorn in America's side. Few envisioned such an outcome five years ago, when the gulf war ended with the allies deciding not to go on to Baghdad.
Before it's here, it's on the Bloomberg Terminal.
LEARN MORE