Reebok Is Tripping Over Its Own Laces
In the teen market, it keeps stumbling after Nike
Geoffrey Smith
For Reebok Chairman Paul Fireman, stealing Jack Steinweiss from Fila Corp. last March was the high point of an otherwise lousy year. As creator of Fila's Grant Hill shoe--a best-seller endorsed by the Detroit Pistons' star--Steinweiss was hot. With sneakers from Reebok International Ltd. losing favor among teens, Fireman counted on Steinweiss to recapture part of the youth market dominated by Nike Inc.
But by yearend, Steinweiss had become one more in a long list of problems facing the Stoughton, Mass., company. After just nine months, the star designer returned to Fila. Steinweiss says he left because he had little influence over new products--a complaint that goes to the heart of what ails Reebok. With development hobbled by massive management turnover, high-level infighting, and strategic blunders, Reebok has stumbled repeatedly.
The result is a sneaker company's nightmare. Teenage boys account for a 20% slice of the $6.8 billion U.S. athletic-shoe market. Rival Nike's popularity among teens helped propel its share of the overall market from 31% to 37% in 1995, while Reebok slid two points, to 20%. As a result, Reebok's sales rose just 6%, to $3.5 billion in 1995, while income sank 35%, to $165 million; this year, analysts expect Reebok's sales to grow an anemic 4%, to $3.6 billion. Meanwhile, analysts expect Nike's sales for the fiscal year ending in May to jump 24%, to $5.9 billion, while earnings should rise 27%, to $508 million.
Running behind Nike is nothing new to Reebok. But the current problems are its toughest yet, and Wall Street is losing faith in Fireman, who gained control of Reebok in 1984. Last summer, big shareholders called for his ouster. After he rebuffed his critics, many sold out. Since April, Reebok shares have sunk 25%, to 28. "Fireman is a classic case of a guy who starts a business well but can't run things at a later stage," says shareholder activist Nell Minnow of Lens Inc.
Fireman, who holds a 14.5% stake, declines to comment. But he seems to have backing from a board dominated by local executives. "Reebok's record over the last 10 years has been phenomenal," says director Geoffrey Nunes, general counsel to chemical purification outfit Millipore Corp. "There's no reason to think Paul is not as capable today."
Reebok's current ills began in 1993, when Fireman backed a poorly conceived attempt to take on Nike's dominance of professional sports and the men's performance sneaker market. Until then, Reebok's popular aerobics shoes and a reputation for comfort allowed it to reign over women's sneakers. But slowing growth convinced Fireman that Reebok needed stronger shoes for men and boys, and he tapped Roberto Muller, the former owner of rival shoemaker Pony Sports & Leisure, to help.
To its credit, Reebok has since built a high profile with athletes. Among its star endorsers are Orlando Magic center Shaquille O'Neal and Dallas Cowboys running back Emmitt Smith. Reebok shoes will also be worn by 3,000 athletes at the Summer Olympics. And it has developed a big name in soccer shoes abroad, giving Reebok an international business that rivals Nike's.
LIGHTNING ROD. But the gains pale in comparison to problems created by the shift. Costs soared: Sales, general, and administrative expenses rose to 32.7% of revenues in last year's second quarter, up from 24.4% in 1991. And former and current executives say the push to create shoes for pro athletes generated huge internal strife. Says one: "In military terms, we took our objective but left our soldiers dying on the battlefield."
Inside Reebok, Muller became a lightning rod for controversy. As Reebok's co-president, the strong-willed executive ruled over product development and design. He ordered dozens of high-performance sneakers at a rapid-fire pace. But one group of managers, led by fitness division head Edward Lussier, argued that Muller wasn't producing innovative designs but simply copying Nike. After Lussier left for Adidas in 1993, the battle continued. Last year, 50% of Reebok's design staff left, along with other marketing and product development managers.
At the same time, Muller took Reebok out of the top of the market, where prices run from $100 to $130. He argued that Reebok could make high-quality sneakers to sell for less than $90. But the move backfired badly when the market for top-dollar sneakers surged in 1994. Reebok had no flashy high-tech models, while Nike cleaned up with its Visible Air shoes, which sport a see-through air bubble under the sole.
The upshot: Even as Reebok spent millions signing athletes to draw teenagers, it had no strong products to sell them. Instead, the effort to quickly churn out dozens of different shoes for many sports resulted in average-looking shoes that excited no one. "Reebok completely missed the market," says Ken Crystal, owner of Crystal's of Boston, a shoe store catering to urban teens.
Meanwhile, former managers say Fireman was barely aware of the infighting. "He was in and out," says a former top aide. When he was around, they complain he focused on a pet project, the InstaPump shoe. But the shoe, which needs a hand-held pump to inflate, hasn't caught on, further draining resources.
With problems mounting, John H. Duerden, Reebok's marketing head and co-president, pushed Fireman to name him CEO last spring. When Fireman refused, Duerden quit. Three months later, Muller also left under pressure.
The turmoil helped sour Reebok's relations with Shaquille O'Neal. He was so upset with the shoes Reebok made for him--and the ineffective promotional job it did--that he shopped for a new contract last summer. Reebok Marketing Vice-President Peter Moore admits that relations with Shaq are "like the Cold War." O'Neal's agent, Leonard Armata, says they're now "working fastidiously to reach a new accord."
MIXED REVIEWS. But the Cold War may be Reebok's easiest problem to solve: Shaq is far happier with this year's new psychedelic Shaqnosis model. Although shareholders called for a strong outside CEO last summer, Fireman named longtime confidante Robert Meers--who ran the Reebok Brands Div. before Duerden and Muller--to the job in November. Fireman also put himself in charge of product design.
The results of Fireman's work won't show until 1997. In the meantime, retailers have given mixed reviews to Reebok's 1996 shoes. To gain a march on Nike, Reebok plans to launch its new Vishex shoe this fall. Featuring a honeycomb-celled air bladder, it's the cornerstone of Reebok's return to the high-price, high-tech shoe category. But Charles Gore, vice-president for merchandising at Herman's World of Sporting Goods, worries that teens might see the me-too air approach as a gimmick. Even Meers concedes that Reebok is unlikely to gain significant share this year.
"FLAGELLATION." In the meantime, Fireman has some unorthodox methods for revitalizing the company. A follower of EST, Fireman last year hired a consultant with techniques rooted in the controversial therapy. The purpose: to provide three-day "leadership training" sessions to 500 Reebok managers. One exercise: writing to the person you hate the most in the company and reading it publicly. Says one executive: "There's crying and anger, and you commit to a team effort."
Not everyone likes the sessions; one former executive dismisses them as self-flagellation. "You can't tell the chairman it's garbage," he says. "The rest of the company had to grin and bear it." Still, several managers say once tense communications have improved. "It sounds like Business 101, but we've gotten people to talk the same language," says Dan Dobrzynski, Reebok's vice-president for advanced products and processes.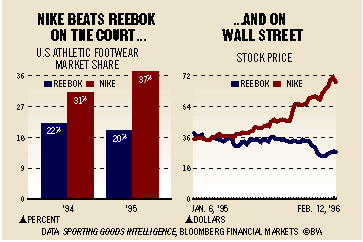 Other changes are more traditional. Late last year, Meers stripped Reebok's marketers of control over design. Designers and manufacturing experts now work together on product-development teams--and Reebok marketers simply sell what they're given. A plan to cut $75 million in costs was completed last September. Reebok also recently took a $49 million charge to sell its underperforming Avia women's shoe line. New ads meant to clarify Reebok's muddy image have also been launched.
So far, outsiders remain unimpressed. "They're playing catch-up," says Smith Barney Inc. footwear analyst Faye Landes. And Glenn Greenberg, managing director of Chieftain Capital Management, which sold 4.5 million Reebok shares in November, says he has completely lost confidence. "Reebok is like a fish flopping around on a deck," he says. With reviews like that, Fireman's tough times look far from over.
Before it's here, it's on the Bloomberg Terminal.
LEARN MORE