Japan Turns A Corner
Carmakers come on strong around the globe
Edith Updike
Last spring, the mood at Nissan was dismal. Like all of Japan's auto makers, the company was suffering from a rising yen, falling sales, and a looming trade war with the U.S. Breaking a long-standing taboo, Nissan Motor Co. shuttered its Zama assembly plant near Tokyo. To cut payrolls, Nissan dropped the minimum age for "retirement" buyouts to 30, and some 1,600 employees took the offer. "We experienced heaven and hell in only three years," sighs Tadao Takei, a Nissan executive vice-president.
Now, however, Nissan is emerging from the depths. The yen has softened dramatically, and the Japanese economy is growing again. The auto trade war has faded away, and Nissan expects to show a profit this fiscal year, after three years in the red. "The recovery we expected in 1995 will actually happen in 1996," says a relaxed President Yoshifumi Tsuji. As usual, the superficial calm conceals the real feeling. Nissan executives, one analyst says, "are really excited" by their profit rebound.
READY, SET... All of Japan's auto industry, in fact, is set to surge back after the rough ride of the early '90s. From the years of pain and retrenchment, Toyota, Nissan, Mitsubishi Motors, and Honda are emerging as a globally competitive Big Four. Although survival mergers were widely predicted, not one of Japan's 11 vehicle manufacturers has gone bankrupt or been taken over. Instead, the second-tier players are hanging on by allying themselves more deeply with bigger players or by focusing on narrower market segments. A still-troubled Mazda Motor Corp., for example, is narrowing its product range to survive, perhaps under Ford Motor Co.'s wing.
The winners will be impressive competitors. They've succeeded at cutting payroll fat through attrition and buyouts, leaving muscle largely untouched. New leaders and ideas have invigorated management's top ranks. Design is faster and more creative, and manufacturing is more efficient than ever. If the yen averages 105 to the dollar this year, that could double the industry's pretax income, to $8.5 billion. Revitalized profits will help the Japanese hold the line on prices worldwide and in some cases cut them.
New products with attractive pricing are at the core of Japan's strategy. In the U.S., the Japanese will push deeper into such longtime Detroit sanctuaries as minivans, sport-utility vehicles, and full-size pickup trucks. Toyota Motor Corp. is rolling out its RAV4 mini-sport-utility vehicle this month, starting at about $15,000, to compete with the Geo Tracker and Kia Sportage. A redesign of the popular Camry is expected to hit U.S. showrooms this fall, with a price cut of about $1,500 from the prior model's base of $17,000. Toyota's full-size T100 pickup, priced around $14,400, meanwhile, will issue from a new Indiana factory in 1998.
In luxury models, where sales have been soft, Nissan will offer a more aggressively priced Infiniti Q45 later this year, grinding down development costs by recycling its popular Cima model from Japan. It will come in well below today's $53,500 model. Meanwhile, Honda Motor Corp.'s new $12,400 Civic sedan, launched last fall with a 1% price increase, is already America's best-selling small car, ahead of General Motors Corp.'s Saturn and Ford's Escort.
The Japanese push is global in scale. Japan's carmakers are now multinationals, not simply exporters. The new cars increasingly are assembled in North America, Europe, and Asia and designed for local tastes. Mitsubishi has just begun assembling the Carisma sedan, with a price tag of about $20,000, in the Netherlands. In Asia, Toyota is tailoring more products specifically for emerging markets, such as its wildly successful Kijiang sport utility in Indonesia. Japanese makers have about 90% of the booming Southeast Asian market, a base that makes them more powerful globally.
LEAN AND MEAN. In short, Japan is about to offer U.S. makers a new level of competition in all their important markets. Detroit has begun complaining that the yen's softening, from about 80 to the dollar to about 105--some 30%--is tilting the playing field. "We think it's hurting us because it gives the Japanese an opportunity to take more profits or reduce prices," said David N. McCammon, Ford's treasurer. Already facing price resistance, Ford in early February began offering cheaper versions of its newly redesigned Taurus.
Japan is doing more than merely taking advantage of currency swings, however. Carmakers have taken countless incremental steps to transform themselves. The Japanese models appearing now are the first to benefit from years of effort to strip out unnecessary parts and costs. The process, called "lean design," will increasingly allow Japan to hold prices flat or reduce them. Moreover, Japan's companies have continued to make strides in speeding up and improving their manufacturing cycles. "The Japanese have already shown signs of recovery, and it will escalate during the balance of the decade," figures Christopher W. Cedergren, senior vice-president at AutoPacific Inc. "We haven't seen the Japanese fully launch new products on their new lower-cost base."
Aside from driving down costs, global manufacturing bases increasingly will insulate the Japanese from currency swings and dissipate the threats of trade sanctions. Last year, Japan's offshore production surpassed exports for the first time (chart, page 108). If Toyota achieves its target of assembling in North America 92% of the vehicles it sells there, the threat of tariffs from Washington will ring hollow.
In this third wave of Japanese auto competition, there are important differences from the past. Unlike in the 1970s, when their fuel-efficient cars stormed in, or the 1980s, when they moved into larger cars, the Japanese are not reaching for big gains in market share. Now holding 22.9% of the mature U.S. market, the most bullish assessment at the moment is that Japan will gain a point or two in overall share, partly because of the new offerings in sport utilities, vans, and pickup trucks. "We're saying: `Just keep our market share,"' comments Motoo Suzuki, executive vice-president at Mitsubishi Motors. "It's that kind of era." For now, Japan's emphasis will be on profitability.
The home market is also different than before. The days when Japanese consumers would pay anything for their cars are long gone. U.S. and European rivals are attacking the Japanese market, making modest gains. But a loosening grip on their domestic market is a price Japanese auto makers are willing to pay to mitigate trade friction, and the pain is softened by the fact that a quarter of last year's 380,000 imports by Tokyo came from Japanese plants abroad. Honda and Toyota have emerged as the largest exporters of North American cars, about half of which are headed for Japan. These "reverse imports" narrow trade deficits as measured by governments while allowing the manufacturers to continue expanding globally.
FUN FARE. Clearly, the Japanese carmakers will retain huge advantages in their home market. That's partly because they are ahead of foreign rivals in responding to newly finicky Japanese consumers, who now want unique niche models. Reflecting a boom in lifestyle products, consumers are demanding fun cars, such as Mazda's Bongo Friendee, which has a pop-up tent top for extra sleeping space on camping trips. Just as Americans changed years ago, Japanese customers have moved away from plain-vanilla sedans to "recreational vehicles," a category that in Japan includes station wagons, vans, and sport utilities. That began a wave of new designs.
Mitsubishi scored first with its Pajero sport utility in 1991. Some thought it a passing fad. Pajero and Toyota's Land Cruiser had been around for years without big sales. But today, recreational vehicles account for an incredible one-third of Japan's market, and all the makers have scrambled to redesign old models and design new ones. Toyota came out with a remodeled 4Runner, as well as the RAV4 and Previa minivan. Honda built the Odyssey minivan and the CR-V sport-utility vehicle.
None of these has yet produced a hit in the U.S., but they are helping hone Japanese marketing skills. Toyota is predicting sales of 40,000 to 80,000 of the RAV4. But it will be a test to see whether the small, underpowered vehicles meet U.S. tastes.
Honda's Odyssey is another experiment. In 1990, Honda set out to create a new "Chrysler-type" minivan from scratch. It brought Yasuaki Asaki from its Formula One race team in London back to Japan to design a 3-liter V-6 engine. But a year into development, the Japanese economy tanked, so Honda had to make do with the Accord's engine. Asaki fiddled to boost the horsepower from 135 to 145 and increase the torque. Although not as good as a newly designed engine, the switch allowed Honda to get its minivan in the showroom quickly--and at a lower development cost.
Overall, once Japanese engineers focused on costs, they quickly learned to improve performance while using cheaper, simpler parts that could be shared among models and fit into existing lines. The trick is cutting without completely "decontenting." Toyota execs learned a tough lesson when their remodeled 1995 Corolla bombed in Japan. Honda did better with its latest Civic, but some obvious features such as the cassette player and ashtray are gone nonetheless. "They're trying to reduce costs, but it's hard to squeeze blood from a turnip," says David Cole, director of the Office for the Study of Automotive Transportation at the University of Michigan. "The risk is that you cut back on the value the customer is looking for." The models rolling into world markets now seem to show a better balance between design and cost.
BROAD BASE. New management blood is also quickening Japan's comeback. The most notable example: Toyota's new president, Hiroshi Okuda, who was pulled from his post as vice-president for finance to energize Toyota's bureaucracy with his bolder, decisive style. "He has been making decisions quickly and set us really challenging targets," says Managing Director Fujio Cho.
Japan's companies also are starting to reshape middle management with incentives stressing merit. Honda, which has a large proportion of workers aged 45 to 55, is phasing in a new system over three years. Last year, roughly 15% of employees got higher-than-expected bonuses, and 15% got less. From 1997, managers at each level will have a fixed tenure, after which it's up, out, or down to part-time. None of these moves is revolutionary by U.S. standards, but the results will improve management over time.
Are U.S. auto makers ready for a new era of stiffer Japanese competition? In many senses, yes. For years, Big Three executives have been repeating the mantra: "Don't count the Japanese out." Detroit possesses heftier war chests than in previous battles, and Chrysler in particular has done well in stripping out costs. At a minimum, the breathing period these manufacturers have enjoyed because of the superyen is ending. That comes at a time of softness in sales and will clearly put pressure on profits.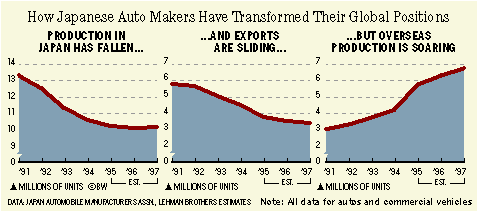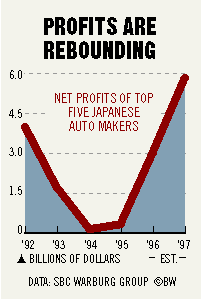 The greater risk, however, is that Detroit hasn't quite grasped the incremental nature of what its Japanese rivals have achieved nor understood Japan's new global reach. Japan's Big Four will be challenging from a much broader base this time, offering a complete family of products. Deeply rooted in the U.S. heartland with their manufacturing operations, they also will be able to win political protection in Washington. And they will be taking advantage of their ability to react more quickly to changing markets. Toyota, for example, has driven down its development time to 18 months for some models.
In a sense, the Japanese auto makers have come of age. The bold grabs for market share that terrorized Detroit in the past are giving way to a quest for profits instead. Problems from too much manufacturing capacity at home and low white-collar productivity will continue to dog the Japanese. But with earnings on the rise, they will have time and money to solve those problems. As the Japanese carmakers rev up around the world, they are securing their positions in the next round of the global auto shakeout.
Before it's here, it's on the Bloomberg Terminal.
LEARN MORE