At first glance, InSite Vision (INSV) looks like a major flop for Morgan Stanley (MS), which brought the company public in October, 1993, at 11 a share. The stock has gone south since, hitting a low of 1 1/2 on Nov. 3, 1995. But in mid-December, it started to head north, reaching 7 1/2 by mid-January on heavy trading. That's when the company, which is developing pharmaceuticals to treat glaucoma, announced positive data on clinical trials for two of its products.
The stock is now at 51 3/16, but fans think the best is yet to come. "The company is one of the big sleepers in biotech, and we have raised our two-year target for the stock to 30 a share," says Michael Murphy, editor of the California Technology Stock Letter.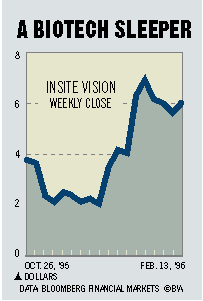 Murphy thinks InSite will take a step toward that target in the next few months for two reasons: He expects the company will file a patent application for a gene it has identified that produces a protein linked to glaucoma. This gene appears to protect cells and may arrest the development of glaucoma.
Murphy says the patent will also cover a genetically based diagnostic test for the illness. He expects the company will link up with a strategic partner, perhaps Pharmacia & Upjohn, to market the diagnostic product and develop the gene into a viable treatment. Murphy says InSite and Upjohn were in serious negotiations for such a partnership before, but the talks were tabled when Upjohn received the merger offer from Pharmacia. "This is a huge deal," says Murphy.
Before it's here, it's on the Bloomberg Terminal.
LEARN MORE