Hungary: After The Pain More Pain
A new round of austerity could reform Hungary's welfare state
Karen Lowry Miller
Lajos Bokros is probably the most hated politician in Hungary. Hated, but essential. Appointed Finance Minister last March, Bokros averted a collapse of the country's finances by ramming through unpopular budget cuts. Meanwhile his friend Gyorgy Suranyi took over the central bank, where he adopted a tight-money policy to cap inflation and devalued the forint to boost exports and reverse a huge trade deficit (table).
Tough medicine, but it worked. A year ago, Hungary seemed headed for a Mexican-style meltdown. Today "the immediate crisis is over," says George Kopits, representative of the International Monetary Fund in Budapest. Now Bokros figures he has a golden opportunity: to push his tough reforms so far that Hungary becomes the first central European country to dismantle its communist-era welfare state. If he succeeds, Bokros will save Hungary from a future crisis when the government just cannot afford all the pension and other benefits it has promised. Such a victory would be an example to the Poles and Czechs, who are struggling to contain their own welfare states. If he fails, Bokros' political career will probably be over--and Hungary's ability to sustain growth could collapse.
Bokros plans first to pass a 1996 budget that cuts the social security deficit in half, to $130 million. If the budget passes, the IMF should grant Hungary a standby loan of about $300 million. An IMF loan would banish any doubt in the international bond markets about Hungary's turnaround. "It's not the money, it's the sign of approval we want," says Laszlo Csaba, deputy state secretary in the Finance Ministry. Then later this spring, Bokros will propose a radical restructuring of government programs, including a partial privatization of pensions, much stingier allocation of health-care funds, and a crackdown on tax evasion. Says Andras Simor, Budapest managing director of Austrian bank Creditanstalt: "The key is to define a new role for the state."
If Bokros pulls off this scheme, by 1997 Hungary's budget deficit should fall to below 3% of gross domestic product, from 6.5% for last year. His track record already impresses investors. GE Capital late last year bought a piece of Budapest Bank, while Ameritech and Deutsche Telekom have upped their stake in telecom company Matav to 67%. Privatization is proceeding too: By some estimates, 75% of the economy is in private hands. Hungary, which lost its image as a market-friendly place, is regaining its former luster.
Yet Bokros does not have much time to finish his housecleaning, even though his boss, Prime Minister Gyula Horn, controls a hefty majority in parliament. Starting next year, Horn's Hungarian Socialist Party will be preparing for 1998 elections against the increasingly popular, anti-reform Independent Smallholders' Party. Horn will soon want to stop inflicting any more fiscal pain on voters, which means reforms must pass by yearend. Analysts also say it's likely Horn will force Bokros to resign once the restructuring package passes and the election heats up.
P.R. PROBLEMS. Bokros has done his own cause damage with several public relations blunders that have called his skills into question. After the government announced it would reimburse dentists for pulling teeth but not for filling them, for example, the number of tooth extractions soared. That edict was reversed, but the damage remains. "I fear that handling [reform] in such an amateur way could destroy the possibility of achieving it," says Rudolf Andorka, sociologist and president of the Budapest University of Economic Sciences.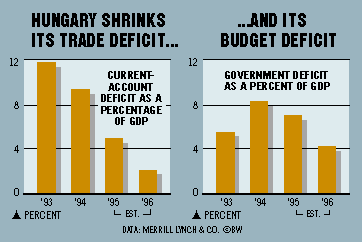 Bokros has been building up enemies among ordinary Hungarians, who saw their spending power plummet 10% because of devaluation and other measures. In this environment, stories of hardship are common. Beatrix, 40, who didn't wish to give her last name, has a heart problem that has put her on disability. The government pays her $105 a month plus $100 in child support and for her medication, but that's barely enough. With the onset of cold weather, she sold her last gold ring to buy winter shoes for her son. Now despite her poor health, she is working off the books at a construction company. "They say Bokros is making us better in the long run," she says. "I can only try to have dignity in my poverty." Bokros is betting massive reform is the only way to alleviate such suffering and usher in a new era for Hungary.
Before it's here, it's on the Bloomberg Terminal.
LEARN MORE