H&R Block May Be Going Off Line
A spin-off of its CompuServe unit seems to be in the works
By
For years, the Bloch family insisted that it made sense to keep H&R Block Inc.'s tax preparation unit paired with the booming CompuServe Inc. online network. The idea: Block could sell its tax services via CompuServe, and CompuServe could benefit from Block's cash and from its link to a well-known brand name. Trouble is, the synergies didn't add up to much. Now, Wall Street figures CompuServe would be worth a lot more on its own.
Richard H. Brown, who replaced Thomas M. Bloch as chief executive six months ago, appears about ready to go along with that idea. Investors think the former Ameritech Corp. vice-chairman, the first non-Bloch to lead the 41-year-old company, is prettying up CompuServe to do at least a partial sell-off of its shares. Block's share price is up more than 10%, to 38, since mid-January on the speculation, though it's still way below the 46 5/8 it traded at last November. "When they have the team in place, I think they'll spin it," says Bart Wear of Milwaukee's Firstar Investments, which owns 1.3 million Block shares. Brown was unavailable.
If that's what Brown is up to, it's a risky maneuver. Wall Street has long argued for a spin-off, figuring that CompuServe's valuation-per-subscriber would jump to about the level of rival America Online Inc. That would raise Block's and CompuServe's combined market capitalization about 19%, to $4.6 billion.
But a spin-off also might leave Block vulnerable if Congress ever passes a simplified flat tax, like the one backed by GOP Presidential candidates Steve Forbes and Pat Buchanan. Tax preparation will account for about half of the company's estimated $182 million in profits and $1.6 billion in sales in the fiscal year that ends Apr. 30--and profits are already relatively weak (chart). Many analysts figure Block could do well under a flat tax that maintains at least a handful of deductions because many people who now use costly accountants would turn to Block, whose average tax preparation bill is only $60. But if a flat tax were passed without any deductions at all, Block likely would be devastated.
A SEARCH. Nonetheless, signs are clear that Brown is preparing for big changes at CompuServe. He's building up its management, which analysts see as a sign that he's getting the unit ready to run itself. Recently, he started a search for a chief financial officer--a new post that would be important in selling shares to institutional investors. He is also hiring a new marketing chief at CompuServe and replacing its top European and consumer executives. And Goldman, Sachs & Co. is checking into selling a CompuServe stake to the public, according to a source close to the company. A spokeswoman says Block will consider all options to increase shareholder value but declined to comment specifically on a spin-off.
CompuServe could use a boost. Last year, it lost its place as the largest online service to upstart AOL. AOL tripled its subscribers, to 4.6 million, while CompuServe's base only doubled, to 4 million. Now, CompuServe is having to spend heavily to catch up. Analysts figure that it could cut its operating margins from 26% last year to 20% in the current fiscal year. More important, the rising popularity of the Internet's World Wide Web threatens to rob CompuServe of subscribers and content. "The content providers are all defecting to the Web because they don't want to be limited to the audience of one online service--and they want more control," says Mary Doyle, a senior analyst at the IDC/Link unit of market researcher International Data Corp.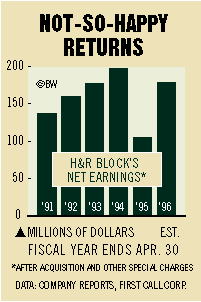 One sign of the times: Just a year ago, content providers got only 20 cents of every dollar a subscriber spent looking at their product--CompuServe or AOL would keep the rest. Now, content providers get about 50 cents on the dollar.
CompuServe, meanwhile, is laying out big bucks to develop its own content and diversify its service. This month, it launched its own Internet-only service, called SPRYNET, which will give subscribers unlimited access to the Web for $19.95 a month. This spring, it plans to introduce WOW!, an online service for computer novices. But pressure is growing for a spin-off. Risky as such a move might be, it would give Block lots of ready cash--and earn it reams of goodwill on Wall Street.
Before it's here, it's on the Bloomberg Terminal.
LEARN MORE