Ariel's Fall From Grace
John Rogers is trying to revive his sagging investment firm
Ron Stodghill II
For seven years, John W. Rogers Jr. enjoyed strong ties to Connecticut's Treasury Dept. His firm, Ariel Capital Management Inc., managed $82.9 million in pension funds for the state. But last March, when Rogers showed up for an appointment with Christopher Burnham, the new state treasurer, he was fobbed off on a couple of aides. Rogers never did meet with Burnham, and on Aug. 29, Burnham fired him.
Once hailed as one of the nation's hottest money managers, Rogers, 37, is beginning to look like an also-ran. The soft-spoken Princeton grad who at 23 launched what is today the country's largest minority-owned money-management firm, has fallen out of favor. As several big investors pulled out over the last 18 months, assets under management have slid from $2.1 billion in 1994 to $1.6 billion.
Rogers earned his reputation as a hot stock-picker in the 1980s. He even weathered the 1987 market crash and earned double-digit returns that year. But his hand has gone cold in the 1990s. His strategy of pursuing stocks in out-of-favor sectors such as manufacturing and consumer products at a time when technology and health care have dominated the market hasn't helped. For the five years ending Dec. 31, the Ariel Growth Fund, a mutual fund launched in 1986 that serves as the firm's flagship, earned an average annual total return of 12.9%, vs. 17.1% for the average small-cap value fund, according to Morningstar Inc. Says Rogers: "This has been the toughest time of my life."
CONSERVATIVE ROADBLOCKS. Some of his troubles, though, can be blamed on the changing political climate. During the late 1980s and early 1990s, minority firms were welcomed by many state and local governments to manage pension funds and other assets. But as the conservative tide rises, firms such as Ariel are getting less benefit of the doubt. Says pension consultant Budge Collins: "There is less favoritism to minorities than there was in the past. We're all more performance-oriented."
The Connecticut episode is a case in point. Under the state's three previous treasurers, all of whom were African American, Rogers says he had no problems. But when Republicans swept into office in 1994, Rogers says, the state began closing its doors to minority-owned firms. "Dealing with minority firms is not important" to Burnham, Rogers claims. "We were just a minority firm that the black treasurer had hired."
Burnham insists that performance--not politics--prompted Ariel's firing. While Ariel had an "excellent performance" at first, Burnham says that the firm failed to beat the Russell 2000 index--a benchmark for small-cap stocks--in recent years. Even more, he says, political favoritism has long plagued Connecticut's pension fund, and investment returns suffered. Burnham cited campaign records showing Rogers personally gave $1,000 to the 1994 election committee of former Treasurer Joe Suggs, who was defeated by Burnham.
WEALTHY BLACKS. Rogers says the conservative sweep cost him a Los Angeles city account as well after the 1994 elections. But he concedes that he also lost business with Detroit, which went from one black mayor to another.
Rogers is now scrambling for new clients. His plan involves marketing three mutual funds managed by Ariel to a largely overlooked market: middle-class and wealthy African American families. "Blacks are perceived to be consumers and not savers and investors," says Mellody Hobson, Ariel's marketing director. But she adds that African Americans' incomes are rising to the point where more of them are investing their money.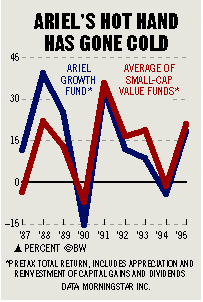 Rogers is courting those investors by advertising in such publications as Black Enterprise and lobbying black-owned businesses to include Ariel funds in their 401(k) plans. In a move to help diversify the firm's offerings, Rogers launched a bond fund and hired an outside firm to manage it.
Rogers hopes this action will allow Ariel to reclaim its glory. "We've lost a lot of good, long-term clients," he laments, "and it's disappointing when people you thought had faith and confidence in you call and say, `We're going to someone else."' Despite the exodus, Rogers says, he plans no changes in his investment strategy. But if his cold hand doesn't warm up pretty soon, he'll discover that black investors, like white ones, are ultimately loyal to the color green.
Before it's here, it's on the Bloomberg Terminal.
LEARN MORE