Why Gold's Flash Won't Last
Prices are rising, but the upside is limited
Greg Burns
For two years, Lucille Palermo struggled as the price of gold went nowhere. Her Van Eck Gold Resources Fund underperformed stocks by 17 percentage points in 1994, then by 33 points last year. But today, her faith in the precious metal has been revived: "We've definitely turned the corner. This is a long-term bull market," she says.
Amazing what a month-long runup will do. Spot prices for the metal have jumped 7% in 1996, closing at $414 per ounce on Feb. 7. That's paltry next to gains of high-flying commodities such as coffee, which has soared 27% in the same period. Yet even a small move in gold has an outsized impact on investor psychology, and on stocks: Palermo's fund, typical of others specializing in gold-mining stocks, was up 27% for the year through Feb. 6.
DUMPING HOARDS. This party probably won't last long, though. In the absence of runaway inflation, a financial meltdown, war, or political crisis, the metal's potential upside likely is limited. Many, indeed, believe that gold has already seen its best days this year: "We're in the eighth inning," cautions analyst J. Clarence Morrison of Prudential Securities Inc.
True, the fundamentals seem compelling. Demand for gold for jewelry, electronics, and investments soared 10% last year--much of the increase coming from India, where gold remains a favored storehouse of value. Mine production, meantime, declined for the second consecutive year. "The physical market provided the launching pad" for a rally, notes Stewart Murray, chief executive of Gold Fields Mineral Services Ltd.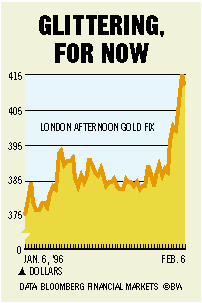 What ignited the rise, though, was a big drop in forward-selling by mining companies. Through most of 1995, the mines had kept a lid on gold prices by extending their use of hedging programs designed to lock in future selling prices. But late in the year, central banks didn't keep up with demand for gold supplies used to finance the hedging activities. Their resulting higher rates made hedging less profitable, easing selling pressure in the market. And Barrick Gold Corp.'s Jan. 30 disclosure of plans to cut forward-selling by one-third confirmed the suspicions of bullish speculators, who quickly pushed prices higher. The market also drew strength from the robust dollar, the federal budget stalemate, and interest-rate cuts at major central banks.
The price increase could quickly undermine gold's fundamentals. Investors now are likely to dump some of their hoards. Consumers will back off pricier jewelry, while analysts say production will edge up this year. Forward-selling on the part of producers could well ramp up again. And gold's best friend--inflation--remains indisposed. Ultimately, there's little risk that prices will fall below $375 per ounce. But there's not much upside left, either. Advice: If you're not into gold yet, stay out.
Before it's here, it's on the Bloomberg Terminal.
LEARN MORE