Vroom! Vroom! At General Motors
by
General Motors (GM) has been putting the pedal to the metal: Its shares hit a high of 54 5/8 on Jan. 30 after the auto giant reported 1995 record earnings of $6.9 billion and boosted the quarterly dividend 33%, to 40 cents a share. Some analysts caution that the stock may have already peaked--it edged down to 52 1/2 on Feb. 6. But other money pros don't think so.
"Not by a long shot," insists investment manager Bob Olstein, who values companies purely on the quality of their earnings strength and capacity to produce excess cash flow. "Based alone on the value of GM's major assets--excluding Electronic Data Systems, which GM has decided to spin off--the stock is worth 83 a share," figures Olstein, who heads the $100 million Olstein Financial Alert Fund in White Plains, N.Y.
Olstein says the market has yet to focus on the carmaker "as a great value investment" and recognize the "significant improvement in GM's balance sheet, excess cash flow, and brilliant cost-cutting program" over the past three years. Excess cash flow is cash derived from operations after payment of all capital expenditures. "Under CEO John F. Smith Jr.'s leadership," says Olstein, "GM has been transformed into a cash machine, generating excess cash flow of $4.5 billion a year."
Olstein is convinced that management will strive to close the gap between the stock's current price of 53 and its estimated private market value of 83. "If it doesn't, GM could well attract a leveraged buyout group that could take it private." Olstein notes that "a KKR group or the likes of a Kirk Kerkorian could go for a GM LBO."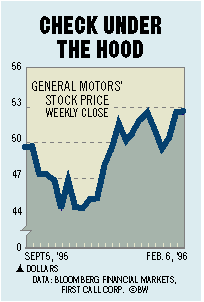 According to Olstein, GM's auto and finance operations are worth $42 billion, or 56 a share. Its Hughes Electronics subsidiary, including its DirecTV unit, is worth at least 27, he estimates. GM Hughes, a worldwide leader in satellite communications--in which AT&T has invested $137.5 million for a 2.5% equity stake--is "GM's real hidden gem." The Street doesn't realize, Olstein says, that GM owns 100% of Hughes and often forgets that GMH shareholders only have a right to Hughes's dividend, equal to 35% of Hughes's earnings, and the right to receive a 20% premium in the auto maker's stock if GM decides to sell Hughes or buy in its shares.
"But the real play is in GM shares--not GMH," he argues, "because it isn't in the interest of GM to buy back the GMH shares." The parent only pays out 35% of GM Hughes's earnings to GMH shareholders ($88 million) and retains about $1 billion in aftertax earnings, explains Olstein. An investor who wants a direct play on satellite communications or DirecTV, and at the same time the chance to participate in GM's huge excess cash flow, "should own GM shares," he says.
Before it's here, it's on the Bloomberg Terminal.
LEARN MORE