The Topsy Turvy Time Of Ramadan...
Kirk Albrecht
Normally at 5 p.m., the streets of Amman are bustling with life. But not tonight, nor any night this month. They're almost completely deserted. As the sun sets, shopkeepers hurriedly shutter their stores, and men and women race home as the Muslim call to prayer resonates across the city. For the next two hours, the Jordanian capital of 1.4 million will resemble a ghost town.
This is Ramadan, the Islamic month of fasting, and most everyone in Amman--and across the Arab world--is about to end another day of abstinence from food, drink, cigarettes, even sex. The normal pace of life, and business, is radically altered for 28 days every year as Muslims follow the prescription set for them almost 1,400 years ago by the prophet Muhammad.
FETA CHEESE. Ramadan is a time of strange contrasts. Days start later, and nights last longer. More food is consumed than in any other month of the year. Jordan's Supply Ministry each year issues assurances to a nervous public that, yes, there will be plenty of food to get through the fast. Having denied themselves all day, abstainers gorge to their hearts' content all through the evening on such seasonal delicacies as qatayef, light pancakes stuffed with feta cheese or walnuts and drenched in sweet honey syrup.
The topsy-turvy quality of Ramadan strongly affects business. Hani Al Qadi, senior deputy general manager of Arab Jordan Investment Bank, estimates that "productivity across the board falls by 25% during the month." Alcohol production (by the country's 4% Christian minority) drops more than half because of Islamic sensibilities. Government offices open for just 4 1/2 hours daily, and most banks shorten their already limited hours. Trading on the Amman Financial Market is usually sluggish all month. And the industrial production index falls 30%.
All of which slows not only the national economy but many local businesses. The back wall of Farouq and Nabil Talhami's Rainbow Market is covered with canvas, hiding racks of off-limits wine and spirits. "Our sales drop, because we can't sell liquor," says Farouq. He does say that increased food sales help cut his losses.
In a country trying to build a tourist-friendly reputation--and gain the hard currency tourism brings--Jordan only gives the impression of being dry during Ramadan. Amman's Marriott Hotel closes down the bar but opens a suite serving alcohol for hotel guests. With a foreign passport, visitors can quench their thirst at most any hotel. And one Amman eatery hearkens back to Prohibition days in the U.S. by discreetly serving wine in teapots and teacups.
Life during Ramadan does vary across the region. In Saudi Arabia, night turns to day and day to night, as the Saudis sleep while the sun is up, then carry on after dark with business. Lebanon, with a high Christian population, shows little evidence of asceticism. Restaurants and bars are open all day, even in mostly Muslim West Beirut, and people eat on the street, a taboo in Amman.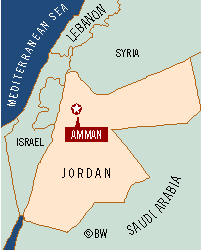 Despite the limits, Ramadan resembles the Christmas season on New York's Fifth Avenue for some retailers. Amman's major supermarkets set up fancy displays and run special sales, drawing shoppers late into the night. Vendors of clothing and shoes--traditional gifts to children at the end of the month--say sales double or triple. Car dealers, such as Al Tewfiq Automobile & Equipment Co., Jordan's Jeep/Chrysler dealer, stay open late into the evening to tap into the holiday mood. "We usually see as much as a 15% sales increase during Ramadan," says Assistant General Manager Hasan Tabbaa.
Some companies try to carry on with business as usual. Yousef Ghandour, a Shiite Muslim originally from Lebanon, doesn't fast, and he doesn't change much at his Shop the World catalog store. After polling some customers, he decided to keep normal hours. But he sees the affect Ramadan has on productivity. "After 2 p.m., employees aren't worth much," he laments. They'll hang on until sunset, when the curtain of dusk brings with it the pleasures that revive the faint--and help them make it through one more tough day.
Before it's here, it's on the Bloomberg Terminal.
LEARN MORE