The Mouse That Roared At Deutsche Telekom
A CD-ROM fracas shows the giant may not be ready for rivals
Karen Lowry Miller
The right product at the right price. A small German company, TopWare CD-Service, says it followed those basic marketing rules to produce a hot-selling phone directory on CD-ROM. Yet its rival, a subsidiary of giant Deutsche Telekom, has charged in court that TopWare is a copyright thief. It's a nasty fight--and a lesson for Deutsche Telekom as it prepares for the competitive onslaught that telecom deregulation will unleash in its home market.
The episode started in 1992, when DeTeMedien, the directory publishing unit of Deutsche Telekom, introduced a packaged set of three CD-ROMs that contained every published phone number in Germany. Nice idea--but what a price: nearly $1,100. Spokespeople for DeTeMedien will not discuss sales, but industry sources say the three-pack set languished on store shelves.
COPYRIGHT CLASH. Then, last summer, Mannheim-based TopWare introduced D-Info, a one-CD version of the directory for only $34. The man behind D-Info is Dirk Hassinger, a 29-year-old who started his company in 1986 to sell CD-ROMs. Today, TopWare has $24 million in sales and half the German market for CD-ROMs, thanks to such offerings as encyclopedias and street atlases. To get the 34.7 million phone numbers, Hassinger simply used scanners to record all the numbers from 119 different German phone books. Compression technology squeezed the data onto one disk and allowed the addition of extra software to simplify hunting for numbers.
DeTeMedien slashed the price of its three-CD set to $62--and it went after TopWare in court. It charged TopWare with violating German copyright law and engaging in unfair competition. A lower court ruled in TopWare's favor. But when DeTeMedien appealed to a higher court, TopWare decided not to contest the charges. The court did not rule on the legality of TopWare's tactics--but it did tell TopWare to stop selling D-Info.
SELF-DEFENSE. Hassinger didn't care. His company had already sold out its 800,000 copies of the directory. He was also working on a second edition that would eliminate errors that had crept in from the scanning process. This time, Hassinger hired a Beijing data-entry company, which in turn assigned 631 employees the four-month task of typing German phone numbers into a computer. For complex legal reasons, Hassinger hopes this method may help him fend off further challenges. On Feb. 1, D-Info 2.0 went on sale at $34. Hassinger says 600,000 copies were sold in the first five days.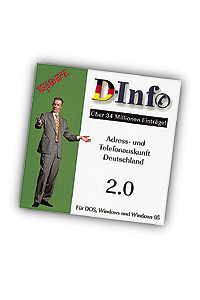 But DeTeMedien is still seeking an injunction, and on Feb. 9, TopWare will have to defend itself again in a Mannheim court. Counterattacking in the market as well, DeTeMedien will launch in March a single CD directory for just $20. If DeTeMedien wins its case and all subsequent appeals, TopWare will have to pay its rival a licensing fee to be set by the court.
Hassinger claims not to be worried about his big rival: "They spend more time fighting in court than developing new technology." A cheeky answer, especially from someone being pursued by so many lawyers. But if DeTeMedien had priced its product right in the first place, it might never have given TopWare this chance.
Before it's here, it's on the Bloomberg Terminal.
LEARN MORE