Is There Really Room At The Inn For Steve Bollenbach?
Hilton's new CEO still has to answer to the chain's patriarch
by
Stephen F. Bollenbach likes fast cars and the California coast. Barron Hilton favors Cuban cigars and room service at the Hilton-owned Waldorf Astoria in New York City. They don't hang out together much.
Strange corporate bedfellows, indeed. But there they were, chatting amiably amid the cigar smoke in Hilton's Beverly Hills office. On Feb. 5, Bollenbach began his new job as Hilton Hotels Corp.'s chief executive officer. Replacing 68-year-old Barron Hilton, who will remain chairman, Bollenbach, 53, became the first non-Hilton to head the 50-year-old, $1.7 billion hotel and gaming empire.
How long the ex-surfer and the patrician can co-exist is anyone's guess. Hilton Hotels is a chronic underperformer, plagued by the indecision of its chairman. Bollenbach is a strong, forceful executive. For now, "they're on their honeymoon," says money manager Mario Gabelli, who holds about 5% of Hilton shares through various funds. "After the first 100 days, who knows?"
BACK AND FORTH. During 30 years at Hilton's helm, Barron Hilton, the son of company founder Conrad N. Hilton, has forged a tortuous path. He has twice put the company up for sale only to renege, torn by his emotional attachment to the family business. He considered, then rejected, a spin-off of Hilton's gaming operations late last year. And he has frozen out executives who wanted to make changes too fast, say insiders. Hilton's stock has suffered as a result: Before jumping 21% in two days on word of Bollenbach's appointment, shares were stuck around 60, no higher than they had been in 1989 (chart).
Enter Bollenbach, a sure-handed financial executive with a solid rep on Wall Street. He engineered a $2.6 billion recapitalization of Holiday Corp. in 1986 and a massive spin-off at Marriott Corp. seven years later. In between, Bollenbach saved Donald Trump's skin, coaxing banks into a restructuring deal that allowed Trump to hold on to his Atlantic City casinos in 1990. And last year, as chief financial officer of Walt Disney Co., he negotiated the $19 billion acquisition of Capital Cities/ABC Inc. "There isn't a blemish on his record," says Joseph V. Coccimiglio, an analyst with Dean Witter Reynolds.
"TREMENDOUS UNCERTAINTY." Industry sources say Bollenbach left Disney because CEO Michael D. Eisner brought in superagent Michael Ovitz as president, diluting Bollenbach's power. Bollenbach denies that, pointing instead to the chance he will have at Hilton to run his own show. "My job is to get involved in the operations and get performance to a higher level," he says.
Will he really get the chance? Barron Hilton says he intends to retire to his 550,000-acre Nevada cattle ranch to spend more time flying his fleet of antique airplanes. But to keep tabs on Bollenbach, "I'm going to keep a cell phone with me wherever I go," jokes Barron.
Ominous words, perhaps, for Bollenbach, a man with much to do. Despite 240 hotels worldwide and a strong Las Vegas gaming presence, Hilton needs a boost. Its return on gaming assets was 4.9% last year, about half that of competitors Mirage Resorts Inc. and Harrah's Entertainment. The hotel businesses are faring better: 1995 operating profits were $208 million, up 41%. But investors and other critics charge that Hilton's long-enduring cachet has faded. More important, it badly trails competitors in the fast-growing midprice market for business travelers, while international expansion has been slow. "There's been tremendous uncertainty at Hilton," says Fred Malek, chairman of Thayer Capital Partners and a former president of Marriott Hotels & Resorts.
Bollenbach must persuade Barron Hilton, who still holds 33% of the company's shares, to support decisive action. Most likely, the new CEO will first address Hilton's gaming strategy. His second day on the job, Bollenbach flew to Las Vegas to tour the Flamingo Hilton and Las Vegas Hilton casinos. Those casinos, after face-lifts costing a combined $200 million, are performing nicely. But they're old-fashioned resorts with little room for expansion, and such rivals as Mirage and Circus Circus Enterprises Inc. are spending lavishly to build megapalaces down the street.
More problematic is Atlantic City, where Hilton has repeatedly failed to follow through on plans to enter the resurgent gaming market. Some analysts predict that Bollenbach will use Hilton's strong balance sheet to muscle onto the Boardwalk by purchasing a Bally's or Trump property. And Bollenbach will have to address a series of missteps in smaller, soft markets, such as Kansas City and New Orleans, where Hilton owns a middling riverboat casino.
MEDDLER. Similarly, Bollenbach needs to push Hilton's hotel unit to exploit new markets. Overseas operations are slated to grow from 6 to some 25 by 2000. Meanwhile, Hilton plans to blanket the country with its new Garden Inns. Dieter H. Huckestein, president of the hotel division, plans to plunk down about 100 of the midprice hotels near the popular Courtyard by Marriott locations, slash prices, and offer more amenities.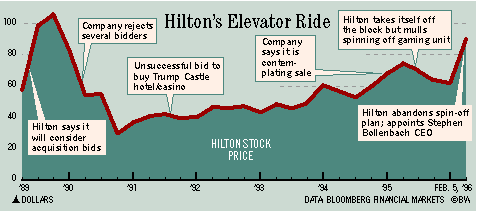 Strategy is one thing. Dealing with the unpredictable Barron Hilton is another. Industry insiders say the chairman has alienated aggressive and talented senior managers before with his meddling conservatism. In 1993, after failing to persuade Hilton to expand into Atlantic City, gaming unit chief John V. Giovenco left to head ITT Sheraton Hotels. For the next few years, Barron Hilton relied heavily on then-Hilton President Raymond C. Avansino Jr. But insiders say Avansino departed without making much of an impact.
Will Barron Hilton make room for the new guy? "He's the boss, he's in charge," says Hilton through a cloud of pungent cigar smoke. "I want to fly airplanes while I'm still young enough." But one day, Hilton may land to find that Bollenbach has leveraged the company or diluted the family stock holdings. If that happens, the sparks will fly. The honeymoon may be over.
Before it's here, it's on the Bloomberg Terminal.
LEARN MORE