In Quebec, These Shivers Aren't Coming From The Cold
William Symonds
On a bitter-cold Sunday evening in January, hundreds of Anglophone (English-speaking) residents of Montreal were turned away from a packed meeting at McGill University called by the pro-English Special Committee for Canadian Unity. Until recently, Anglophones had done little to fight surging support for Quebec independence among the province's French-speaking majority. But that night, the thousand or so in the audience, most of them Anglophones, whistled and cheered as Stephen A. Scott, McGill's authority on the Canadian Constitution, delivered a fiery address. "The time for equivocation and appeasement is over," he thundered. "If Canada is divisible, so is Quebec."
Scott's plan is to carve up Quebec so that Montreal and other federalist pockets remain part of Canada while the rest of the province secedes. The scheme is denounced by many Francophones. But from the middle-class, English-speaking suburbs of Montreal's West Island to the salons of Westmount, home of power barons such as former Canadian Prime Minister Brian Mulroney, Anglophone partition is suddenly the topic du jour.
This fascination with an idea that even many English-speaking leaders regard as wildly explosive is the clearest sign yet of the massive anxiety gripping Montreal's Anglophones as Quebec appears headed toward independence. "The English community feels completely abandoned," says McGill Chancellor Gretta Chambers, an Anglophone whose family has lived in Quebec since 1610. "We would face an ethnic cleansing," adds Keith Henderson, president of the pro-English Equality Party. He warns that half or more of the Anglophones might flee.
It's no wonder that the plans for such an exodus are already taking shape. The razor-thin margin in the Oct. 30 referendum on Quebec sovereignty--when voters rejected independence by only 50.6% to 49.4%--suddenly made independence seem likely. Following the Parti Quebecois' Jan. 29 installation of the sovereigntists' most potent salesman, Lucien Bouchard, as Quebec Premier, many are asking not if Quebec will become independent, but when. A recent poll of Quebecers found 74% believe independence is inevitable.
FADING CITY. A huge chasm separates what the French and English expect of an independent Quebec. Many Francophones, 58% of whom voted "Oui" to sovereignty last fall, believe their lives would improve. But 96% of the Anglophone community voted "Non," and they're bracing for economic catastrophe. Already, "our beautiful city has suffered and paid the price during the last 20 years," as the sovereignty movement gained momentum, laments David Caplan, chairman of Pratt & Whitney Canada. In 1967, when it was Canada's largest, richest, and most vibrant city, Montreal wowed millions who visited its Expo world's fair. Today, those accolades belong to Toronto, partly because so many English speakers and businesses have fled Montreal since the nationalists first won control of Quebec's government in 1976. Today, with its aging infrastructure and 11.1% unemployment rate, Montreal looks increasingly like a city in decline.
Of course, in many parts of Quebec, French and English speakers live together peacefully. Despite the political tensions, "we co-exist wonderfully with the French" in everyday life, says Jim Morrice, a self-employed computer salesman. Still, fears of Anglophone persecution skyrocketed on Oct. 30 when then-Quebec Premier Jacques Parizeau angrily blamed "money and the ethnic vote" for sovereignty's defeat. "I am very disturbed by the separatists' efforts to silence people," says Ron Bales, a retired Alcan Aluminum executive. "I hear a real threat to personal freedom."
For some, it is no longer merely a threat. On West Island, school authorities just ruled that a 13-year-old American boy, whose stepfather is being transferred from Florida to Montreal, must attend a French-language school even though he doesn't speak a word of French. "We're in shock," says the boy's father, Richard Spenard, who is appealing the decision. In theory, Quebec law allows the children of corporate transfers to attend English-language schools. But Spenard was told he "doesn't conform to their rule, since I am not the boy's biological parent."
LANGUAGE COPS. Many Anglophones admit they are partly responsible for such excesses. In the 1960s, when Anglophones accounted for just 23% of Montreal's population, they held half the senior executive positions, conducted business in English, and earned 50% more on average than Francophones. Vic Mascis, an ad salesman, recalls seeing a little French-speaking girl refused service at Eaton's, a department store, when she tried to buy a Christmas present for her mother in the 1950s. "The Anglophone clerk didn't even attempt to speak French," he says.
That era ended abruptly after the separatists took power in 1976. They passed a draconian language law designed to promote French while sharply limiting English. The law requires companies with more than 50 employees to function in French, severely restricts the use of English on commercial signs, and sharply limits access to English-language public schools. The law also establishes an office, dubbed the "language police," to monitor enforcement.
The language police make even well-established Anglophones feel like unwanted outsiders. They "insisted that all our interoffice memos be in French, even if they were between me and my son," complains Morton Brownstein, president of Browns Shoe Shops. Although he won a long legal battle with the government over the right to use English on promotional signs in Anglophone neighborhoods, Brownstein's outside signs are still French. English signs "are now socially unacceptable," he says. "You risk arousing a right-wing element who might break your windows."
These measures already have sparked a huge flight of Anglophones. Quebec's English-speaking population now stands at 696,000, down from a peak of 789,000 in 1971. About 500,000 live in Montreal, where they make up just 16% of the population, down from 25% before World War II. There has been an even sharper drop in education in English because of the language law. Enrollment in English-language schools has plunged to 95,000 from 228,000 in 1977. And a recent study found that over 70% of those who graduate from English schools plan to leave Quebec within a decade because of a bias against hiring Anglophones, even when they're bilingual.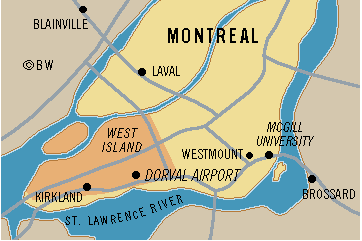 Most experts believe that sovereignty would spark a huge exodus of corporations out of Montreal, including such pan-Canadian giants as Bank of Montreal, Air Canada, and Canadian Pacific. And that has terrified many middle-age employees with strong roots in Montreal. "I'm basically trapped. My only option would be to try and find work outside Quebec and then sell my house," says Mascis. But finding a job is no picnic at 54. Nor is selling your home, with so many already on the market. Prices "would be hurt far more dramatically if Quebec separates," says Mascis. Such fears are behind the surge in grass-roots support for partitioning Montreal, to keep it part of Canada, although few believe the plan is realistic.
Of course, many Anglophones have no plans to leave even if Quebec, including Montreal, becomes a separate country. While Montreal will retain a sizable, albeit shrunken, English-speaking population, "they won't feel welcome for a long period of time," says Don Myles, a retired school superintendent. He predicts that "Anglophones would turn inward," becoming an isolated and aging ethnic minority. It's a grim forecast. But in English Montreal, it's one that's widely shared.
Before it's here, it's on the Bloomberg Terminal.
LEARN MORE