Germany: Recession Fears Won't Fade Away
by
German industry posted some good news in December, but the economy remains on a recession watch.
Industrial production rose 0.6% in December, even though analysts had expected a decline of similar magnitude. Manufacturing output was up 2.1%. Still, output in the fourth quarter was down at a 4% annual rate from the third, a sign that Germany's real gross domestic product probably fell last quarter after no change in the third period. However, December's gain followed a 0.9% rise in November and was fairly broad--only construction output fell. Those factors suggest that the worst of the production losses may be over (chart).
A real upturn may take some time. Manufacturers must cut an inventory overload, caused by less foreign demand. Exports were hurt by the strong mark, high German wage costs, a softer U.S. economy, and, in the fourth quarter, the strike in France. The mark's weakening since last spring has helped the outlook, but exporters' prospects will depend on an easier monetary policy.
At least domestic demand is holding up. True, the jobless rate hovers near 10%, but the 1995 wage pacts were mostly generous for those with jobs, and a January income tax cut will lift disposable income. As a result, retailers' business expectations have improved.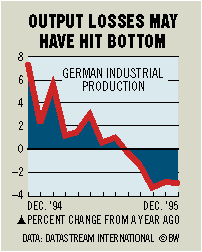 On Jan. 30, the government of Chancellor Helmut Kohl announced a "50-point" package set on halving unemployment by 2000. Although the plan won't do much for 1996 growth, the government hopes to encourage business startups and cut local business taxes.
While Bonn is trying to spur growth, the Bundesbank is moving less aggressively. The Buba trimmed its repurchase rate from 3.4% to 3.3% on Feb. 1, but left the critical discount rate at 3%. Both the U.S. Federal Reserve and the Bank of France are making bigger cuts, however, so the Buba may have to make a splashy move soon. If not, the mark could rebound and start another downward spiral in Germany's export-dependent industrial sector.
Before it's here, it's on the Bloomberg Terminal.
LEARN MORE