`Fujitsu Shokku' Is Jolting American Pc Makers
The company's price war has U.S. rivals scrambling in Japan
Steven V. Brull
The Japanese called it "Compaq shokku," or shock. In 1992, the Houston personal computer maker brought U.S.-style competition to Japan: It started selling desktop PCs for less than half of what hometown manufacturers had been asking. The result? Other U.S. computer makers quickly caught on, and within three years, American companies drove PC prices down by 37%, helped annual computer shipments triple, and seized one-third of Japan's $12.3 billion market.
It was an American success story--until last year's fourth-quarter earnings. First, Apple Computer Inc. cited plunging earnings in Japan as a primary reason for its $69 million quarterly loss. Then on Jan. 28, Compaq President Eckhard Pfeiffer told Wall Street that gross profit margins for the company sank to 21.7%, from 24.4% a year ago, owing, in part, to brutal price competition in Japan. U.S. PC makers, also hurt by the stronger dollar, are no longer on the fast track. Many of them, including Apple and Compaq Computer Corp., are ditching low-end machines in Japan to concentrate on more powerful, higher-margin PCs and network servers.
BIG TUMBLE. What's eating profits? Americans call it "Fujitsu shokku." Japan's biggest computer company is on a tear. The vertically integrated company is determined to grab market share--even selling machines at a loss, since it can easily make it up with profits from semiconductors and telecom gear. That has stirred up market leader NEC Corp., which saw its PC share tumble to 40% last year from a commanding 53.4% in 1992. NEC--also in chips and telecom products--is matching Fujitsu Ltd.'s price cuts and, in some cases, undercutting them.
Fujitsu and NEC can't afford to be shut out of the booming PC business in their own backyard. Market researcher Dataquest Inc. says PC shipments in Japan soared 71% last year, to 5.7 million units. Dataquest expects shipments in the world's second-largest PC market to expand to 7.6 million units this year.
It's Fujitsu's aggressive prices, however, that send shock waves through U.S. companies. Rivals accuse Fujitsu of dumping in its home market. Analysts reckon the company is losing $300 on a $2,000 machine, at a total cost of more than $1 million each day. Fujitsu insists it is selling PCs near cost, not including advertising, distribution, and other overhead. "It's a potential issue for the Japanese Fair Trade Commission," says Masaru V. Murai, president of Compaq's Japanese unit. How long will Fujitsu continue its price war? "Business is survival," responds Fujitsu President Tadashi Sekizawa.
A relative latecomer to the PC mass market, Fujitsu is making up for lost time. The company overhauled its supply network, dumping locally made parts in favor of foreign components 20% to 30% cheaper. It's working: Last year, Fujitsu doubled its Japanese market share to 18.2%, becoming the No.2 PC maker. Now, the company says it wants to take 30% of the home market and sell 5 million units by 1998.
U.S. executives may have started something they already regret. Take Apple. Until last year, the company was No.2 in Japan--it's now third. Even with lower Mac prices--the Performa 588 was cut to $760 from $1,615--Apple's share slipped more than a point in 1995, to 14.2%. John Floisand, chairman of Apple Computer Japan Inc., says competing on price for market share is a no-win proposition. Instead, Apple will focus on higher-margin machines for education, entertainment, and other niches. "If you say we're the ones limiting our own ultimate market share with this strategy--so be it," Floisand says.
U.S. HOPE. Compaq didn't fare much better. Fourth-quarter operations in Japan were in the red. The world's leading PC vendor boosted its market share only 0.1 point last year, to a puny 3.8%. CEO Pfeiffer now plans to deemphasize low-margin consumer sales and pursue higher-margin business PC and server sales. "We're putting the highest focus on sales of server products; that's where Japan is moving," he says.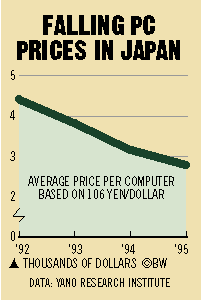 The U.S. company best positioned to take on Fujitsu and NEC may be IBM. IBM Japan Ltd., unlike most U.S. PC makers, does a lot of product development for the local market, keeping in touch with local companies so it can tap trends faster than U.S. rivals. Its $2,750 palmtop computer, unveiled in Japan last December, is a good example. It was co-developed with Ricoh Co. and Canon Inc., which together built a tiny digital camera that slots into the machine to make it a storage medium for still photos, or a video-conferencing system. Analysts say IBM has sold 10,000 of the gadgets. Says Kazufu Hotta, director of PC marketing for IBM Japan: "You've got to be on the ground building up your brand name." Still, nobody expects an IBM shokku until the company is ready to fight as tenaciously as the Japanese.
Before it's here, it's on the Bloomberg Terminal.
LEARN MORE