Emerging Markets Are Awash In Cheap Money
From Sao Paulo to Singapore, foreign investors are pouring cash in
by
When the stock of Mexico's bankrupt airline, Corporacion Mexicana de Aviacion, rises 18.5% in one day with nary a smidgen of good news in sight, as it did on Feb. 1, something big is happening.
Mexicana is up because foreign investors--the ones who deserted Mexico in droves as the peso and stock market collapsed in '94 and '95--are suddenly back. They're buying troubled banks and battered builders, too. And they're hardly limiting their sights to Mexico. In fact, American and other overseas investors are pouring cash into the developing world's bourses again (charts). That's sending prices soaring from Warsaw to Sao Paulo and on to Singapore, where stocks just touched an all-time record.
BUSY PUMP. Of course, there's still no shortage of political concerns to make investors worry--including drug-money scandals in Mexico and Colombia, Russia's leftward drift, and Beijing's saber-rattling over Taiwan. But investors are accentuating the positive because cash is surging into the world economy.
With the German Bundesbank and U.S. Federal Reserve joining the Bank of Japan in cutting interest rates aggressively in recent weeks to spur growth, the global money pump is beginning to work overtime. And even after the stock markets of the industrial world absorb their share, plenty is left over for emerging markets.
Perhaps the cash flow will reverse course--as it did in 1994 and '95--if global interest rates turn up late this year or in 1997. But no one is too worried about hot money flows right now. In the U.S., which sets the trends in global investing, AMG Data Services estimates that nearly $2 billion has gone into emerging-market equity mutual funds since Jan. 1.
The Arcata (Calif.) research firm figures that U.S. investors are now moving $1 billion a week into Merrill Lynch, Morgan Stanley, and Fidelity Investments international equity funds, among others, all of which are big buyers of emerging-market stocks. "Cash flows are incredibly strong," says Mark B. Geist, president of San Francisco-based Montgomery Asset Management, whose emerging-market funds have garnered $50 million since Dec. 31. "Nobody expected the kinds of inflows we've seen thus far in 1996," adds Deutsche Morgan Grenfell's emerging-markets equities strategist, Christopher Wood.
All told, global investors may shift as much as $50 billion into emerging- market stocks this year, estimates strategist Michael Howell of ING Baring Securities Ltd. If the forecast holds true, that would be the busiest pace since foreigners pumped a record $62.4 billion into these markets in 1993.
The new flow of cash to the emerging world will help bolster economic reforms and finance the heavy schedule of privatizations many countries hope to pull off this year. China, for one, has lined up 16 companies for listing overseas. And with many pundits predicting a 30% rise in the Tel Aviv stock market this year, Israel hopes to offer shares in three state-owned banks. Some 30 Israeli technology companies are also preparing to sell shares.
The new outpouring of emerging- market shares is likely to find a friendly audience. Not only is money cheap, but as BUSINESS WEEK pointed out last fall (BW--Sept. 11, 1995), many emerging markets are still a bargain. The rise in interest rates that pricked East Asia's 1993 equity market bubble and then humbled Mexico left emerging-country bourses with an average price-earnings ratio of 16, says Smith Barney economist John Mullin. But industrial markets trade at 21, while the Standard & Poor's 500-stock index goes for 18.
Two of Mullin's favorites, Hungary and Poland, trade at p-e ratios that are about half the U.S. level. Partly that reflects the markets' limited share rosters, lack of liquidity, and the economic and political risks that go hand-in-hand with new markets. Yet Hungary boasts shrinking budget deficits and may soon become the second Central European nation, after Poland, to earn an investment-grade rating on government debt. And Poland expects to have the best economic growth in Europe this year: 5.5%, after 7% in 1995. It also has some high-growth companies. Suzanne D. Patrick, a vice-president at New York broker Arnhold & S. Bleichroeder Inc., notes that the earnings of Krosno, a Polish glassware exporter, are expanding by 30% a year. Says Kristin Nicholson, research manager at Wood & Co. in Warsaw: "This market is cheap."
In fact, nearly across the board, emerging countries now offer faster economic and profit growth than most of their more developed competitors. There are some notable exceptions, of course. Mexico, burdened by 25% inflation as it tries to recover from last year's peso shock, will be lucky to see 2% economic growth in 1996. It must refinance $22 billion in loans from the U.S. and other allies in 1997 and '98, and any stumbles could panic investors. But many other emerging economies face no such trouble. Notes William W. Priest, CEO of BEA Associates, a big New York-based global fund manager that dramatically stepped up its allocation of cash to emerging markets as 1996 began: "You have a combination of liquidity and rather attractive valuations."
That's certainly true for Brazil, which Richard M. Johnston, managing director of Offitbank in New York, dubs "the China of the Western Hemisphere" for its prodigious industrial output and growing consumer markets. Aracruz Celulose, one of the world's most efficient pulp producers, is trading at only 70% of book value. Yet it's flush with cash and may see earnings grow 14% this year. And despite an 18% price jump since December, "there's a lot of gain left," says Wayne Perkins, research director for Brazil's Bank Norchem.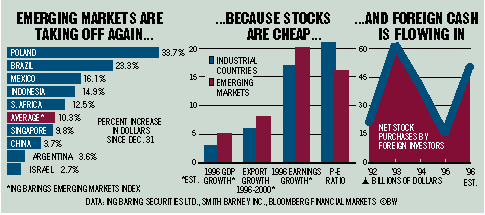 CHINA BULL. Further big gains may be harder to come by in Asia. But Merrily Chiam, head of Nomura Research Institute's Singapore office, still expects "a Chinese New Year bull run" in February as overseas investors keep buying Singaporean shares. Indonesia, too, may surge on the back of anticipated 20% earnings growth. And Nigel Webber, Hong Kong-based manager of the Lexington Crosby Small Cap Asia Growth Fund, sees advances for the British colony. Some disagree, but Weber and other bulls argue that Beijing has ample incentive not to stifle Hong Kong's growth after it takes over in 1997.
Webber is equally enthusiastic about almost every other country in his region, and that's the case for a growing number of his rivals, too. As interest rates fall across the developed world, investors are again lured by the romance and potential of emerging markets. Whatever the risks, they seem to enjoy what these markets offer.
Before it's here, it's on the Bloomberg Terminal.
LEARN MORE