Can Malaysia Take That Next Big Step?
The nation's prosperity could erode unless it can find a way to a sustainable expansion
by
The fruits of Malaysia's economic success are obvious. The skyline of the nation's capital is undergoing one of the most dramatic changes of any major city in the world, as huge new office towers reach for the heavens. A growing middle class crawls around Kuala Lumpur's increasingly congested streets in Mercedes, BMWs, and, above all, Protons, the boxy Malaysian-assembled cars made with Japanese help that are a symbol of the country's industrial aspirations. One in 20 Malaysians now owns a cellular phone.
But the good times may not last long. High growth has led to a soaring current-account deficit and caused foreign investors to look elsewhere. A labor shortage and an inadequate education system have left Malaysia with workers neither skilled enough for high-end jobs nor cheap enough for low-end ones. With a population of only 19 million, Malaysia is caught in a classic trap. It can't compete for labor-intensive industries against bigger nations such as Indonesia and China. Nor can it beat Asia's high-tech success stories such as South Korea and Taiwan.
NEW MODEL? As a result, Malaysian Prime Minister Mahathir Mohamad and his advisers must find a way to transform the rapid growth of recent years into a more sustainable economic model. The imperative for Malaysia is to make a transition from go-go growth, which relies on little more than cheap labor and generous tax holidays, into a more technologically sophisticated economy. "Malaysia is still trying to find a strong, clear position on industrialization," says Zainal Aznam Yusof, deputy director-general of the Institute of Strategic & International Studies, a Kuala Lumpur think tank that advises Mahathir.
Mahathir's experts need to make up their minds fast. The economy is sucking in too many imports, swelling the country's current-account deficit to more than 9% of its gross domestic product. That's far above the level in Mexico at the time of the peso's collapse in 1994.
Smelling blood, currency speculators are circling the Malaysian ringgit. To protect the currency, Bank Negara Malaysia, the central bank, jacked up interest rates nearly 50 basis points, to an average of 7.14%, in mid-January. The following week, the bank raised reserve rates, hoping to slow money-supply growth by making lending more expensive. And the market is buzzing with rumors that the government might slap on exchange controls, as it did two years ago.
Even Mahathir, usually impatient with any criticism of his economic policies, is frustrated. He has long pushed for an economy like South Korea's, with large business groups leading the way to industrialization through exports. That's been a dismal failure. Local companies are more interested in real estate development and asset shuffling than manufacturing. Instead, foreign investment--$17 billion in the past four years alone--has powered Malaysia's boom, as the high yen has prompted the likes of Sony Corp. and Sharp Corp. to produce camcorders and VCRs there. Now, Mahathir worries that the heavy reliance on imported Japanese components leaves Malaysia's exporters trapped. "We have to rethink if we should go in for export growth in a big way," says the Prime Minister.
That has given more urgency to the job of government planners, who are putting the finishing touches on a new industrial policy, the country's third in a decade. They want to persuade technology-rich foreign investors to help Malaysia create its own high-tech sector rather than merely build screwdriver assembly operations. The new policy, to be announced this month, will recommend government support for seven strategic industries, ranging from aerospace to biotech to electronics. "There will be increasing government participation in these industries," says Rajah Rasiah, a lecturer at University Kebangsaan Malaysia. Even without the new plan, foreign investors have promised three new semiconductor fabrication plants, the country's first commercial chip facilities.
To upgrade technical and engineering skills, Mahathir has begun a sweeping overhaul of the education system. For the first time, the government is allowing private universities, even foreign institutions, to open in Malaysia. That's particularly sensitive because of the linguistic and cultural gap between the majority Malays and minority Chinese and Indians. But these new schools should stem the tide of Malaysians studying abroad and help curb the drain on foreign exchange. More spending on education and training, however, is having a short-term cost: Last year, more than half the workers who quit Texas Instruments Malaysia, which has chip-packaging and assembly operations in Malaysia, took government scholarships for further study.
GROWING ALARM. Still, Mahathir seems more interested in building monuments than in investing in technology. Foreign economists are concerned that Malaysia has placed too heavy an emphasis on ambitious but controversial pet infrastructure projects. At the vast Kuala Lumpur City Center on the edge of the business district, workers are close to finishing the world's tallest two buildings, the centerpiece of a massive complex. South of the city, a new $3.5 billion international airport is supposed to open in two years. Farther south, at Putra Jaya, Mahathir last August broke ground on a new $8 billion capital city. In Sarawak, across the South China Sea from peninsular Malaysia, tropical rain forests are being cleared to make way for a $5.5 billion dam.
Apart from taking resources from education and other sectors, the breakneck pace of construction is causing alarm in financial circles. Even an impressive 34% savings rate can't provide all the money that's needed to build the new Malaysia, so foreign capital has to make up the difference. Suddenly, keeping the money pouring in from overseas looks harder, especially with speculators betting against the ringgit. Foreign reserves now cover less than four months of imports--a year ago they covered eight months. Early government estimates are that the deficit grew two-thirds, to $7.1 billion, last year on the back of a 22% increase in imports.
The unwillingness of Mahathir, 70, to cool the economy raises fears that he won't be able to establish a more balanced growth strategy. "Mahathir has a pharaonic side to him," says University of Malaya economist Jomo Kwame Sundaram. "These are the modern pyramids--the biggest this, the tallest that." While international investors are calling for Mahathir to delay some of the megaprojects to cool the economy and cut the import bill, he'll have none of it. "Merely slowing down growth is not the answer," the defiant Prime Minister said in a major policy address last month.
NOTHING FANCY. The high economic growth is prompting a serious labor shortage. At least one in nine workers is foreign. Immigrants sneaking in from Indonesia work illegally as airport porters, golf caddies, and gas station attendants. The Berjaya group brought in 250 Albanians to work on its luxury island resort near the Thai border, while architectural firms employ British graduates--on close to local terms, not fancy expatriate packages. Yet despite that and the call to open up the economy, the government won't allow foreigners married to Malaysians to work.
As a result, companies are shifting production elsewhere, and the labor shortage contributed to a 19% drop in foreign investment approvals last year. James L. Lamm, managing director of TI Malaysia, says that finding qualified workers is the country's biggest problem. That's a major reason why TI set up its newest $1.2 billion joint-venture chip fabrication plant in Thailand instead of Malaysia. The labor crunch also pushed up manufacturing wages an estimated 20% last year, fueling inflationary pressures.
Foreign investment in technology-related fields is declining even faster than overall capital spending. Approved foreign investment in the electronics sector fell 51% in 1995. Intel Corp. recently said it would spend $3.1 billion on new fabs in Israel and Ireland but build only a modest motherboard factory in Malaysia, which analysts estimate will cost $30 million. With China, Indonesia, and Vietnam emerging as stiff competitors, analysts are skeptical that Malaysia can get the burst of new, more sophisticated investment its planners expect.
The high costs of doing business in Malaysia are even causing some local players to move offshore. Malaysia Airlines plans to set up an office in London to handle its accounting. With qualified accountants in Kuala Lumpur costing upwards of $47,000 a year, "I can employ people more cheaply in London and other places," says Chairman Tajudin bin Ramli. The airline is having such a hard time finding well-educated cabin crews that Tajudin plans to start recruiting in Burma.
Can Malaysia shift gears fast enough to regain its economic momentum? That is the key question. Take Malaysia's ambitions in finance. Finance Minister Anwar Ibrahim, who is expected to succeed Mahathir later this decade, last June launched an initiative to make Malaysia an international financial center. The hope is to build on an earlier plan promoting Labuan, a tiny island off Borneo, as an offshore banking center while developing Kuala Lumpur as a fund-management center. In the first nibble since the Anwar announcement, Morgan Stanley & Co. in January said that it will set up a fund-management operation in Kuala Lumpur in a venture with the Malaysian police pension fund.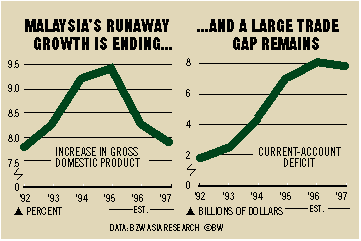 Overall, though, financial institutions have been slow to pounce. "We are getting concerned" at the lack of interest, concedes Tong Kooi Ong, chief executive officer of Phileo Allied Securities, who is an adviser to Anwar and heads the country's seventh-largest bank. One reason for the absence of enthusiasm is that Malaysia isn't as open to foreign businesses as Hong Kong or Singapore, in part because it needs to maintain a delicate balance between ethnic Chinese, who control about 60% of the economy, and the politically dominant Malays. Unlike Hong Kong and Singapore, Malaysia remains cautious about letting foreigners work in finance. Expatriates have a hard time getting permits that will allow them to work legally in foreign securities houses. It's even illegal to import copies of newspapers from neighboring Singapore because of long-standing rivalries between the two countries.
Looking at the year ahead, a weakening yen should cut Malaysia's trade deficit. But it won't help the country ratchet up its economy to a new level of sophistication. Singapore accomplished this task a decade ago by raising minimum wages and letting the currency appreciate. It was a successful, albeit painful, policy. Hooked on high growth, Malaysia hasn't yet shown that sort of political courage. But Malaysians can hope that Mahathir's economic pragmatism will triumph over his desire to leave a string of expensive monuments.
Before it's here, it's on the Bloomberg Terminal.
LEARN MORE