America's No. 1 Car Exporter Is...Japan?
That's right. The Japanese now ship out more North American-made cars than Detroit
By
A delegation of Chinese officials came to America last year in search of automobiles they could buy to help reduce China's growing trade surplus with the U.S. Who did they approach? Naturally they went to Honda Motor Co. and Toyota Motor Corp., America's top two car exporters. "They wanted cars from our Ohio plant," recalls Yo Masuda, Honda's vice-president for exports from the U.S. Honda couldn't deliver, but Toyota was happy to oblige and just began shipping Avalon sedans to China from its Kentucky factory.
While Detroit's Big Three focus on winning the battle against Japan on U.S. soil, they're losing the battle on the high seas. For the first time, the Japanese surpassed Detroit in North American car exports last year by shipping 167,000 cars from their U.S. and Canadian factories while the Big Three exported 162,553. Detroit jumps way ahead, with 316,000 vehicles, when trucks, minivans, and sport-utility vehicles are counted, but Japan wasn't making those for export. Now, as more Japanese trucks and minivans roll out, many will be exported. "We expect exports from North America to increase steadily," promises Toyota President Hiroshi Okuda.
A potent combination of high costs in Japan and political expediency in the U.S. is pushing Japan's North American "transplants" into the exporting game. Honda, America's No.1 car exporter, devotes 20% of its North American production to exports, generating $1.6 billion in annual revenue. Toyota, in four years, plans to more than double its American exports. That means it will be shipping more vehicles from U.S. ports than it receives from Japan, says Doug West, Toyota's U.S. group vice-president for export and logistics. Analysts say 1 in 5 vehicles produced at all transplants by 2000 will be destined for export.
Right now, more than half of Japan's North American exports return to the Japanese market. Honda shipped nearly 50,000 cars to Japan last year, while Toyota sent 39,000 models. Motivated by the strong yen and the near trade war between the U.S. and Japan last summer, Toyota's American factories managed to boost exports to Japan more than fourfold in 1995. The rapid rise in exports by Toyota and Honda has other Japanese auto makers seriously considering increasing their shipments from U.S. plants.
STILL FEELING SHUNNED. Will those exports ease trade frictions? Probably not any time soon. So far, they're making only a small dent in America's $60 billion-plus trade deficit with Japan. And the shipments don't resolve the larger problem: U.S. auto makers continue to feel shunned by Japanese auto dealers. "We did not get into a trade negotiation [with Japan] to make sure the Japanese market would be open to Toyota and Honda," says Marjory E. Searing, deputy assistant secretary for Japan at the U.S. Commerce Dept.
Indeed, the Big Three managed to export a paltry 13,675 cars to Japan last year, although they had better luck with trucks, shipping out 23,450. Despite the trade agreement reached in June, U.S. auto executives charge that Japanese dealers still close their doors to Detroit out of fear of retribution by the Japanese car companies. "This is all about shelf space, and we don't have good shelf space in Japan," says Andrew Card, president of the American Automobile Manufacturers Assn., the Big Three's Washington lobbying arm. Card says only about two dozen more Japanese dealers have begun selling Big Three vehicles since August.
The Japanese auto makers argue their U.S. exports are just as important in resolving the trade imbalance as whatever Detroit can muster. But the Japanese fear their contribution won't count for much on Mar. 15, when Washington takes stock of how American companies are faring in Japan. "The Clinton Administration isn't focusing on the big picture. They're only looking at Detroit," said Philip Hutchinson, the Japanese auto makers' chief lobbyist in Washington. "If this were Britain, we'd have received the Queen's [Order of the] Garter award for our exports."
Other countries on the receiving end of Japan's exports from the U.S. also aren't overly pleased. Ships loaded with U.S.-made Toyotas, Hondas, Nissans, Mazdas, Mitsubishis, Subarus, and Isuzus steam past Japan to unload in Taiwan, a market that bars vehicles made in Japan for political and economic reasons. Honda was the first to ship to Taiwan in 1987, and Toyota quickly followed. In fact, until it was surpassed by Japan last year, Taiwan was the No.1 port of entry for U.S.-made Japanese cars.
CRACKING KOREA. The next target for Japanese transplant exports: South Korea, which is closed to vehicles assembled in Japan for reasons of both economic competition and cultural enmity. But now Toyota, in particular, is said to be planning a big push into that market from the U.S. Detroit is trying to crack the protected Korean market, too, but the transplants have an edge: Korean consumers prefer the small, high-quality cars for which the Japanese are known. "The kinds of cars Korea and Taiwan like are the ones that the Japanese make in the U.S.," says Linda Y.C. Lim, an Asian trade expert at the University of Michigan business school.
Gaining entry into Europe has not been as easy for the Japanese. Import duties and value-added taxes send sticker prices soaring. An Ohio-made Honda Accord Wagon that sells for about $23,000 in the U.S. goes for as much as $35,000 in Germany. "The premium price of our cars has prevented the European market from expanding like we wanted," says Toyota's West, who managed to export only 659 Toyotas to Europe last year, a threefold decline from 1994. The story is the same in Brazil, where a huge 70% duty pushes the price of an Accord Wagon up to $68,000.
Overall, Honda's U.S. operation has been the most aggressive in breaking into restricted markets. Honda will export to 56 countries from North America this year and even carved out a niche in Europe for its two-door Civic, which sells there as an upscale coupe. Honda was forced to look elsewhere for coupe sales after U.S. consumers gave a chilly reception to the Accord and Civic two-door models, which are built exclusively in Ohio. "We found that people wanted four doors in this market," Masuda says. "So we exported [the coupes] as niche models."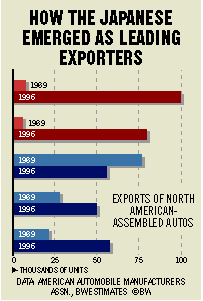 Filling their U.S. assembly lines with an international array of products gives the Japanese the ability to smooth out the economic swings that afflict most auto plants. "It just makes good business sense," says David E. Cole, director of the University of Michigan's Office for the Study of Automotive Transportation. "When there's a soft market here and a strong market elsewhere, they can just export."
The Japanese reputation for knowing how to adapt their products for all markets sometimes leads to unusual requests from unusual markets. A Toyota distributor in Iceland just sent a letter to West to put in an early order for the T100 pickup trucks Toyota will begin building in Indiana in 1998. "It might not be a high-sales market," West says, "but I'm going to do everything I can to make sure he gets some trucks." It's that kind of thinking that is making the Japanese such formidable America-based exporters.
Before it's here, it's on the Bloomberg Terminal.
LEARN MORE