A Breakthrough In The Sky
The U.S. and Germany are near a landmark reg-slashing deal
by
Less than five years ago, unfettered international airline competition seemed a hopeless fantasy. Then, in 1992, the U.S. struck a deregulation pact with the Netherlands. Last year, it won similar accords with nine small European nations. Now, U.S. and German aviation officials are close to reaching what could be a landmark reg-slashing deal: an "open-skies" pact that would virtually end restrictions on flights between the two nations--and possibly usher in a new era in North Atlantic air travel.
The agreement could increase air traffic between the U.S. and Germany by 10%, industry and government analysts estimate, and generate an extra $200 million in annual revenues for American carriers. Airline sources say it could lead to new German-based flight connections to destinations in Asia and Africa. Most important, it could pressure long-resistant Britain and France, among others, into comparable pacts.
Under the terms worked out in six months of closed-door negotiations between the U.S. Transportation Dept. and the German Transport Ministry, carriers from both countries would be free to set their own fares and flight schedules, according to U.S. officials. While the agreement would not allow Lufthansa, for example, to fly between U.S. cities, it would grant the carrier access to any U.S. airport that maintains customs and immigration services. "This is a breakthrough agreement," says Matthias Wissmann, Germany's Transport Minister. "We've set a flight path to deregulation." Announcement of a final deal is expected later this month.
Why now? German aviation officials hope the pact will help Lufthansa counter rivals such as British Airways PLC, which sources say is close to nailing down a partnership with American Airlines Inc. That deal faces several hurdles: U.S. transportation officials are threatening to block it unless Britain grants U.S. carriers greater access to London's Heathrow Airport, Europe's busiest. If it flies, though, the pact would allow American to feed domestic U.S. passengers into parts of BA's global network, and vice versa, creating the largest and most powerful airline alliance in the world. It also would threaten BA's troubled relationship with partner USAir.
Lufthansa entered into a similar joint operating agreement with United Airlines Inc. in 1994. That alliance would be dramatically strengthened by an exemption from U.S. Justice Dept. antitrust restrictions, which German negotiators are demanding before they agree to open skies. The exemption would free the airlines from laws prohibiting collaboration on fares and coordinating schedules. As a result, Lufthansa and United could realize efficiency savings totaling $40 million, some U.S. analysts estimate. "It's a win-win situation for both airlines," says Lorne Campbell of Schroder Munchmeyer Hengst & Co., a German investment bank.
The prospect of a stronger United-Lufthansa alliance is already redrawing the competitive map. American Airlines has ended its flights between Chicago and Munich, saying it cannot compete against the potent combination. For its part, American is calling on U.S. negotiators to speed up talks on gaining more route rights in Japan.
BUSIEST HUB. Transportation Dept. officials, meanwhile, are eyeing Britain and France. Heathrow now handles as much as 70% of air traffic from the U.S. to the rest of Europe. But British authorities have only granted landing rights there to just two U.S. carriers, American and United. The U.S. envisions a deregulated Germany siphoning off traffic from Heathrow and turning Frankfurt into a major gateway to the booming Asian markets. "Is it realistic to think German airports will provide key gateways to the rapidly expanding Asia-Pacific market? Absolutely," says Senator Larry Pressler (R-S.D.), a key negotiator for the U.S. in talks with Germany.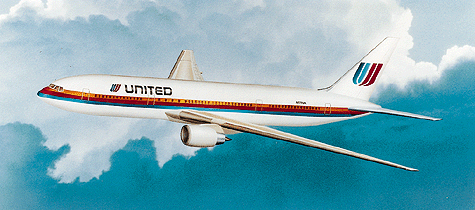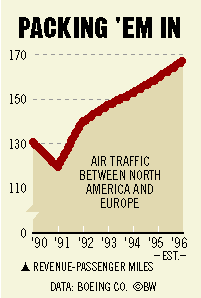 The British scoff at the U.S. gambit to leverage such a deal, and say there simply is no space at Heathrow for more American carriers. British Airways spokesman Michael Blunt says the idea that British Airways officials are afraid to compete against leaner and meaner American rivals "is absolute codswallop." But on Feb. 7, British Foreign Secretary Malcolm Rifkind declared his willingness to reopen U.S.-British aviation talks, which stalled in October. "Last year, we made some progress before talks broke down," Rifkind says. "There's no good reason not to resume those talks." And now there's a very good reason to do so: Germany.
Before it's here, it's on the Bloomberg Terminal.
LEARN MORE