Will Quaker Get The Recipe Right?
Greg Burns
Quaker Oats Co. beverage honcho Donald R. Uzzi thought he was pitching a deal as sweet as Peach Snapple. Days after his company acquired Snapple Beverage Corp. at the end of 1994, Uzzi offered Snapple distributors the right to deliver the Gatorade sports drink. All they needed to do was turn over part of their exclusive Snapple territories to Gatorade's distribution system. The Snapple crowd's snappy answer: Keep your Gatorade. Quaker's tea party was off to a rocky start.
Quaker paid $1.7 billion for an iced-tea and fruit-drink brand that had used odd flavors and quirky ads to pioneer a new beverage category. The New Age drinks were supposed to provide earnings growth for the stagnant cereal maker and help it end perennial takeover rumors. But so far, Snapple has been more toxin than tonic.
BITTER BREW. First, those defiant independent Snapple distributors, armed with ironclad contracts, forced Quaker to scrap its plans to streamline distribution. Then, huge inventories of obsolete products and packaging overflowed into landfills and closeout stores. And where Snapple had once wooed a cult following with TV and radio ads featuring offbeat celebrities such as Howard Stern, Rush Limbaugh, and "Snapple Lady" Wendy Kaufman, Quaker didn't advertise the brand for months. Smelling blood, competitors such as PepsiCo Inc. and Coca-Cola Co. bored in with Lipton teas and Fruitopia juice drinks.
Profits predictably evaporated. Snapple lost $75 million in calendar 1995-- when the soft-drink industry was basking in "the hottest friggin' summer on record," as analyst John M. McMillin of Prudential Securities Inc. puts it. For the quarter ended Dec. 31, its Chicago-based parent expects a loss of as much as $60 million; Wall Street had forecast a $7 million profit as recently as December. For this year, McMillin pegs Snapple's operating earnings at around $40 million. That's a substantial improvement but still a paltry return on such a big investment--especially since the businesses Quaker sold to help pay for Snapple, solid if unexciting performers such as pet food and beans, generated roughly $110 million in income.
Quaker's remaining food businesses can't pick up all the slack: Growth is lagging in granola bars, branded oatmeal, and other key categories. On top of that, the powerhouse Gatorade franchise, which softened the blow for Quaker last year, will face greater competition this summer, when Coca-Cola's rival Powerade revels in an Olympics sponsorship.
SURPRISE. Although slow off the mark, Quaker is trying to fight back. Uzzi, president of the North American Beverage Div., has placated distributors by scaling back some of his aggressive plans. He is also shoring up Snapple's shaky manufacturing systems, another unpleasant surprise uncovered only after the deal was signed. Quaker is swallowing a $30 million charge to buy out onerous bottling contracts, ensuring that Snapple plants fill orders in days instead of weeks. That's on top of a $20 million write-off for excess inventories. This spring, Quaker will roll out new products, new packages, and a high-profile ad campaign. Quaker CEO William D. Smithburg predicts Snapple sales will jump about 15% as the company begins "hitting on all cylinders." While the outcome hinges on weather, new ads, and other unknowns, observers say Smithburg's forecast may well be on target.
It had better be. Quaker's poor performance in 1995, on top of a mediocre 1994, contributed to the October resignation of Smithburg's No.2, President Philip A. Marineau, company sources say. If Quaker fails to rebound in 1996, it could be pushed into a breakup of its beverage and food operations. Or the rumor-prone company could be put back into play as a target for acquisition, a prospect that has propped up the stock by an estimated 20%. "People think if it doesn't work out its problems, it's a takeover candidate," says analyst Arthur Cecil of T. Rowe Price Associates Inc., which owns about 1 million Quaker shares. Says Smithburg: "We are positive we can do a much better job."
Even if Smithburg does solve the problems with operations, Snapple's long-term performance is far from assured. To pay off in years to come, Snapple must grow beyond its current Northeast and West Coast strongholds. But critics contend that Quaker overpaid for a poorly managed fad drink--just as the bubble was bursting. In fact, sales of fruit drinks and premium teas dropped 10% to 15% last year, partly because Snapple stopped driving sales. One growth segment: low-priced ready-to-drink tea, where Snapple doesn't compete.
In distribution, so critical in the beverage game, Snapple remains spotty. Distribution woes distracted Quaker during the crucial planning months before last year's summer season. Initially, Quaker wanted its efficient Gatorade warehouse-delivery system to take over Snapple's supermarket accounts from the 350 independent distributors that serviced those big chains at the time of the sale. In exchange for the chain-store routes, Snapple's distributors would be given rights to deliver Gatorade directly to mom-and-pop delis and other hard-to-service accounts where the sports drink has great potential but little presence. That partnership could have pushed both brands to new heights. But, as Uzzi concedes today, "It might have been an idea ahead of its time."
VETO POWER. Certainly, Snapple distributors, whose exclusive--and in some cases perpetual--territory contracts give them veto power, had reason to balk. For them, Snapple is much more profitable: Its $4-per-case margins are roughly double what they could make on Gatorade. And in many cases, surrendering chain-store Snapple accounts would have undermined their profits delivering other beverages to the chains. Quaker brass "just didn't know our business," says Joseph Rosamilia Sr., vice- chairman of Millrose Distributors in New Brunswick, N.J., a top Snapple dealer.
Quaker had also counted on greater manufacturing synergies. Instead, it inherited contracts that locked it into unrealistic production levels with independent bottlers the company didn't need. To avoid paying penalties and to clear up its supply-chain problems, Quaker eventually had to buy out some of those agreements. But Snapple had thrown Quaker another curve by piling up big raw-material inventories. When Quaker settled on plastic for its 32-ounce bottles and redesigned confusing labels, mountains of obsolete glass and paper had to be dumped. Quaker also had to liquidate more than 1 million cases of Snapple in outdated cans as well as some discontinued flavors and ingredients. "Snapple went very, very long in procurement," Uzzi notes wearily.
Oddly for a company built on it, Snapple fell short in marketing. By the time Quaker bought it, Snapple had been on the block for months, and a short-term mentality prevailed. Few new products were in the pipeline, and no new ads or major promos were slated for the spring kickoff of the beverage season. Quaker revived "Wendy" ads briefly but pulled the plug in August, when they failed to drive up sales. Snapple hasn't had a campaign since. That frustrated distributors used to Snapple's guerrilla tactics. "They waited too long. Nothing was being done," gripes distributor George Julius of Beverage America Inc. in Holland, Mich.
That will change when new TV spots break in April. Snapple's ad agency Kirshenbaum Bond & Partners has a tall order: The brand needs a harder sell, but it must maintain its quirky image, even as it becomes part of a giant corporation. The new ads ditch Wendy, who helped build Snapple's early following. Finding something that works as well will be tough. Quaker also plans high-impact promotions, such as an under-the-bottle-cap sweepstakes. And after paring back the line by at least a dozen flavors, Quaker is rolling out new ones, including tropical-fruit Island Cocktails. It reformulated diet drinks for better taste and slapped on labels that were more eye-grabbing. A new shelf-stocking scheme will reduce customer confusion by separating the tea, juice, lemonade, and diet drinks.
Of course, rivals will be on the move, too. The Pepsi-Lipton Tea Partnership will promote "real-tea taste," while Coca-Cola will keep pushing Nestea and will restage its Fruitopia juice drinks with new ads. But Eric Reinhard, general manager of the Pepsi-Lipton partnership, expects Snapple to be more of a challenge this year than during 1995. For Snapple, "there's nowhere to go but up," he says.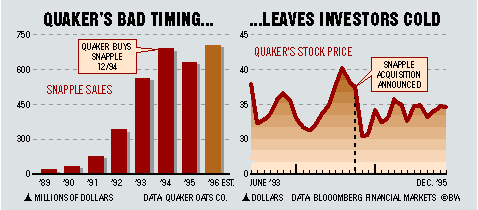 Some benefits of improved systems should begin to show on the bottom line this year. By cutting one-third of its independent bottlers and introducing a centralized ordering system, Quaker is curbing the production bottlenecks and out-of-stock problems that plagued the old Snapple. Streamlined plants will be able to make a range of new packages as well, including 32-ounce plastic bottles that could become a popular new size. And many observers expect Quaker to buy out weak distributors gradually, taking additional territories in-house. So far, it has cut the ranks to 300, and taken control of Florida, Texas, and Orange County, Calif.
As 1995 ended, Snapple's vital signs were stronger, with sales improving in the fall. Among brands with global ambitions, Snapple still has some of the most "colossal" prospects, says beverage consultant Tom Pirko of Bevmark Inc. For his part, Smithburg bristles at the suggestion that he bet the farm on a fad: "We certainly believe we bought a brand with legs," he insists. Now, if only it would get up off its back and run.
Before it's here, it's on the Bloomberg Terminal.
LEARN MORE