While China Barks, Capitalists Bite
With fresh incentives, foreign investment in Taiwan is peaking
Margaret Dawson
With Taiwan's presidential elections coming up in March, China is stepping up threats to take military action if the island tilts too far toward independence. Last year, such scares helped trim 27% from Taiwan's stock market. Yet Beijing's bluster hasn't fazed Texas Instruments Inc. With Taiwanese partner Acer Inc., TI is building a $1 billion memory-chip facility at its state-of-the-art complex south of Taipei. "We are here for the long term," says Gene Carlone, president of TI Taiwan.
TI is one of many Western companies giving the island a vote of confidence. Foreign investors are lining up, attracted by Taiwan's growing role in such areas as liquid crystal displays, chips, and PCs. Last year, foreigners poured a record $2.9 billion into Taiwan (chart). They shrug at reports of military moves by Beijing. "People don't believe that the Chinese are ready to take over," says Abraham Levine, director of worldwide telecommunications marketing for Control Data Systems Inc., which has its regional headquarters in Taipei.
Still, the Taiwanese have a bit of a hard sell. To keep the money coming in, they're easing investment regulations. For instance, on Jan. 18, the legislature passed a telecommunications bill allowing foreign investment in Taiwan's pager and cellular-phone markets.
The Taiwanese have been especially successful in attracting chipmakers. In addition to TI's new investment, U.S.-based Silinx Inc. and Trident Microsystems Inc. last year pumped $528 million into a semiconductor production facility with United Microelectronics Corp. Philips injected more than $500 million into facilities making chips, personal computers, and high-resolution color monitors. The chip industry also has attracted Mitsubishi Electric Corp. and Komatsu Electronic Metals Co. Komatsu is linking up with Taiwan's Formosa Plastics Corp. in a $250 million joint venture to produce eight-inch silicon wafers.
TELECOM REFORM. Unlike past investments in Taiwan, most of the new money also includes the transfer of advanced integrated-circuit production technology. That's something the Japanese were reluctant to do in the past. But with costs rising in Japan, Taiwan is an attractive alternative. "Taiwan has moved from the low end of the technology scale to the high end when it comes to IC production," says Ben Lee, semiconductor analyst for Dataquest Taiwan.
Meantime, telecom reform has piqued the interest of global giants. The state-run Directorate General of Telecommunications (DGT) currently monopolizes the market. The new telecom act calls for DGT's privatization by 2000. By then, foreigners will be let into local and long-distance service. While foreigners won't be allowed to own more than 20% of outfits providing mobile-phone and paging services, such companies as Northern Telecom and AT&T are eager to get even a small piece of the business.
Taipei is also promising to provide direct help. "Encouraging foreign investment is no longer just a policy but a priority," boasts Huang Chin-tan, vice-executive secretary for the Economic Affairs Ministry's Investment Commission. If a foreign company invests more than $180 million, says Huang, a vice-minister will personally help the company work through the bureaucracy.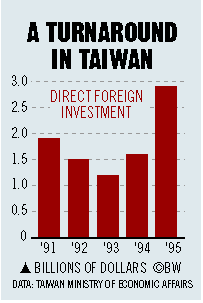 It might take more than hand-holding by officials to keep foreign investment at record highs. Despite recent moves to make Taiwan friendlier to foreigners, the island still lags far behind regional rival Hong Kong. Taipei maintains a 15% ceiling on foreign investment in listed companies, just one of many restrictions the government imposes on foreigners wishing to participate in the equities markets. And multinationals had hoped that the new telecom law would allow 30% foreign ownership, rather than the 20% that the legislature finally approved.
Despite such problems, foreign investment is likely to continue rising. American business leaders expect the government now to push through proposals that have been hanging for months, such as Federal Express Co.'s plan for a regional distribution center on the island. "There seems to be a sense of urgency among government officials to complete these deals," says Lynn Murray Sien, executive director of the American Chamber of Commerce in Taipei. As saber rattling picks up, the Taiwanese certainly have an incentive to win as many friends as they can.
Before it's here, it's on the Bloomberg Terminal.
LEARN MORE