Stocks Are Flying High Down Under
Lower rates and an entree to Asia have investors rushing in
Tracey Aubin
Like planets in lucky alignment, global economic events have smiled on Australia's stock market. After a dismal 1994, the benchmark Australia All-Ordinaries index began picking up steam a year ago, turning in a healthy 15% gain in 12 months. Now, analysts expect the index to hit an all-time high in 1996 and keep on rising.
The forces pulling up stock prices Down Under are coming both from outside the country and within. Foreign investors see a large, liquid market that gives them a chance to bet on Asia as well as ride the wave of rising commodity and gold prices. And investors at home have turned increasingly to stock ownership as interest rates have plunged, from a peak of 18% in the early 1990s to around 7.5% now. Since these trends show no sign of reversing soon, many observers expect the Sydney-based index to rise a further 20% in 1996. Says Michael Hefferman, head of research with Shaw Stockbroking in Melbourne: "Just watch her go."
For offshore investors, the main lure of the Sydney exchange is its concentration of mining and resource companies. The stock market is among the biggest in the Pacific Rim and the world's 10th-largest, with a market capitalization of more than $360 billion and more than 1,100 listed companies. Reflecting the makeup of Australia's economy, about 40% of these are resource-based. So when the commodity price cycle turns up, Australian stocks are a natural bet.
EXPORT BOOM. That cycle largely explains the index' performance in the past year (chart). The Australian Bureau of Agricultural & Resource Economics, the federal government's forecasting agency, predicts that the value of Australian commodity exports will rise 14% from June, 1995, to June, 1996. Mineral exports are expected to be up 20% in the same period, thanks to rising demand in developing economies and falling stocks of resources in world markets--despite a slowdown in the U.S. and recession fears in Europe.
But Australia's mining sector is also an Asia play. The Aussies are big operators in the mineral exploration boom across Southeast Asia. Australian companies, in fact, account for nearly a third of all exploration investment in Asia. The Asia players include Australia's two biggest companies, Broken Hill Proprietary Co. and CRA Ltd.
BROKEN RECORD. While foreign investors are betting on commodities and Asia, stock pickers at home are bullish on local business. Mom-and-pop investors who traditionally shunned stocks in favor of bank deposits or bonds became more adventurous when the government began selling off pieces of state-owned companies that were household names--including a 25% stake in Qantas Airways Ltd., Australia's flagship international carrier, in March, 1993. At the same time, interest rates on savings accounts dipped as low as 1.5%, driving depositors to seek higher returns elsewhere.
A wave of television programs and newspaper columns offering financial advice encouraged small investors to participate in the new stock offerings. Small investors rushed to take part when the government sold off a 30% slice of Commonwealth Bank of Australia in 1991. The issue raised about $975 million and was at the time the biggest public share sale in Australian history. Commonwealth stock has risen 92% since the offering.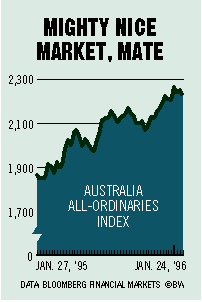 The record was broken two years later when Australia's biggest food retailer, Woolworths Ltd., went public with a $4.9 billion initial public offering. The issue was 2 1/2 times oversubscribed. In 1995, when the government floated its remaining 75% stake in Qantas, the issue was also oversubscribed. This year, another big chunk of Commonwealth Bank goes on sale, and analysts expect similar demand. Stock buying is now so popular that small investors own more than 35% of shares, a big jump from 22% just four years ago.
Local and foreign investors have another big incentive to buy stocks: falling interest rates. Many analysts expect a rate cut before the first quarter of 1996 is over, since the economy is cooling down from the 5.4% and 3.5% growth rates of the last two years. That spells more gains in a stock market that already has plenty going for it.
Before it's here, it's on the Bloomberg Terminal.
LEARN MORE