Rjr: Shareholder At The Gate
Bennett LeBow refines the takeover game, circa 1996
by
Bennett S. LeBow clearly has a bit of an image problem. His enemies have some choice--and often unprintable--epithets for him, and even a friend describes his reputation as "radioactive." No wonder: The third-tier wheeler-dealer has had two of his public companies, MAI Systems Corp. and New Valley Corp., file for bankruptcy. His current public company, Miami-based Brooke Group Ltd., operates at a loss and recently had to restructure much of its debt. And LeBow has repeatedly fended off allegations by angry Brooke shareholders that he improperly helps himself to company assets.
A minor-league bottom-fisher LeBow may have been. But as some startled folks at RJR Nabisco Inc. are learning, he may be on the verge of the big time. More and more, it looks as if he stands a reasonable chance of emerging victorious in his battle to engineer a breakup of the giant food and tobacco company. In a move some interpret as a show of confidence, LeBow on Jan. 23 moved up by almost a month the cutoff date of a shareholder resolution he is promoting that would demand that RJR spin off Nabisco immediately. The deadline for the closely watched shareholder vote is now Feb. 15.
UP FROM NOWHERE. LeBow, with his partner, raider Carl C. Icahn, controls just 4.8% of RJR's stock. When the pair began their campaign last fall by pressuring the company to spin off the remaining 80.5% of its Nabisco food business, "it seemed LeBow had no chance in hell," says Sanford C. Bernstein & Co. tobacco analyst Gary D. Black. Somewhat surprisingly, however, "people are much more receptive to LeBow's proposal than a lot of people would have thought going in," he says. "People are starting to say he does have a chance."
If he succeeds, LeBow will force the breakup of a storied company that was the focus of a titanic contest between its management and Kohlberg Kravis Roberts & Co. in the defining takeover struggle of the 1980s. But in his present campaign, LeBow may be writing some new rules for the takeover game, circa 1996. Instead of tender offers and debt financing, LeBow, armed with just 1.8% of the company's shares, is attempting to dictate the fate of RJR Nabisco by wrapping himself in the rhetoric and the tactics of the shareholder-rights movement.
LeBow figures a quick spin-off will yield an immediate 38% gain for RJR shareholders, who watched their shares fall from a September, 1991, high of about 61 to about 28 before he began his campaign. The stock is now at about 34. LeBow's campaign to put a central management issue to a shareholder vote signals "a whole new era in [shareholder] rights. This is a test of shareholder democracy," notes Salomon Brothers Inc. analyst Diana K. Temple, who also thinks a majority of shareholders will back LeBow's spin-off vote. At issue is whether "shareholders have the right to impose certain solutions or directives on the board."
The company argues that it wants to spin off Nabisco too, and has wanted to for years. But it says it must wait for the tobacco-litigation environment to improve. That could take until 1998, says Steven F. Goldstone, a lawyer who was named RJR's chief executive in December. (Former CEO Charles M. Harper remains the company's chairman.)
In its appeals to shareholders to vote against the breakup proposal, RJR paints LeBow as an irresponsible quick-buck artist who is only now pushing the spin-off because RJR in May turned down a deal he proposed to Harper and Goldstone. LeBow's proposal then was for RJR to be acquired by Brooke's Liggett tobacco subsidiary. LeBow's board would then have spun off Nabisco. LeBow's board, and not RJR's, was to assume the legal risk if tobacco plaintiffs or RJR bondholders sued. The payoff for LeBow: a 20% stake in the merged Liggett-RJR. His partner in the deal, German tobacco company Reemtsma Cigarettenfabriken, would have formed a joint venture with RJR's international operations.
NOW, "VOYAGEUR." Harper says LeBow was "turned down right there, to his face." But LeBow maintains that the deal was taken seriously enough by RJR for Goldstone to meet with LeBow's lawyers three more times that summer. When all hopes of a friendly deal involving Liggett died in July, LeBow already owned 723,000 RJR shares. He was convinced that a great deal of money could still be made if RJR were to overcome its litigation concerns and spin off Nabisco immediately. LeBow thinks RJR won't spin off Nabisco because its directors fear potential personal liability under a legal concept called "fraudulent conveyance," which may arise if a company improperly shuffles assets. Goldstone says personal liability is not a major concern of the board. LeBow teamed up with major Brooke debt holder Icahn, who bought 8 million shares but leaves the heavy lifting to LeBow.
The affable Harper grows almost apoplectic when discussing LeBow. He dismisses Liggett as "a little rinky-dink company" and LeBow as a "voyageur hopping out of his canoe on the shore of the Hudson." If LeBow isn't exactly the itinerant fur trader Harper paints him as, the mantle of shareholder advocate nevertheless seems to rest a bit awkwardly on his shoulders. As RJR hastens to point out, his holdings have been marked by bankruptcies, insider deals, and shareholder lawsuits. LeBow, 58, counters that he invests in troubled companies, that his personal loans from Brooke have been repaid with interest, and that investors who stayed with Brooke from 1991 through 1995 have reaped a compound annual rate of return of 26.8%, compared with a 3.8% return for RJR since its 1991 initial public offering. But his reputation is a side issue, LeBow says. "What else do they have to talk about? Why don't they talk about the issues?"
Goldstone argues that the real issue is RJR Nabisco's continuing viability as a company. LeBow's spin-off proposal "would have a terribly destabilizing impact," says attorney Martin Lipton, who represents RJR in the consent solicitation. If the resolution passes, "it would make it extremely difficult to manage the company. People would have real questions as to the future course of the business and what is going to happen."
Maybe that's why RJR Nabisco seems willing to cede the high ground of shareholder democracy to LeBow. Goldstone vows that management and the board will not comply with calls for a quick spin-off, even if shareholders overwhelmingly back the plan. "If LeBow were to convince a majority of our shareholders to support [the immediate spin-off] resolution, the board would continue to do just what it's doing," Goldstone says.
LeBow seizes on such imperiousness with the populist gusto of an old-time pol. "This is a new high in contempt for shareholder rights. Now is the time to speak--or forever hold your... stock," LeBow proclaimed in full-page ads in The New York Times on Jan. 22 and The Wall Street Journal on Jan. 23, which bore the headline "RJR to Shareholders: DROP DEAD!" To assert control over their company, shareholders were urged to send in consent solicitation cards supporting the spin-off. LeBow's ad even listed a site on the World Wide Web that provided more information.
Several big shareholders tell BUSINESS WEEK they plan to back LeBow. "Although we haven't met with RJR yet, we currently lean toward voting for the spin-off," says Jeffrey A. Altman of Michael Price's Mutual Series Fund. Goldstone says he is "very confident" that LeBow won't have the votes he needs in the end.
CALLING RJR'S BLUFF. But by moving up the cutoff date for the vote, LeBow is indicating that he believes he can muster the votes he needs by Feb. 15. LeBow says he hopes that RJR reconsiders its position and obeys its shareholders' wishes. "I could be the worst guy in the world, [but] if they'd just spin off Nabisco to the shareholders, I'll sign in blood that we've done what we want, and we'll go off."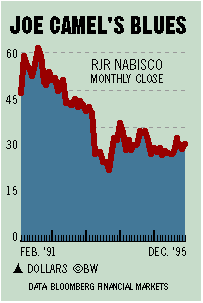 But he knows RJR says that it won't budge, and he's planning to call its bluff. Though LeBow claims that he does not want to actually control RJR's board of directors or manage the company, he and Icahn have submitted an alternate slate of directors for RJR's annual meeting in April. His decision to move up the spin-off vote may be a sign that he intends to try to gain control of the board.
If he wins the vote a month earlier than anticipated--and RJR ignores the mandate--LeBow will have more time before the annual meeting to file a proxy and campaign for shareholders to vote for his alternate slate of directors. No self-respecting champion of shareholder rights would have any alternative.
Before it's here, it's on the Bloomberg Terminal.
LEARN MORE