Ibm And Eds Could Both Make Offers
by
In spite of the sell-off in technology stocks, not all members of that group are on the ropes. Even among obscure small-cap tech issues, there are a few winners. Glasgal Communications (GLAS) is one such: Its shares, trading at around 3 last summer, have rocketed to 8. And it doesn't even make computer gear. Glasgal is an "open systems" integrator: It designs, installs, and services networks that incorporate a broad range of hardware, networking systems, and software.
Demand in the integration business is mushrooming, says analyst John Duffy of Brookehill Equities. Glasgal helps small-to-midsize corporations that have multiple sites throughout the country--but no in-house network skill.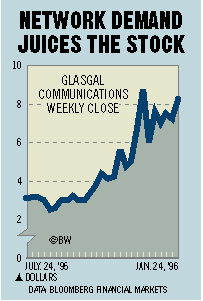 This growing market isn't served by such large outfits as Electronic Data Systems or Andersen Consulting. Because of Glasgal's dominant share in a niche market, EDS is rumored to be interested in acquiring it. One big investor is convinced that, once EDS makes a move on Glasgal, IBM may not be too far behind.
But no matter. Glasgal's business from its own clients is on the rise. Waterhouse Securities, one of its largest customers, is greatly expanding its network in 1996, according to Duffy. "This should result in additional revenues of $3 million to $4 million," he figures. Other big clients: Nynex and Bell Atlantic. Duffy thinks Glasgal will turn the corner this year and make money, vs. last year's loss of 15 cents a share. He expects earnings of 8 cents a share this year and 23 cents next. Glasgal thinks more big clients will sign on soon.
Before it's here, it's on the Bloomberg Terminal.
LEARN MORE