Harder Evidence Of A Softer Economy
by
With Washington's data spigots back on, economy watchers finally have new numbers to quench their thirst for information. Already, the horizon is coming into focus.
The fresh data don't change the main theme of the outlook--that growth slowed at yearend and that the softness is continuing into 1996. In fact, they go a long way toward confirming it. Reports reveal that consumers scaled back their spending in the fourth quarter and that builders were selling fewer new houses.
And in December, weaker demand caused companies to slow their hiring and cut back on work time, as businesses continued to wrestle with too much inventory. As a result, industrial production managed only a small advance in December.
The 1996 outlook also unfolds against a redesigned gross domestic product. The new chain-weighted measure of GDP shows that growth in this expansion is slower than first thought. In fact, before posting a third-quarter advance of 3.2%, the economy skated perilously close to recession in 1995's first half.
The Commerce Dept. will not report on fourth-quarter GDP until late February, but the data now coming out say that growth slowed substantially. Even so, a recession remains unlikely in 1996. The blizzard will make many January numbers look dreadful, but the economy retains enough momentum to rebound after the thaw.
THE BROADEST EVIDENCE of the fourth quarter's softness came from the Labor Dept.'s delayed employment report. Nonfarm jobs increased by 151,000 in December, on top of a 166,000 rise in November. Payrolls grew by just 383,000 last quarter, down sharply from the year-ago pace (chart). December's unemployment rate remained at 5.6%, but the labor force has barely grown in the past year.
Manufacturing jobs grew by 52,000 in December, but 31,000 of those belonged to workers returning after a strike at Boeing Co., and a further 10,000 were auto workers returning from temporary layoff. The factory workweek slipped 6 minutes, to 41.4 hours.
Weakness in manufacturing was also evident in the meager 0.1% increase in industrial production in December. The output slowdown has been especially steep during the past year (chart), and it has been broad: Output of consumer goods is flat from a year ago, and production of business equipment has slowed sharply, particularly in the fourth quarter.
Construction is not faring much better. Sales of new single-family houses fell for the fourth consecutive month in November, to an annual rate of 649,000. That drop left builders with a hefty 7.2-month supply of unsold homes--a limit on housing starts in early 1996.
Although goods producers are facing some stagnation this winter, service providers should continue their modest uptrend. Service jobs rose 85,000 in December, despite a 48,000 plunge in retailing slots. As in manufacturing, service companies reduced their average workweek by 6 minutes, to 32.6 hours.
For households, shorter workweeks mean that, even as hourly wages are starting to pull ahead of inflation, weekly paychecks are not. Nonfarm hourly wages rose 0.4% in December and were up 3.2% over the past year. That suggests that real wages are up by about 0.5% for 1995--a sign that labor markets are tightening. Yet because the workweek has shrunk, weekly pay last quarter was no higher than it was a year earlier.
That pay squeeze partly explains why consumer confidence has plateaued and why spending is wavering. The Commerce Dept. reports that real disposable income increased 0.5% in October but just 0.2% in November. At the same time, inflation-adjusted consumer purchases fell 0.6% in October and then rebounded 0.9% in November.
Assuming that strong car sales pushed up December outlays by 0.3%, real spending probably grew at an annual rate of just 1.2% last quarter--far below the rise of the second and third periods, which show the same gains under the new GDP as in the old (chart, page 32).
THE COMMERCE DEPT.'S long-awaited Jan. 19 shift to its chain-weighted measure of real GDP went about as most economists had expected. The data, while backward-looking, nonetheless contain a couple of twists that affect the outlook.
As expected, the economy's pace is slower under the new system, mainly because the old fixed-weight measure overstated the growth of key fast-growth sectors, such as computers and other high-tech equipment, where prices are falling (BW--July 31).
The new data show the annual rate of growth to be just 2.5% during the first 4 1/2 years of this expansion--as opposed to 3.1% under the old 1987-based "fixed-weight" measure. Growth during just the past two years was lowered sharply by nearly a full point (2.7% vs. 3.6%).
The most striking revision occurred in last year's first half, when--according to the new reckoning--the economy had a close brush with recession (first- and second-quarter growth of 0.6% and 0.5%, respectively, vs. 2.7% and 1.3%).
DETAILS IN THE GDP NUMBERS show three trends worth noting: First, an improving trade deficit accounted for a chunk of the third quarter's growth. Exports picked up, after being slowed by the nosedive in Mexican demand, and imports grew much more slowly, reflecting softer U.S. demand. Those trends will continue in 1996, although export growth will be limited by Europe's slowdown.
Second, the adjustment from overly rapid inventory growth is moving along faster than was suggested by the old data. And in the third quarter, the mix of GDP between final sales and inventory growth shows more of the former and less of the latter--a more favorable pattern for future output gains.
The problem, though, is that the fourth-quarter pullback in demand may have stymied businesses' efforts to thin out their stock levels. So output weakness in the industrial sector is likely to extend into 1996.
The final point about the new GDP is that Commerce not only revised real GDP downward but it also lowered the growth rate of nominal, or current-dollar, GDP. That's quite a surprise. In fact, during the past two years, slower nominal GDP growth accounted for nearly 40% of the downward revision in the pace of real GDP.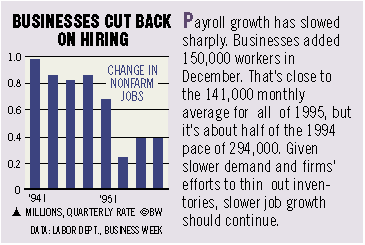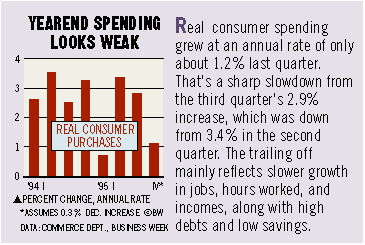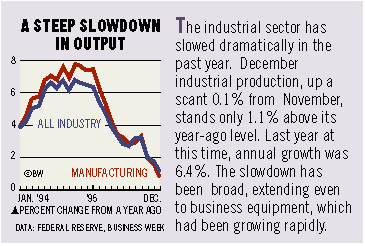 It means that the dollar value of overall demand in the economy has been growing even more slowly than was previously thought. That result partly explains the economy's much softer feel in recent years, especially in the eyes of struggling businesses. More important, it also suggests that monetary policy may well be tighter than the Federal Reserve had thought, increasing the chances for more interest-rate cuts.
On balance, the data finally emerging from Washington tell a consistent story: The economy looked softer at yearend than it did in the third quarter--and it's going to stay that way for a while.
Before it's here, it's on the Bloomberg Terminal.
LEARN MORE