Don't Leave Your Broker Without It?
by
Never mind that American Express (AXP) shares fell 11/4, to 411/2, on Jan. 23, after the company posted disappointing yearend results. And don't fret, say some money pros, that analysts were quick to cut their 1996 and 1997 estimates. The stock, they argue, will be one of this year's biggest stars.
What's behind their bullishness? For one thing, they argue that AmEx, a travel and financial-services giant, is undervalued--selling at a price-earnings ratio of only 11, based on revised 1996 earning estimates. For another, there are recurring whispers that AmEx is a merger target.
The chief investment strategist of a New York investment bank insists that "AmEx is back on the buyout radar screen" of another huge financial-services company. He believes this suitor may offer $30 billion, or $60 a share, in a stock-and-cash merger deal.
This banker says AmEx would mesh well with the global outfit that's so interested in a deal. "A perfect strategic fit," he says. An AmEx spokeswoman declined comment.
AmEx' Travel Related Services markets travelers checks and the American Express Card. And American Express Bank serves customers through offices in 37 countries. AmEx Financial Advisors (formerly IDS Financial Services) provides insurance, mutual funds, and financial planning to individuals and businesses.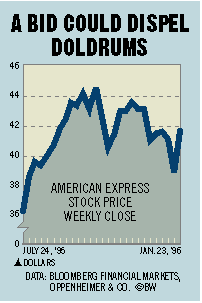 Says value investor Mark Boyar: "This company is one of the most undervalued components of the Dow Jones industrial average." Boyar, who heads a New York firm specializing in investments in companies with undervalued assets or franchises, says that, even without a merger, AmEx' stock price will hit 60 in a couple of years, based mainly on earnings-growth momentum and AmEx' broadening markets. With the Dow's 30 select corporations trading at 16 to 17 times their 1996 earnings estimates, AmEx could well trade at 15 to 16 times the 1996 estimate of $3.55--and get to the 55-60 range, says Boyar. As a measure of his confidence in AmEx, says Boyar, he has continued to buy shares.
Ned Davis of Oppenheimer, one of the analysts who have rolled back 1996 and 1997 estimates, still thinks that AmEx is a strong buy. He agrees that the p-e ratio is attractively low, considering AmEx has a "sustainable growth rate of 14%."
Before it's here, it's on the Bloomberg Terminal.
LEARN MORE