After turning in one of its best performances in years, the Israeli economy appears headed for another good year. A worsening trade position, however, replaces inflation as the major concern.
Israel's real gross domestic product grew at a healthy 6.9% in 1995, and the jobless rate slipped to 5.9% at yearend, down from 7.7% a year earlier. The benefits of the Middle East peace process and mass immigration from the former Soviet Union have helped the economy. Private forecasts expect GDP growth of between 5% and 6% in 1996.
More important, falling fruit and vegetable prices, a frozen exchange rate between the Israeli shekel and the dollar, and a tight monetary policy by the Bank of Israel cut inflation from 14.5% in 1994 to 8.1% in 1995, the lowest rate in 26 years. The government's inflation target for 1996 is a realistic range of 8% to 11%.
But the rigid exchange rate touched off a surge in imports. The current-account deficit widened to a revised $4.2 billion last year, up from $2.5 billion in 1994 (chart). The gap was first reported as $5.1 billion because the U.S. federal shutdown delayed $1.2 billion in assistance normally paid in October.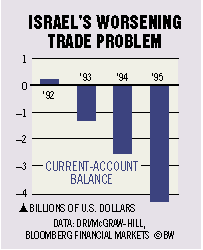 With elections due later this year, it is unlikely that the government of Prime Minister Shimon Peres will take any unpopular measures, such as a realignment of the shekel, to reduce the deficit. The elections are tentatively scheduled for October, but there is talk of an earlier date. In the meantime, Israel is paying for the deficit by increasing its foreign debt, which stands at $19 billion.
For now, Israel's low inflation and peace prospects have attracted an influx of foreign money, but the need to keep funds coming in to finance the trade gap means that interest rates will stay higher than justified by inflation. The prime rate is still a hefty 15.2%, and the central bank will continue its tight monetary policy. BOI Governor Jacob A. Frenkel has made it clear that after finally braking Israel's once rapid inflation, he has no plans to let up now.
Before it's here, it's on the Bloomberg Terminal.
LEARN MORE