A Town Out Of Touch Stirs Unease...
Tracey Aubin
When Canberra decided on Jan. 11 to give drug addicts free heroin, the rest of Australia looked on in disbelief. Not that radical notions are foreign to Australia's capital--far from it. The city has a reputation among Aussies as a laboratory for loony social experiments. But somehow the heroin proposal topped the lot.
Canberra's plan is to supply heroin to registered addicts on a trial basis in a bid to stem the power and influence of drug peddlers and reduce drug-related theft. And this is just the latest legislation passed in Canberra that other local governments wouldn't dare embrace. The prostitution laws in this city of 325,000 are the most liberal in the country, and plans to legalize euthanasia are still in the works after a proposal was defeated by the narrowest of margins in Canberra's 17-member Legislative Assembly last year. Pornography is already the city's fifth-largest retail business because of lenient censorship laws, and small-scale marijuana possession for personal use is a minor misdemeanor.
True, some of the city's more drastic measures don't last for long. In late 1994, a law was passed allowing doctors to prescribe marijuana and permitting citizens to grow it for medicinal purposes. Public outrage forced the law's repeal in a week. But local politicians say they're determined to go ahead with the heroin trial, and the debate has sparked the nation's astonishment as never before.
POISONOUS SNAKES. Canberra politicians, understandably, sound a tad defensive: "We're not experimenting--these are well-thought-out initiatives," argues Chief Minister Kate Carnell, whose post is equivalent to that of a governor of a state in the U.S. Others don't see it that way. "These things get through because of the smallness of Canberra's population and its government," says longtime resident and former head of the Canberra Development Board, Fulton Muir.
Canberra's reputation as a town out of touch reflects its artificial nature. The city was born early this century by government decree, a compromise to end rivalry between Sydney and Melbourne over which should be the capital.
Like Brasilia, Canberra is a planned city whose principal business is government. One person in four is on the public payroll, and most of the rest provide these employees with the services they require. Canberra offers a safe, untroubled lifestyle, with good schools, few traffic jams, and pleasant--if dull--suburbs and streetscapes. Predictably, it's highly regulated: Front yards can't be walled off, trees can't be cut down without permission, and all wildlife, even the many deadly poisonous snakes, is protected.
But to many of Australia's 18 million residents, the capital is a pampered place. And business, especially, despairs at the apparent inability of bureaucrats to understand the real world. Canberra, without major industrial or manufacturing sectors, has been shielded from the shocks of recession, and per capita income is well above every other Australian city. "We now have second- and third-generation public servants who have never lived anywhere but Canberra," says Brent Davis, director of trade and policy with the Australian Chamber of Commerce & Industry. "Their entire experience is the bureaucracy, and that causes immense frustration for business."
Right now, Canberra is bugging business for reasons other than bureaucracy. The federal government must hold a general election sometime in the first half of 1996, and opinion polls suggest Australia could see a transfer of power for the first time in 13 years. But uncertainty is paralyzing the business sector, forcing many crucial decisions to be put off.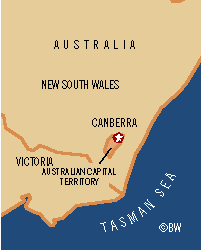 The ruling Labor Party lags the conservative coalition parties in every poll but is starting to claw its way back. With the parties' performance in the campaign expected to determine the outcome, the result is too close to call. An opposition win could bring changes in tax and foreign investment laws, but the coalition hasn't spelled out its economic policies. For that reason, "business is in a holding pattern," says Davis. "But we're not the first democracy in the world to suffer that." He and his Chamber colleagues just hope the vote will send Canberra a message.
Before it's here, it's on the Bloomberg Terminal.
LEARN MORE