`We Only Take Money With Brains Attached To It'
Broker Steven Abernathy gets ideas from MDs, not MBAs
by
When Steven H. Abernathy talks about interactive investing, those who knew him in his former career might flinch. But the boxer-turned-broker's idea of a useful contact has changed dramatically since the early 1980s.
Rather than relishing a good right jab, the contact he now values is bouncing ideas off the health-care and technology professionals that invest in the Steven Abernathy Group, a private client group at Manhattan-based investment firm Cowen & Co. He credits his stable of doctors and technology execs with providing an information edge that helped his aggressive accounts rack up a 45%-plus return in 1995 and an annual compound return of about 65% over the past five years.
SOUNDING BOARDS. But while most money managers consider themselves the pros and care little about the expertise of their clients, Abernathy and his colleague, Gary Leet, take a different approach. They say they will not manage someone's money unless that person can be helpful in, say, evaluating medical devices or new software being developed by companies that are not heavily followed by the Street. "We only take money with brains attached to it," says Leet. Clients act as sounding boards, he says, providing information on trends and products that may lead to investments. The group manages $90 million for 110 accounts.
With annual total returns ranging from 147.2% in 1993 to -6.3% in 1994, and holdings of just 8 to 12 stocks, Abernathy's growth style is risky. He doesn't believe diversification is the best way to lower risk. "The most effective way to reduce risk is to increase information," he says. And he feels he has the best information available. Whether it's because of superior information or some other factor, his five-year record even outshines the 28.4% average five-year return for the diversified technology funds tracked by Morningstar Inc.
Abernathy says he is a long-term investor, but he had some good short-term wins last year: managed healthcare company Pacificare Health Systems, which he bought as it rose from 53 to 62 and then sold four months later at prices ranging from 79 to 85; Respironics, a maker of medical devices, which he purchased at prices from 9 to 13 and which closed 1995 at 21; and Genetics Institute, bought around 38 and sold two months later at about 50.
Abernathy and Leet say information from their clients sometimes helps them avoid losing money. Abernathy thought a laparoscopic surgery device that U.S. Surgical Corp. made could be a winner. But after speaking to clients such as surgeon John Reeder he discovered that U.S. Surgical's pricing was being undercut. Instead of their competitor cutting the price of a similar device, however, it was discounting items that were bundled with the device and sold to hospitals. That made the competitor's inroads harder to spot. "That information stopped us from making a terribly costly error," says Abernathy.
BONING UP. More recently, an orthopedic surgeon gave Abernathy an idea. The surgeon was talking about osteoporosis and mentioned a new drug that adds density to bones. He added that there are ways to test bone density, but that the testing has not been widely used since there was no real way to treat the disease. With the new drug coming out, "we thought--what companies are the best at testing bone density?," says Abernathy. "There are some very good, young companies that could make a ton of money." Abernathy will not divulge company names because he has not yet decided where to invest.
His clients didn't help him avoid a dismal return in 1994. That year, he shorted semiconductor stocks. But instead of stock prices falling, prices rose and played a big role in the year's 6.3% loss.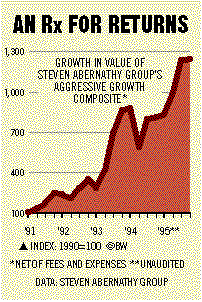 Now, Abernathy is again looking at semiconductors--betting that stock prices will rise. But here he is relying on the research of his firm, Cowen & Co., not on clients. "Applied Materials Inc. is being wrongly slammed," he says, having fallen almost 40% in six months. He thinks semiconductor demand will be stronger than expected. Another pick: Abbott Laboratories, which Abernathy says is a good value at 38 3/4. He still likes Respironics--despite its big gain.
Abernathy has an impressive record, but the bull market must get a lot of the credit. And with tech stocks starting 1996 on a sour note, Abernathy will have to make all the right moves in order to avoid the market's blows.
Before it's here, it's on the Bloomberg Terminal.
LEARN MORE