The Little Car That Could Carry Chrysler Overseas
A secret plan marks a strategic shift toward emerging markets
Bill Vlasic
It's a project Chrysler Corp. executives talk about discreetly, if at all. They call it the BTV--a "basic transportation vehicle" aimed at developing nations in Asia and South America. It's under wraps for now, but the tiny car eventually could be Chrysler's secret weapon in the global car wars.
The hush-hush BTV is an important symbol of Chrysler's plans for a bigger push into overseas markets. The No.3 U.S. car company is talking with India's Bajaj Auto Ltd. and Germany's Daimler Benz about forming overseas joint ventures, perhaps to build the BTV and perhaps for other projects. "We've looked at joint ventures in China and India," says Jurgen Hubbert, a member of the management board at Daimler's Mercedes-Benz unit.
BIG SHIFT. The talks come on top of a recent expansion effort overseas. This spring Chrysler is opening a European headquarters in Brussels that will have a staff of 200 by next year. It also is quietly putting up small assembly plants in Argentina and Thailand, reentering the Vietnamese and South African markets, and planning what Chairman Robert J. Eaton calls a "very sizable operation" in Brazil. Chrysler already has a five-year-old joint venture in Austria with an Austrian engineering firm that builds minivans and Jeep Grand Cherokees for sale in Europe. And it is developing a distribution network that will be selling right-hand-drive Grand Cherokees, Neons, Jeep Wranglers, and minivans in Japan by yearend.
The global moves mark a major shift in Chrysler's strategy. The company's foreign sales dropped to about zero after it sold off its European operation when it was struggling for survival during the late 1970s. Since surviving another brush with bankruptcy in 1991, the company has nearly tripled international sales over four years, to $4 billion (chart). But that's still just 9% of sales, and Eaton wants to raise the figure to 15% by 2000.
The moves abroad could address one of dissident shareholder Kirk Kerkorian's main criticisms of the company. Kerkorian has attacked Chrysler for its weakness in overseas markets and likely will approve of the expansion as long as it can be carried out relatively cheaply. But Chrysler insiders are bracing for criticism from Kerkorian if they go ahead with a major BTV plant, which could cost $1 billion or more and would cut into profit margins. "This is not the sort of thing an impatient shareholder wants," admits a top Chrysler insider.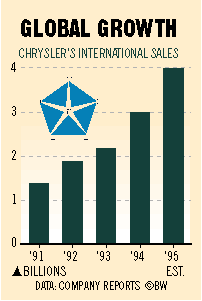 The BTV is important because it would allow Chrysler to home in on some of the world's fastest-growing markets. The idea is to appeal to buyers in developing nations in Asia, Africa, and Latin America with a car that is smaller and cheaper than models currently available. Chrysler already has crafted crude mock-ups of the four-seat BTV, which would sell for a minuscule $4,000 to $6,000 and would be even tinier than the urban commuter cars Ford and other rivals are developing for Europe. Insiders say the company hasn't decided for sure whether to build the BTV, but they acknowledge that coming out with such a vehicle is one of the company's strategic goals.
Outsiders don't think that Chrysler can afford to dally. "To be a real volume player [internationally], Chrysler needs to have a true, entry-level vehicle," says DRI/McGraw-Hill analyst Lincoln C. Merrihew. The BTV might be just the product to put a little gas into Chrysler's overseas comeback.
Before it's here, it's on the Bloomberg Terminal.
LEARN MORE