Slow Growth Is Better Than None
by
The "British model" is facing a test. With Germany and France near recession, can Britain keep the Continent's mess from washing up on its shores?
The answer is yes. Although Britain is slowing down, growth should remain in the plus column, and the seeds for a second-half pickup already are sown. The key reason: A decade of economic restructuring, including privatizations, reduced social costs, deregulated labor markets, and a domestic policy focus, has molded a less inflation-prone economy. That gives the monetary authorities more flexibility to manage growth.
Interest-sensitive sectors will lift demand as the Treasury cuts interest rates further amid political pressure to deliver a solid rebound ahead of elections. Already, firmer home prices, mortgage activity, and fourth-quarter car sales, along with surveys pointing to solid December retail activity, suggest healthier consumer spending. Despite the overall restrictiveness of the new budget, consumers will be better off this year in the face of lower taxes and interest rates--just the opposite of 1995.
The problem is that demand is being sated by excess inventories. Manufacturing output stagnated in November, and December surveys show fading orders and production plans (chart). Construction is also weak, and the slowdown on the Continent is hitting exports.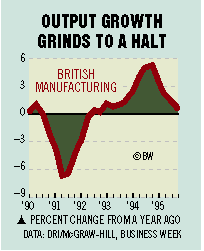 But the restructuring has made prices and wages more flexible, and the weaker economy is reducing inflationary pressures. December output prices for core items slowed and should continue to do so. The underlying rate of retail inflation has been below 4% for the longest period in more than half a century.
Bank of England Governor Eddie George now believes that the government's 2.5% target for underlying inflation will be met in the next 18 to 24 months, a position close to that of Chancellor of the Exchequer Kenneth Clarke. That sets the stage for more rate cuts. Base rates should fall from 6 1/2% now to 6% or less by summer, assuring a second-half rebound.
Before it's here, it's on the Bloomberg Terminal.
LEARN MORE