Roberts Can Play Hard To Get
by
Shares of Roberts Pharmaceutical (RPCX) are showing some life, after languishing in the 16-to-18 range from mid-November to late-December. They closed on Jan. 16 at 221/2. One reason: Analysts think the FDA is close to approving Pro-Amatine, Roberts' remedy for low blood pressure. But to some money managers who have snapped up shares in recent weeks, there's a better reason to buy: FDA go-ahead may clear the way for a takeover.
Speculation among some pros is that a European pharmaceutical house with world operations has informally offered 30 a share for Roberts. Whispers are that Roberts top brass nixed the bid, holding out for 35.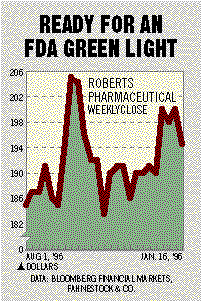 One money manager familiar with the situation says Roberts expects the offer will be sweetened to at least 35 once Pro-Amatine gets the FDA's green light. Analysts see Pro-Amatine as a big earnings booster. A spokesman says Roberts is "cautiously optimistic" that it will get FDA approval fairly soon. But he declined to comment on the speculation of a takeover.
From other makers, Roberts acquires drugs that are in their final development phase. It also acquires prescription and OTC drugs already on the market. Its portfolio includes 28 products concentrated in six fields, including oncology, gynecology-endocrinology, and cardiovascular. Roberts' rumored suitor develops, makes, and sells pharmaceutical, diagnostic, and medical-nutritional products. And it has facilities in the U.S., Europe, and Asia.
Before it's here, it's on the Bloomberg Terminal.
LEARN MORE