Lotus Is Learning To Live With The Net
Defying recent forecasts, Notes may prosper on the Web
Paul C. Judge
Notes is dead. Long live the Internet. No sooner had IBM shelled out $3.5 billion in July for Lotus Development Corp. to get the company's Notes software business than the buzz began: With the Internet's World Wide Web spreading everywhere and taking on new powers, the costly, complex Lotus "groupware" program was history--and IBM would not get the boost in network computing it seeks, or a payback.
By fall, the Notes-is-dead story had legs. Compaq Computer Corp., one of the highest-profile Notes customers, chose an industry conference to let the world know it planned to dump Notes in favor of the Web for a system to share information with suppliers and distributors. "The Internet will probably offer big cost advantages," declared Compaq CEO Eckhard Pfeiffer.
"That didn't help," grumbles Michael D. Zisman, Lotus' new CEO. Nor did the exodus of Lotus management. Within six months of the IBM acquisition, all of Lotus' top execs were gone--including Jim P. Manzi, who quit after clashing with IBM Chairman Louis V. Gerstner Jr. over IBM software strategy.
Now, it has fallen to Zisman, 47, to convince the world that not only is Notes not a victim of the Web but may prosper because of it. A onetime business school professor, Zisman joined Lotus when it bought his E-mail company, Soft*Switch, in 1994. Zisman acknowledges the tough job ahead. "You can compete with a company, but you can't compete with the Web," he says. "It's like shadow boxing."
LOST IN HYPE? Zisman finds himself surrounded by Internet upstarts--including Netscape Communications Corp.--all saying their software will do what Notes does: let organizations publish and share information for groups of workers across a network. And, because they'll do it on the Web, they promise to do it for a fraction of the cost of Notes--until recently about $3,000 per worker. Corporations are surely interested. Forrester Research Inc. estimates that two-thirds of the world's largest companies are building internal networks based on the Web--so-called intranets.
But, lost in all the hype, Zisman insists, are some important facts. Notes "seats" (PCs using Notes) have doubled in the past six months, to 4.5 million, and are expected to hit 20 million in 1998 (chart). And Notes retains important advantages over the Net challengers, including better security and the ability to synchronize multiple copies of databases.
Interest in the Web has actually made Lotus' job easier in some ways, says Ray Ozzie, the creator of Notes, who says he's committed to staying through the next product upgrade. "All the hype over the past six months has done us a tremendous service by espousing the benefits of collaboration," he asserts.
Still, Zisman understands that the Web isn't going away. Instead of resisting it--as Manzi initially did--he's embracing it. On Dec. 13, Lotus rejiggered its pricing to be more like Web software--an inexpensive "browser" that runs on PCs and a costly program for server computers. The Notes desktop software went from $155 to $69--not as deep a cut as some analysts predicted but "in browser country," says Zisman. The basic server program, for up to 100 desktops, went from $275 to $495. A package for 1,000 desktops is $2,295. "This puts Lotus back in the game," says Eric Brown of Forrester.
At the same time, the company is coming out with products that make smooth connections between Notes and the Internet. InterNotes Web Publisher, released last spring, lets users convert Notes documents into Web format. And Version 4 of Notes, released on Jan. 10, includes a browser so Notes users can roam the Web. Lotus developers are scrambling to complete a new version of the Notes server software that will use key Web standards and Sun Microsystems Inc.'s Java. That way, Notes can act as a Web server, and work with any Web browser.
More of the Web plan will be revealed at the company's annual Lotussphere conference, starting Jan. 22 in Orlando. Zisman, who is articulate but sometimes bland, will try his hand at cheerleading--to convince 9,000 customers, analysts, and partners that Notes is more relevant than ever. Gerstner will make an appearance, too. "They must make sure they don't lose the hearts and minds of the marketplace," says a former top executive.
In Orlando, the company will also lay out plans for relaunching its flagging desktop software business. SmartSuite, a bundle of office programs including the Lotus 1-2-3 spreadsheet, is in decline, with just 5% of the market vs. Microsoft Corp.'s 85%. Now, Lotus sees fresh opportunity in "applets"--scaled-down versions of SmartSuite programs that will be delivered electronically over networks--starting midyear. By getting into this new style of software early, Lotus hopes to leapfrog Microsoft.
Does Lotus have a chance? Few Notes customers seem prepared to place all their bets on the Net yet. Many have invested millions in Notes applications and training and say they can't yet duplicate everything Notes does on the Web. So most are sticking with Notes--but experimenting with the Web. "I don't consider it either Notes or the Web," says Jeff Held, a partner in the technology consulting practice of Ernst & Young.
The orders from IBM are to grab as many corporate customers as possible--before the Web grabs them. "Lou Gerstner's directive to me is: Get seats," says Zisman. Lotus and IBM have set a target of 20 million Notes users by the end of 1997, a fivefold increase. "When the number of Notes users breaks 20 million, then IBM's investment will have paid off," says John Jones, an analyst at Salomon Brothers Inc. Then, he figures, Lotus' annual revenue will hit $2.5 billion, generating $500 million in profits. Notes will also help IBM sell network hardware, software, and services to 20 million Notes users. "Clearly, the potential is there for IBM to get its investment back and then some," he says.
To get there, Zisman is devising a sort of Notes Lite strategy. The idea is to start customers out with the Notes E-mail program and then move them up to groupware technology. The first step: persuading companies using Lotus' cc:Mail (about 9 million workers) and IBM OfficeVision (about 7 million) to try Notes for their E-mail. Zisman had pushed hard for this pre-IBM, but Manzi viewed it as a watering-down of Notes. The issue flared into several shouting matches between Zisman and Manzi and other senior execs, according to former Lotus managers.
Now that he sits in the corner office, Zisman is pushing the E-mail plan. The new $55 Notes Mail client has the same "look" as Lotus' successful cc:Mail. Customers will need to buy the Notes server software to manage the mail system, giving Lotus a foot in the door.
On paper, it looks good. "It's marketing simplicity," says Scott McCready, an analyst with International Data Corp. Before, Notes was a very complicated sell, often part of a consulting firm's "reengineering" plan. That made the price of entry enormous and scared away potential customers.
NEW BATTLE. There is risk to the new approach, however. It pits Lotus more directly against Microsoft. Microsoft Exchange, which was originally intended to be a groupware program, has already been repositioned as a sort of souped-up E-mail setup. Even though Exchange won't ship until later this quarter, Microsoft has been selling the concept hard to customers. Says Zisman: "It will be a slug-it-out war."
At the same time, Microsoft is waging its own battle for the Web. On Jan. 16, it announced plans to buy Vermeer Technologies Inc., a maker of programs for creating Web content. Vermeer will be added to the Microsoft Office suite.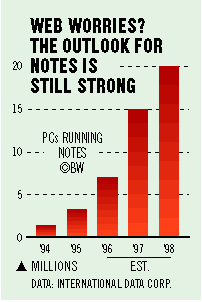 Lotus faces other potential hitches. The parade of departing employees could resume this month when "retention bonus" checks for those who stayed through December are distributed. And many Lotus employees are unhappy that Lotus' generous stock option plan is being swapped for an IBM cash-bonus program based on revenue, profit, and market-share goals. "For people who had options before, and could get them elsewhere, it's a very big deal," says one former Lotus executive. On the other hand, if Lotus makes IBM a success in the networked-computing era, it would be a very big deal indeed.
Before it's here, it's on the Bloomberg Terminal.
LEARN MORE