Kuwait Looks At Its Soul And Isn't Happy
Has the welfare state destroyed the competitive spirit?
Stanley Reed
As a scion of Kuwait's ruling family, Sheikh Nasser Sabah Al-Ahmad Al-Sabah has the means to do just about anything he wants. He seems very comfortable enjoying the evening air at a modest beach house on Kuwait's coast. There, he likes to dine informally on grilled fish, fresh from a trap out in front, with a small group of companions and retainers.
In the 1970s and 1980s, Sheikh Nasser, now 48, built a magnificent collection of Islamic art and put it under the auspices of the national museum, which was later looted by the Iraqis. Now, he has a more ambitious goal: helping define a new national agenda. He worries that decades of living passively off oil revenues have turned Kuwait--originally a nation of tough, resourceful traders--into a soft "welfare society." He warns that Kuwait--whose very existence was almost snuffed out five years ago by the Iraqis--won't have much of a future unless its people relearn the value of work and the reality of competition. "Our whole history is based on a free-market economy," he says. "Then, with oil, we felt we didn't need tough competition."
Sheikh Nasser is one of many influential Kuwaitis who are debating their country's future. He has started a magazine, Al-Zaman, as a forum for new thinking. Such soul-searching is occurring throughout the region, but in Kuwait, discussions are far more open and vigorous, thanks to a largely unfettered press and a freewheeling parliament. Among the big issues are government corruption and a yawning budget deficit that supposedly threatens the funds set aside for future generations.
Some Kuwaitis say that the Iraqi invasion--catastrophic as it was--gave the emirate a rare chance to reshape its policies, control spending, slash reliance on foreign labor, and revitalize the private sector. After regaining their country, the people were ready for sacrifice and tough reforms, argues economic consultant Jasem K. Al-Sadoun. Instead, the government headed by Crown Prince and Prime Minister Sheikh Saad Al-Abdullah Al-Sabah is following the paternalistic model by boosting handouts and preserving a statist, protected economy. "The incompetence of management has almost led us to lose the opportunity to reconstruct our policies," Al-Sadoun says. Sheikh Nasser's magazine recently featured Al-Sadoun's views in a long interview. The magazine and a recent symposium sponsored by Sheikh Nasser have drawn a good deal of interest locally because they seem like an intellectual challenge to the leadership from inside the family.
Some of the government's toughest critics are in parliament, which relishes the role of financial watchdog and advocate for the ordinary citizen. It is a thorn in the side of the leadership but also a useful safety valve. "We need a very radical restructuring," says Abdalla M. Al-Nibari, a member of the National Assembly's finance committee. "We have been limiting our capital expenditures. In a few years' time there won't even be enough for maintenance."
BIG GAP. The budget deficit is as big an issue in Kuwait as in the U.S. The government has run deficits of $5 billion to $6 billion per year since the gulf war. In 1995, the deficit was about 35% of gross domestic product. The big worry is that the government is depleting its financial reserves. Sharif Ghalib, senior vice-president and chief economist of Kuwait-based Gulf Investment Corp., estimates that the foreign assets fell from $100 billion before the war to about $55 billion today. He thinks they are now increasing modestly.
Still, Kuwait is spending billions in investment income, and that disturbs the man in charge of the country's overseas portfolio. The budget deficit "could be affecting our operations," says Ali A. Rashaid Al-Bader, managing director of the Kuwait Investment Authority. "The investment portfolio is for future generations when the oil is used up--not to pay the expenses of the state."
But there is no doubt about Kuwait's solvency. Some of this hand-wringing may be intended to make reform easier and to deflect requests from the U.S. and other countries for Kuwaiti money for such projects as a development bank to support Middle East peace. Indeed, the government has begun paying down the $5.5 billion loan that J.P. Morgan & Co. arranged for war expenses. And Al-Bader says the government may go into the markets for more money.
Al-Bader is under a lot of pressure. Since taking over the KIA after the war, he has had to pursue court cases against former officials accused of bilking Kuwait's investment funds of billions of dollars in scams in Spain and elsewhere. He has also been the point man for controversial privatization moves. Feeling harassed, he recently submitted his resignation but was persuaded to stay.
Al-Bader says the government is mulling steps to close the deficit. These may include raising prices on gasoline and on highly subsidized services such as electric power and local telephones. The government is also preparing sell-offs of some of the state monopolies. Al-Bader says telecommunications is likely to be the first to go. The plan is for an international phone company to take a 25% stake. Kuwait Airways Corp. may also be privatized.
But none of this will be easy. Almost any initiative that would raise prices for Kuwaitis or cost them jobs provokes an outcry in the press and parliament. Any effort to boost taxes or fees on ordinary Kuwaitis will be attacked, not least because the government assumed some $20 billion in bad debts of stock speculators and other fat cats in recent years. Most observers think Sheikh Saad will proceed very warily--at least until after next fall's parliamentary elections. "Because you have an open society and a fractious one, things tend toward stasis," says a Western diplomat.
Indeed, the status quo is very comfortable for Kuwaitis. They enjoy a cradle-to-grave welfare system that provides nearly all of them with government jobs and free education and health care. The government and its affiliates account for 85% of the local economy and employ 93% of the 166,000 Kuwait labor force. Only 9,500 Kuwaitis work in the private sector. A 25% salary increase handed out to Kuwaiti public sector employees after liberation served to discourage private-sector work. "They have almost convinced the people that working for the private sector is nonsense," says Al-Sadoun. Official statistics show that foreign residents now outnumber Kuwaitis by 1.1 million to 695,000.
A FIRST. Kuwait is likely to whittle away at the public sector. This should provide opportunities for foreign companies as the government seeks outside expertise and capital. Last July, Union Carbide Corp. and Kuwait's Petrochemical Industries Co. broke ground on a $2 billion joint-venture petrochemical plant--the first major foreign investment permitted in Kuwait's oil sector.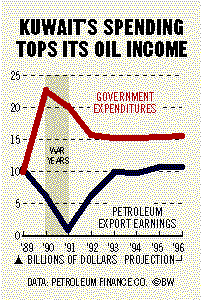 Sales of companies the government bought while bailing out stock speculators in the 1970s and 1980s are also giving the private sector a bigger role. Such sales generated $1 billion in revenues last year and could produce a further $2.5 billion. "The government may not be improving, but the receptiveness to change is increasing," says Tarek A. Sultan, managing director of New York Associates, a local investment bank.
But real change will be very tough. Some influential Kuwaitis, and even a portion of the royal family, are dissatisfied with the status quo. Whether they can push the country to make major reforms is another question.
Before it's here, it's on the Bloomberg Terminal.
LEARN MORE