In Hollywood On The Danube...
When Michael Jackson wanted to announce his return last year before the release of his HIStory album, he and his entourage invaded Hungary. Using the time-worn but spectacular city of Budapest as a backdrop for his video, Jackson pranced and strutted around its famous landmarks. Hungarians erected a mammoth statue to the pop idol in their Heroes' Square--in the video, that is.
The Jackson video is one of the more famous examples of foreign producers using Hungary as a production base. Hungary has a proud record of exporting cineastes, including director Michael Curtiz (Casablanca) and cinematographer Laszlo Kovacs (Easy Rider). At one time in Hollywood, the joke ran: "It's not enough to be Hungarian--you need talent, as well." But today, American, German, French, and British producers are flocking to Hungary to take advantage of the pool of acting and technical skills, historic settings, and cheap overhead in a country where the average wage is just $300 per month. Among the well-known movies shot entirely or partly in Hungary in recent years are Cyrano de Bergerac and Stalin.
DWINDLING. According to Gyorgy Marosi, head of Mafilm, the state-owned studio complex, about 20 feature films are made in Hungary each year. Of these, half involve foreign companies, a percentage that has been rising since 1990. And with the Socialist-led government embarking on a fierce austerity program, organizations such as Mafilm are seeing state support dwindle. About one-third of the Hungarian film industry is now financed by foreign producers, who pump in $10 million on top of the locally raised $19 million.
"Foreign films are very important for two reasons: They bring revenue, and they give the chance to improve professional skills by working with foreign experts," says Marosi. In December, HBO finished filming Rasputin, starring British actor Alan Rickman. Alan Parker, director of The Commitments, flew to Budapest last month to check out the possibility of filming parts of Evita, which could bring Madonna for a visit in March.
Another British cast and film crew left Hungary in October after filming the 10th in the Brother Cadfael series of medieval whodunits, set in 12th century England. The movies are shown on TV in Britain and the U.S. The filmmakers have built a medieval town just outside Budapest. Producer Steven Smallwood of Goldcrest Studios in London searched for a location in Poland and the Czech Republic before settling on Hungary. One reason: The infrastructure is better, he says, citing telephones and hotels.
But the major factor that brings foreign production companies here to film is the low overhead. "In Hungary, we could build the sets all in one location. That would have been too expensive in Britain," says Smallwood, pointing out that the cost of renting land is much higher. Each Cadfael film has a budget of about $1.5 million, of which Hungarian companies and studios earn about $750,000.
"The big Hollywood studios, which don't need the cost advantage, don't use us," says Mafilm's Marosi. "But independent producers making medium-budget films, who need not just location but decoration and artworks--they find it worthwhile coming."
Features and TV dramas don't account for all of the movies being filmed in Hungary--or even most of them. A large proportion of Europe's blue movies are made here, too--perhaps 1 in every 10. According to one Hungarian business magazine, about 10 porn films are made every month by German, French, and U.S. producers.
Producers of X-rated films are attracted by three elements. First, like mainstream producers, they can capitalize on the sound technical skills and cheap overhead. Second, Hungary has no law against making porn movies, unlike Poland and the Czech Republic.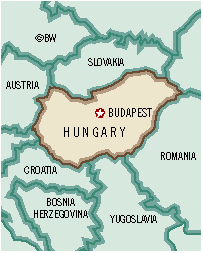 The third major asset is Hungarian women, who dominate the European porn industry. Cicciolina may sound Italian, but her real name is Ilona Staller. Anita Rinaldi came into the world as Anita Skultety, and a host of other Hungarian actresses have adopted Italian stage names. But unlike Italian women, the Hungarians are not encumbered with the strict morality of the Catholic Church. "In Hungary, you have very nice girls with a very free mentality," says Gianfranco Romagnoli, owner and manager of Blue Angel Casting, which recruits women for X-rated films. These days, they don't call it the Blue Danube for nothing.
Before it's here, it's on the Bloomberg Terminal.
LEARN MORE