How Littlefield Bagged Two Docs
Wendy Zellner
`Searching for that perfect place to work and live?" asks the green-and-red flyer. It's advertising a state-sponsored HealthFind Exchange in which doctors-in-training are wooed by dozens of rural Texas communities desperately seeking medical help. Their situation is critical: Nine out of 10 rural Texas counties are designated by the federal government as "medically underserved areas," and 25 counties have no doctors at all.
The product of a small town myself, I cling to the notion of rural communities as clean, quaint places where kids safely roam the streets at night. Any doc ought to find such a place appealing, especially when the nation's medical system seems increasingly hostile and complex. So I've come to Littlefield on the desolate Texas plains to see if young Marcus Welby can find happiness in Mayberry RFD.
COTTON COUNTRY. With the help of a HealthFind Exchange, this town of 7,409 wooed two doctors in 1994. They joined four doctors already in practice, three of them well past 60, and none delivering babies. Many townsfolk were trekking 36 miles to Lubbock for medical care, and the 48-bed Lamb Healthcare Center, which serves a county of 15,000, averaged only five patients a day. It was in danger of closing--with economic consequences to Littlefield. "A community that does not have a hospital has a hard time attracting any kind of industry," says hospital administrator Randall A. Young. "We needed some new blood," adds Gini Coffman, executive vice-president of Littlefield's Chamber of Commerce.
Set in the heart of cotton country, Littlefield dubs itself "the Denim Capital of the West," thanks to a denim plant in town that serves Levi Strauss & Co. The town's main claim to fame is native son Waylon Jennings--the country singer whose name graces both a street and an RV park. But Littlefield is no Mayberry. "It's dirty. It's flat," admits Todd R. Stafford, business manager at John Roley's Auto Center and one of the recruiters who brought the new docs to town.
To the new general practitioners, Tony Hedges, 43, and Lisa Nash, 31, recent graduates of Fort Worth's Texas College of Osteopathic Medicine, Littlefield is a land rich with opportunity and hospitality. "There's a big difference in the West Texas people," says Hedges, whose office attire includes cowboy boots and a baseball cap advertising Simmons Pump. "It's still a place where when you drive down the road, everybody waves at you, whether they know you or not." The stocky, blunt Army vet served as a physician's assistant in a tank battalion in Germany before deciding to go to medical school.
BURNOUT. School friends Hedges and Nash teamed up "so we'd have some built-in burnout protection," says the soft-spoken, energetic Nash, who grew up in a small Texas town. Both wanted small-town practices where they could handle procedures such as Caesarean sections that in big cities are done by specialists. They checked out 30 Texas communities before picking Littlefield, partly because it's close enough to Lubbock's medical centers to get help with difficult cases but not so close that doctors there could easily drain away patients.
Littlefield pulled out all the stops to land the new docs. Some 10 physicians had come and gone in the past five years, says Stafford. Many were foreign-born and weren't accepted in this ultraconservative town. But "a lot of times, it was the doctors who didn't like us," says Stafford, whose own father was a physician in Littlefield for 30 years. He wanted doctors who would stay another 30.
So the county offered a two-year income guarantee--$120,000 annually for each doctor--and provided free office space and startup expenses. By working in a medically underserved area, the doctors also are eligible for state funding to help pay back medical school loans.
But the biggest attraction was being able to operate, well, like Marcus Welby. A typical day starts at 7 a.m. with hospital rounds. At 9, the two are in the clinic for patient appointments. A pregnant woman comes for a routine checkup. An old man discusses his high blood pressure and diabetes. A child with flu-like symptoms needs immediate attention.
The docs see appointments until 5:30, stopping only for a quick lunch. Then they check on hospital patients again before heading home about 7. Of course, their days--and nights--are interrupted by emergencies, including childbirth. Nash once left the hospital after a 3 a.m. delivery, only to bump into Hedges coming in for another woman in labor.
NEWFOUND HEALTH. Since Hedges and Nash set up practice--with Dr. Enrique Rodriguez, who arrived in 1993--the hospital has increased its patient average to about 20 a day. The payroll has grown from 50 to 80, and the county-owned facility has invested some $200,000 in new equipment, including an ultrasound machine and fetal monitors. The hospital's newfound health has even sparked a building boom of sorts. Nash and Hedges are partners in a new clinic being built, and a pharmacy and physical therapy/home-health clinic have opened nearby.
While the two new docs relish the doctor-patient relationship of a generation ago, they've discovered it also has its drawbacks. Hedges' wife, Diane, who is office manager, insisted on an unlisted phone number at home because of constant calls from patients--even though the doctors have an answering service and someone's always on call. Says Stafford: "In a small town, you're still a small-town country doctor. Your patients tend to take advantage of you because they trust you with every bump, blemish, and scrape. You become counselor and friend. It's 24 hours a day."
If the new blood has reinvigorated the town, so, too, has the town invigorated the docs. A member of the Lions Club International, the Rotary International, his church choir, and a fantasy football league, Hedges recently called up the president of one of the local banks and asked for a $1 million loan to build the clinic. The president, a patient, said: "O.K., we'll start working on the paperwork," Hedges recalls, clearly enjoying the way things work for him here.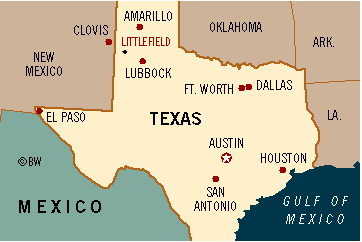 Initially, there were tensions between the newcomers and the older doctors. "I love these guys," Stafford says of the older docs. But "after a while, your bedside manner is lacking, your technique may be lacking. People who had gone to Lubbock were seeing doctors who were on the cutting edge. We had to have new doctors. It was a matter of do or die."
Dr. Barney I. Klein, 66, who has practiced here for 32 years, downplays any animosity. "It all works out in the long run," he says, adding that Littlefield actually could use one or two more doctors.
That's just what Hedges and Nash say; in fact, they're scouting for a fourth doctor to join them and Rodriguez. At this rate, Littlefield may soon earn itself a new title: medically overserved area.
Before it's here, it's on the Bloomberg Terminal.
LEARN MORE