Bright Vistas At Grey Advertising
by
You might think a stock nearing 200 a share was a hot Internet IPO. This one isn't. Grey Advertising (GREY) is a big-time agency, with global billings of $5 billion a year. But that lofty price isn't due to Wall Street fans. The Street is, at best, indifferent: No major firm bothers to follow Grey.
So why are some pros accumulating shares? They say Street indifference is one reason they're high on Grey, which closed at 194 on Jan. 16. This suggests that not much is known about Grey's growth potential, explains one investor. "In spite of its high price, Grey is still undiscovered and undervalued," asserts Jerome Ballan, portfolio manager at Fahnestock, a New York securities firm. He believes that, based on its "huge earnings-growth potential, Grey is worth 300 a share."
This healthy company "with a lot of excess cash and very little debt sells at a big discount to its true value partly because of the stock's high price--and the thin float available to the public," explains Ballan. Nearly half the 1.2 million shares are controlled by 68-year-old Chairman Edward Meyer.
One money manager expects a 2-for-1 or 3-for-1 stock split soon--to raise the number of shares outstanding and make the issue more widely held. He thinks the agency "will take one of two paths: split the stock or buy back shares using excess cash, to set the stage for taking the company private." Grey already operates somewhat like a private concern: It's out of touch with the Street and reticent with information about itself.
But this pro also thinks that, at Meyer's age, his goal may be a merger or alliance with a larger agency to give Grey a stronger industry presence. Grey declined comment.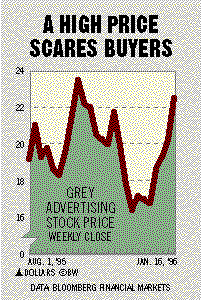 A portfolio manager at Tweedy Browne, a New York investment firm that owns nearly 5% of the stock, says Grey is "the cheapest ad agency we know of--and yet it's a cash-generating business that has achieved pretty steady growth over the years."
The stock is a timely bet for 1996, says Ballan, with increased ad spending sure to flow from the Presidential elections and the Olympics. He notes that Grey has been successful in winning clients lately. In mid-1995, it snared the largest single chunk of business in its history: Candymaker Mars consolidated $250 million in billings at Grey.
Grey's stable includes Procter & Gamble, Seagram, General Foods, Britain's SmithKline Beecham and BAT Industries, and Japan's Mitsubishi.
Before it's here, it's on the Bloomberg Terminal.
LEARN MORE