Apple: Tick Tock, Tick Tock, Tick Tock...
Losses, shortages, stagnation-something's gotta give
by
There may still be a time bomb at Apple Computer Inc. The ugly news is out--a $69 million loss for the quarter ended on Dec. 29, some 1,300 layoffs, more wrenching reorganization. But critical questions still loom: Will Chief Executive Michael H. Spindler survive a Jan. 23 board meeting? And will Apple's nearly invisible board finally step forward and squelch lingering doubts about the company's future?
Apple directors aren't talking. But insiders say Spindler's job is in jeopardy. Current and former Apple executives also say the 53-year-old Spindler has been showing signs of strain. Insiders say he was wearing a heart monitor in the office the week of Jan. 8 and that, after a trip to the hospital, he worked from home for two days. A close friend says Spindler's chums have been urging him for months to step down. Says the friend: "Michael is stressed. He's overweight. He doesn't eat right. He doesn't sleep right."
Such talk is triggering speculation that Spindler will leave the company for health reasons. Says one Apple executive who witnessed the heart monitor: "He is under incredible pressure." Spindler was unavailable for comment. An Apple spokeswoman says the company doesn't comment on employees' personal matters but adds: "Michael is here. He's fully engaged in the business. He was here all weekend [of Jan. 13]."
The question now is whether the reorganization Apple announced on Jan. 17 will fix what ails the company. The plan will pare the company's headcount by 8% during the next year and may cause another net loss in the quarter that ends on Mar. 29. Apple also plans to more broadly license its Mac operating system and will consider selling some assets. But the plan falls way short of what analysts had hoped for. It "lacks decisiveness and thoroughness," says CS First Boston analyst C. William Gurley.
That keeps the pressure on Spindler. Apple has suffered three consecutive quarters of product shortages and then too much inventory--$80 million worth in the quarter ended on Dec. 29. It's locked in a bid for market share that has driven gross margins from 28.7% a year ago down to 15.1% today, below rivals Compaq Computer Corp. and Dell Computer Corp. What's worse, the effort isn't working: Apple lost market share in last year's final quarter, going from 8.2% to 7.1% of the world PC market, figures researcher International Data Corp.
FRONT-RUNNERS. Will Apple's board step in? Executives speculate that the directors may name their own CEO, most likely Apple director B. Jurgen Hintz, the 53-year-old former CEO of the $4.5 billion Anglo-French packaging company CarnaudMetalbox. He's credited with revitalizing Procter & Gamble Co.'s food business in the 1980s, when he worked there as executive vice-president, and then with boosting CarnaudMetalbox before it was taken over last fall. The thinking is that while Hintz lacks computer experience, he is a seasoned turnaround expert. Other Apple executives think board member Gilbert F. Amelio, CEO of National Semiconductor Corp., may be lured into the job.
How likely is either move? Outwardly, Apple's board gives few signs of taking drastic action. Says one director: "We're still supporting Michael. Apple has been through [tough times] on numerous occasions, and I basically believe it's a great company." But will the board let Apple lose more money in its market-share assault? "Not for too many quarters," says the board member. "You can gain market share all the way to the poorhouse."
The fact that the board would allow further losses at all troubles some analysts, who argue that more red ink would give the impression that the company is in a death spiral. That could prompt software companies to abandon Mac software development and shake the faith of Mac's loyal customers. Says one insider: "You've got to blame this board for not taking decisive action."
One problem, critics say, is that too many board members are newcomers to Apple and the computer industry, including Hintz, Katherine M. Hudson, CEO of W.H. Brady Co., and Delano E. Lewis, CEO of National Public Radio. Says one former Apple executive: "The board is pretty weak. They've let this thing go way too long. They had plenty of warning signs.... They didn't do their due diligence."
STRONG SHADOW. The board's kingmaker is Chairman A.C. "Mike" Markkula Jr., who has been a staunch Spindler supporter. Markkula, who ran the company when it hit hard times in 1981, is not as active in managing Apple today as he has been in past crises, sources say. He lunches with Spindler and talks to him regularly, but he has yet to meddle much. But his opinion counts big-time: He made the calls to dump previous CEOs Steve Jobs and John Sculley.
Some investors are nervous about the board because key members are selling Apple stock. Markkula dumped 958,000 shares this summer just after a 10% dip in price. He still owns 2.9% of Apple's shares, but that was his biggest sale ever. Longtime board member Peter O. Crisp followed suit, selling 50,000 shares at around $40.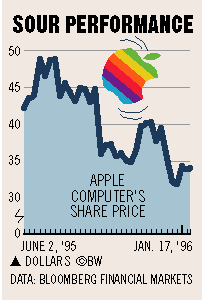 The latest restructuring may not help soon. Analysts say that by slashing operations outside its seven top-selling countries, trimming administrative costs, and simplifying its product line, Apple could save about $120 million this year. That, combined with a plan to ease out of the low end of the market, could keep the Mac business healthy without fouling Apple's bottom line. Says Tim Bajarin, president of Creative Strategies Inc.: "I believe they finally have the right business model."
Win or lose, it won't be a pretty transition. But Apple still has a lot going for it--including fiercely loyal customers, dominance in the education market, and a strong brand name. "Apple has assets other businesses would kill for," says Compaq Chairman Benjamin M. Rosen, who engineered an epic turnaround when his company faced similar problems in 1991. A friend of Markkula's, he thinks Apple's problems can be overcome. But not without bolder moves-- either by Spindler or his board.
Before it's here, it's on the Bloomberg Terminal.
LEARN MORE