At Last Sayonara To The Blahs
A recharged Japan Inc. is spurring a rebound
By
Investors think they have plenty to smile about in Japan. Sensing an economic turnaround, foreign money managers have pumped nearly $35 billion into the Tokyo stock market in the past six months, pushing the Nikkei average to 20,600, up 42% from its 1995 low. Market pros think a further gain of 10% to 15% is in the offing this year. Why? After four years mired in the muck, the economy finally is showing signs of pulling out. Most economists expect the gross domestic product to grow more than 2% this year and nearly 3% in 1997.
The reasons for a recovery are clear. The Bank of Japan has slashed interest rates close to zero, and the super yen has retreated from its record highs of last spring. Some $519 billion in fiscal spending packages since 1992 has helped as well, as has a pickup in consumer spending, which accounts for 60% of GDP. And a wave of cost-cutting, restructuring, global investments, and product innovations has Corporate Japan beginning to feel its oats again. Analysts say manufacturers' profits will rise 29% in fiscal 1995, which ends Mar. 31.
With the arrival of Ryutaro Hashimoto as the new Prime Minister, signs of Japan's political paralysis lifting are also cheering investors. True, squabbling politicians haven't pushed through any of the sweeping structural reforms needed to help hard-hit pockets of the domestic economy--especially midsize manufacturers, wholesale distributors, and mom-and-pop retailers. And though the Ministry of Finance has begun to deal with the nation's $350 billion in bad debts, it will be years before the job is complete. But Hashimoto, who has been Minister of both Finance and International Trade, is expected to expedite a cleanup of the banking mess while undertaking some deregulation and smoothing relations with Washington. His political fortunes can only be aided further by signs of a rebound.
And any recovery will owe a great deal to Japanese multinationals, which once again are doing whatever it takes to improve their competitiveness. When the yen spiraled to 80 to the dollar last spring, they moved even faster to cut costs by expanding global manufacturing and parts procurement while taking a hatchet to overhead at home. Now, they are stepping up their capital investments, which are expected to rise as much as 10% in 1996, after a flat '95 and declines in the previous three years. Indeed, manufacturers, more than ever, are capitalizing on a global base for production and setting costs. The result? Not only are their profits up, but "Japanese companies have become more competitive than before," says Seiichiro Yonekura, an associate professor at Hitotsubushi University's Institute of Business Research.
Take Fujitsu Ltd., Japan's biggest computer company. It saw profits slide in 1993 and '94 as its core mainframe computer business stumbled. Shocked, it eliminated nearly 10% of its workforce through attrition and a clampdown on new hiring. But it also pushed up overseas production and started plowing investment into such fast-growth segments as flash memory chips, personal computers, and software. Moreover, it began moving less sophisticated manufacturing abroad. It has started making components for disk drives in Vietnam and will start assembling notebook PCs in Oregon.
BIGGEST BENEFICIARIES. The bottom line: Fujitsu's stock is at a five-year high, and its group net profit should double, to a record $857 million in fiscal '95. And there's room for future profit gains, with executives in no mood to rest on their laurels. Even at 105 yen to the dollar, notes President Tadashi Sekizawa, "salaries are still very high by international standards. We have to reduce the numbers more."
These technology giants clearly are catching a second wind. Toshiba, NEC, and Fujitsu, which have a 39.5% share of the global semiconductor market, were the biggest beneficiaries of last year's 40% jump in sales of dynamic random- access memory chips. And while electronics manufacturers are leaping ahead, auto makers also are advancing. To be sure, they are struggling with a capacity overhang of about 4 million units a year at home. But they logged a 4.8% gain in Japanese auto sales in 1995, the first advance since 1990. More important, they are continuing to move production overseas to make high-cost domestic plants less of a burden.
Toyota Motor Corp., for instance, now has a global network of 52 assembly and parts plants to fall back on. Last year, Toyota turned out 350,000 U.S.-made engines, up 50% from 1994. Not only did the move reduce the volume of expensive Japanese engines in U.S.-made cars but it gave Toyota extras to ship back home. At the same time, Toyota is stepping up its assault in the U.S. Like electronics makers that are focusing on manufacturing high-profit lines at home, Toyota will soon roll out a new four-wheel-drive luxury offering, the LX450, through Lexus dealers in the U.S. Targeted at the Range Rover set, the new Lexus will sell for $49,800.
Other players, meanwhile, are doing something once thought unthinkable--breaking ranks with traditional suppliers to cut costs. Nissan Motor Co., for example, recently kissed off longtime supplier Jidosha Kiki Co. and went outside its keiretsu family to buy brake components from Aisin Seiki Co., 21.8%-owned by Toyota. To save even more, Nissan aims to cut 7,000 jobs by 1998. All told, such cost-cutting has enabled the industry to lower its breakeven point to 95 yen to the dollar, from 100 a year ago, estimates Morgan Stanley & Co. analyst Koji Endo. That is taking the pressure off auto makers to order major plant closings at home.
CRASH DIET. But Japanese companies still have a lot more restructuring ahead. While much of Japan Inc. has gone on a crash diet, it still remains dramatically overemployed. Most of the job cuts so far have come from fobbing off older workers to affiliates and simply not hiring new graduates. As a result, Japan's record 3.5% jobless rate likely will rise.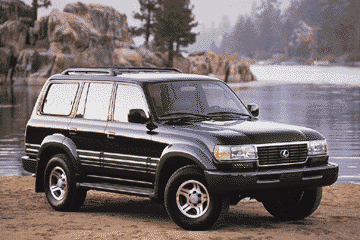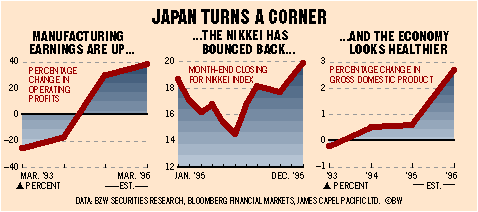 Sustaining an economic recovery also will require a broader cleanup of Japan's banking mess. Several big commercial banks that founded and lent to housing-finance companies called jusen are being forced to forgive $33 billion in bad credits to the collapsed industry. If the banks start selling equity holdings to cover these losses, the Nikkei's rally could end. Analysts also question whether Prime Minister Hashimoto will be able to further stimulate the economy. Kenneth S. Courtis, chief economist at Deutsche Bank Capital Markets (Asia), estimates Japan's budget deficit should hit 4.2% of GDP in 1996, against 2% in the U.S.
But even if the government can't spend much more, the economy seems poised for an advance. Japan's top-flight multinationals have cut costs to the bone. Business investment is on the mend. Money is easy. And a rebounding Nikkei is lifting overall sentiment. To be sure, a rising Nikkei seemed to herald an economic rebound in 1993 and '94, only to sputter out when the recovery failed to materialize. This time may be different. After a nightmarish ride in the early 1990s, the Japanese economy may finally get a reprieve.