A Knock At The Toy Shop Door?
By
It has been a while since toymakers have caught investors' fancy--with the Street so bored with the industry. But is there another Mattel or Hasbro likely to become a winner? Some pros think so: They're betting on Lewis Galoob Toys (GAL), particularly after the notice some of its products got during the Christmas rush.
"The key in the toy business is longevity," says Gary Jacobson, toy industry analyst at BT Securities, a Bankers Trust unit. He explains that Galoob lines such as Micro Machines and My Pretty Dollhouse have become staples--unlike some rivals' toys, which can be faddish.
And precisely because other makers think such toys give Galoob staying power, the company is perceived as takeover bait. One money manager says: "I am sure Mattel and Hasbro have been considering a move on Galoob, especially after the brisk sales of its new Sky Dancers line during the holidays." Sky Dancers are ballerina dolls that spin and flutter into the air when lofted from a handheld launcher.
In a buyout, Galoob shares, now trading on the Big Board at around 11, would be worth 20 to 25, reckons the money manager. One big buyer of the stock is Fidelity Management, which had upped its stake from 8.5% to 9.9% as of the end of September.
Jacobson says he doesn't know if Mattel or Hasbro has approached Galoob, but he, too, believes the company would be "an excellent" acquisition for either. "Galoob has proved it can turn out products with long-lasting appeal, and that's exactly what Mattel and Hasbro are looking for," he says. "As long as Galoob continues to have product momentum, it will either grow or be acquired," says Jacobson. At February's Toy Fair, Galoob will introduce new lines that he says will include Dragon Fliers--airborne figures designed for boys.
He says that the industry has been consolidating and that fierce competition will make for more mergers and acquisitions this year.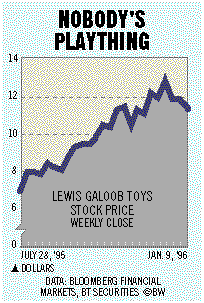 Analyst Phillip Seligman of Value Line notes there is pressure on toymakers from multimedia personal computers and CD-ROM software, which offer features that compete with traditional toys. He thinks the answer is diversity--which Mattel, Hasbro, and Tyco Toys have been pursuing.
Even with no takeover, Jacobson says Galoob is undervalued. Extra push will come from Galoob's exclusive pact with Twentieth Century Fox, signed in October, to license toys based on Fox film and TV properties. Mattel says it's always on the lookout for acquisitions. Hasbro and Galoob didn't respond.