Why This Tech Stock Didn't Tank
by
Technology stocks were stunning performers in 1995, many of them hitting lofty peaks--before later slumping, giving back much of their gains. But not all headed south: Little-known MICROS Systems (MCRS), for instance, whose stock was trading at 27 a share in mid-May, zoomed to 49 3/4 at the end of December, pulling back on Jan. 2 to 47.
Not bad for an outfit that doesn't make very sophisticated gear. MICROS makes custom point-of-sale electronic terminals for hotels and restaurants, including fast-food and institutional food-service eateries. The systems help clients improve efficiency, customer service, and inventory control. Westinghouse owned 62% of MICROS but sold its stake this past summer.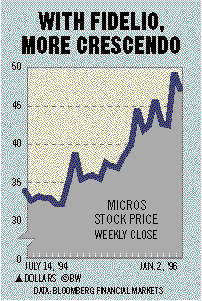 MICROS' earnings have grown fast, notes money manager Robin Kerr of Axe-Houghton Associates, an investment firm in Rye Brook, N.Y. She believes such growth will accelerate because of its November acquisition of Fidelio Software. That buy prompted her to raise her estimates for the year ending June 30, 1996, to $1.85 a share, up from a previous $1.75. More important, she upped her fiscal 1997 number to $2.60 from $2.44. "Nobody paid much attention to this deal, but it will score big for MICROS," says Kerr.
Fidelio was a great bargain, at a price of $35.4 million, she says. A fast-growing player in systems for property management and central reservations, it posted 1994 revenues of $36 million and an estimated $57 million in 1995, says Kerr. For 1996, she foresees Fidelio revenues of $70 million.
Analyst Bill Loomis of Ferris Baker Watts agrees. "Fidelio is growing rapidly and capturing market share," he says. Based on MICROS' own growth plus the addition of Fidelio, Kerr figures the shares are worth 65.
Before it's here, it's on the Bloomberg Terminal.
LEARN MORE