The Making Of A Corporate Tough Guy
By
During Albert J. Dunlap's days at West Point, his boxing coach scored cadets on how much leather they threw and how much blood they lost. Dunlap punched up a storm and rarely bled. "He was aggressive and tough to hit," recalls Philip A. Tripician, who roomed with Dunlap. "He fought out of a crouch. And when he hit you, he stung you."
From the boxing ring to the executive suite, Al Dunlap, 58, has followed a remarkably similar strategy. He moves into troubled companies with an in-your-face attitude rare among executives: He attacks and challenges nearly every premise and person in sight. Those who get in his way feel stung by the experience.
His tough, tell-it-like-it-is persona stems from humble beginnings. He was born in Hoboken, N.J., the son of a shipyard worker. As a boy, he delivered papers and hauled crates of soda off trucks. "My parents couldn't afford to send me to college," he says, "so either I got a scholarship or I wouldn't get an education."
"HOTSHOT." After graduating from high school in 1956, he won a spot at West Point. Of the more than 1,000 cadets who reported to the academy that July, Dunlap was among the 608 who made it through through plebe year and "beast barracks," the first eight weeks of verbal hazing. "I didn't like it," says Dunlap. "You had to be a total masochist to like it, but I knew I had to survive."
Although hardly a stellar student, Dunlap got by on toughness and humor. "He kept things light," says Ken Sindora, a fellow cadet. "He had a hot-shot attitude, but he kept us laughing." More important, says Dunlap, "West Point made me tenacious and very organized. It gave a poor little nothing kid a chance to get a very good education, and it opened up worlds I didn't even know existed."
He left the Army in 1963 after a mandatory three-year stint: There was no action available, no war to fight. He joined Kimberly-Clark Corp. as a $7,800-a-year trainee. He learned the paper industry's basics at Kimberly and Sterling Pulp & Paper Co. before becoming an itinerant troubleshooter at Manville, American Can, and Lily-Tulip. In 1986, he emerged as an aide-de-camp to British billionaire Sir James Goldsmith.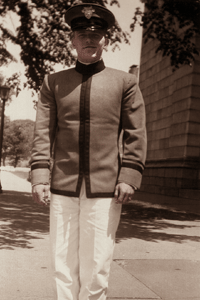 Sometime during his five-year stint with Goldsmith, Dunlap reinvented himself as a champion of the shareholder. He helped lead the attack on Goodyear Tire & Rubber Co. management when Goldsmith made his unsuccessful hostile takeover bid. Dunlap charged that the company wasn't doing enough to maximize shareholder wealth--a situation he also found and has corrected during his 20-month tenure as chairman of Scott Paper Co.
Dunlap bristles at the notion that a business should be run for such stakeholders as employees and communities. "Stakeholders are total rubbish," he says. "It's the shareholders who own the company. Not enough American executives care about the shareholders."
The former cadet hopes to put his philosophy to the test at another company soon. Friends say Dunlap has turned down a few job offers, but they expect him back in the ring shortly.
Before it's here, it's on the Bloomberg Terminal.
LEARN MORE