The Economy That Fell To Earth
Germany's slowdown is scaring its neighbors
John Templeman
Germany is supposed to be Europe's locomotive. But thanks in part to recent French strikes delaying shipments of German goods, gross domestic product probably will show no growth in the fourth quarter, the second stagnant quarter in a row. Unemployment, rising since last spring, is at 9.3%. Industrial output is 4% below last year's level. And new orders in the engineering industry are plunging. Says Ian Harwood, head of strategy at London's Kleinwort Benson Group PLC: "Fears of a hard landing are growing."
Indeed, while a tax cut, a recent Bundesbank interest-rate reduction, and a widely expected decline in the German mark may produce a brief rebound in the first half, the year ahead looks grim. Unless consumers unzip their pocketbooks in a hurry--and that looks doubtful--Germany will have a hard time even reaching the anemic 2% growth rate it achieved in 1995 (chart).
OUT OF THE WATER. Such downbeat forecasts scare Germany's neighbors. "If Germany slows down, everyone else winds down with it," says Sergio De Nardis, senior economist at Confindustria, the Italian industrialists' federation. That could spell the end of Europe's grand plans for a single currency and monetary union by the start of 1999. European Union nations, led by France, already are struggling to cut budget deficits and cap government debt levels to bring them in line with the Maastricht Treaty. But a serious growth setback starting from Germany would lower tax revenues, raise government borrowing, and bloat deficits across the EU, putting monetary union out of reach and blowing further European unification out of the water.
To a great degree, Germans have themselves to blame for their predicament. Economics Minister Gunter Rexrodt attributes the current slowdown to a high mark, big wage hikes, and rising taxes. Add overregulation of business and rigid work rules, and it's no surprise that German companies made $26 billion in direct investments abroad in the first nine months of 1995, double the 1994 rate.
The money is flowing to Eastern Europe, Asia, and even Britain, whose manufacturing costs are 40% lower than Germany's. The huge gap prompted Siemens, for example, to choose Britain as the site for a $1.7 billion semiconductor plant. Consumer-products maker Procter & Gamble Co., meanwhile, has halted new investments in Germany. Its high business costs, warns Harald Einsmann, P&G regional president, risk turning Germany into the "hole in the doughnut" in Europe's industrial landscape.
As manufacturers rethink their commitment to Germany, hollowing out is becoming a growth business. Two-thirds of management consultant McKinsey & Co.'s German trade now consists of helping manufacturers expand production abroad. Says Senior Partner Herbert Henzler: "Germany's present export model--design it, make it, and export it from here--is no longer viable."
With more companies adopting that mantra, workforce cuts will continue. Germany has already lost 1 million jobs since 1992, mostly in manufacturing. But employers' organizations warn that an additional 500,000 to 1 million jobs are at risk unless wage costs, particularly welfare taxes, fall. Little wonder that in one recent poll, two-thirds of eastern Germans--and half of those in the west--told the Allensbach-based Demoskopie Institut that the risk of losing their jobs is now their biggest worry.
That's bad news for policymakers who are counting on a revival of consumer demand. Many expect further Bundesbank rate cuts, and an $11 billion income tax reduction kicked in on Jan. 1. But some analysts wonder if the money will find its way into stores, noting that after months of belt-tightening to pay higher taxes, many consumers aren't about to loosen up with the economy slowing. "We went without so much this year that we might consider spending [the tax rebate]," says Gabi Lewin, a mother of two whose husband works in an accountant's office. "But if things get worse over the short term, we might just sock it away and wait."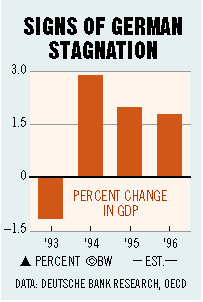 BEARING FRUIT. Reflecting that caution, retail sales fell 2.5% in 1995, the third straight decline, and a hoped-for late spurt in Christmas buying failed to materialize. And forget about 1996. In a poll for the weekly newspaper Die Woche published on Jan. 3, 59% of the 1,512 Germans questioned said they expect the economy to worsen. This and other polls, says Walter Deuss, CEO of the Karstadt department-store chain, "don't point to any durable improvement in consumer confidence."
While Germany waits for consumer spending to revive, the economy continues to flag. If the U.S. is any guide, German restructuring efforts could start bearing fruit around the time the EU plans to get monetary union into motion. That could leave Germany more competitive than ever. Until then, expect anxiety levels to keep rising--in Germany and across Europe.
Before it's here, it's on the Bloomberg Terminal.
LEARN MORE