The Bloodletting At At&T Is Just The Beginning
The telecom industry may ax 100,000 more jobs over five years
Catherine Arnst
It is perhaps the driest, most arcane piece of legislation Congress has ever devised, and its path through Washington has been agonizingly slow. The landmark bill that would reform the telecommunications business might not even pass until late January, a year after it was introduced. Already, though, it is setting into motion a top-to-bottom industry restructuring that will require years of wrenching change.
The pain began in earnest on Jan. 2, with AT&T's announcement that it will eliminate 40,000 jobs, 13% of its workforce, over the next three years. The cuts will be one of the biggest job reductions in corporate history and the largest ever in the telecom industry. And for the industry overall, they won't be the last: While AT&T Chairman Robert E. Allen lamented the "difficult and painful" job cuts, he added: "I believe the reductions and other actions are absolutely essential if our businesses are to be competitive."
Such is the fallout from legislation that many members of Congress promote as a "jobs creation" bill. The legislation, nearing completion in a joint congressional committee, will give local phone companies, long-distance carriers, and cable-TV operators entry into each other's businesses for the first time, unleashing a wave of creative and competitive forces. Along the way, some 3.6 million new jobs will be created, according to a Baby Bell-sponsored study by consultant WEFA Group.
First, though, the longtime monopolies and oligopolies that dominate telecommunications will have to learn to live without the regulations and costly barriers to entry that have protected their markets--and without the associated corporate bloat. Beyond deregulation, the fiber optics, wireless telephony, and compression software that vastly multiply the capacity of a phone line means that tens of thousands more calls can be transmitted over a single wire, cutting both the manpower and the money needed to run a phone company. So cable operators, electric utilities, and even railroads can afford to get into the telecom game--and they are.
As a result, says Mark R. Bruneau, president of Boston-based consultant COBA-M.I.D. Inc., some 100,000 traditional telecommunications jobs will be eliminated in the next five years, atop the 250,000 cut since the Bell system breakup in 1984. "I can't think of any company that has all of their restructuring accomplished or is facing the market in exactly the way they want to," says Dwight L. Allen, director of telecom consulting at Deloitte & Touche. "Everyone is going to have to constantly adapt and adjust."
"FIERCE." In the past two years, the nation's phone companies have announced plans to lay off some 130,000 phone workers. AT&T has been the most aggressive, shrinking its workforce by 73,000 since 1984, despite the acquisitions of NCR Corp. and McCaw Cellular Communications Inc. (chart). Its latest round, though, will cut particularly deep--"a good indication that AT&T is going to be a fierce competitor," says Linda B. Meltzer, an analyst at UBS Securities Inc. Most analysts had predicted that only 20,000 to 30,000 jobs would be eliminated following the company's announcement on Sept. 20 that it will break into three separate companies.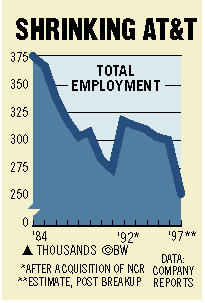 AT&T will take a $6 billion write-off in its 1995 fourth quarter, including $3.4 billion to cover asset writedowns and the closing, sale, or consolidation of facilities. The charge will reduce 1995 earnings by $4 billion, but analysts expect higher future profits that AT&T can plow into its next big venture: the local-calling business. AT&T has made it clear that it plans to go after the Baby Bells as soon as deregulation allows.
The big question, says Merrill Lynch & Co. analyst Daniel Reingold, is: "How will they get into local service, and how much will it cost?" AT&T must forge direct links to homes and offices by building its own local networks or buying a major cable operator or competitive-access provider. But either approach could cost some $5 billion or more, requiring all the efficiencies AT&T can muster. The preparations will be painful, indeed--and they aren't nearly over.
Before it's here, it's on the Bloomberg Terminal.
LEARN MORE