Taiwan Is Too Small For This Upstart
Chinatrust is building a global bank around overseas Taiwanese
John Winzenburg
Jeffrey Koo was ready when Taiwan opened its commercial banking industry to private competition in 1992. For 26 years, he had sat on the sidelines. Although Koo's trust company had flourished by providing long-term capital to Taiwanese businesses, Taiwan's lethargic government-run banks monopolized the commercial-banking sector. As soon as the ban was lifted, Koo formed Chinatrust Commercial Bank, and in just three years he was earning praise as Taiwan's most innovative banker.
But Chinatrust has hit a roadblock. With 15 other private banks fighting for market share and multinationals, including Citibank, breathing down his neck, Koo must find a niche or see his bank's growth stunted. So the 62-year-old chairman wants to weave a worldwide banking network to serve Taiwanese communities abroad, which are growing as rich entrepreneurs invest in technology, hotels, and manufacturing. "Chinatrust is going to be a global bank," proclaims Koo.
ARISTOCRATIC. Chinatrust certainly has a solid base to work from. The bank is part of the Koo family empire, which is one of Taiwan's largest conglomerates and claims some $30 billion in assets, including holdings in manufacturing, tourism, and electronics. Chinatrust has nearly $13 billion in assets, and its 1995 estimated net profits totaled $84 million. It earned its success by offering new products to the island's service-starved customers, especially in the area of credit cards. While its overall share of the banking market still lags behind the entrenched government banks, Chinatrust has clawed its way to No.1 among private commercial banks.
Still, with a market of only 21 million customers at home, says Shu-min Huang, analyst for S.G. Warburg Securities Ltd. in Taiwan, "the only way for Chinatrust to sustain profit growth over the long run is to go overseas." The massive investment in mainland China, Southeast Asia, and elsewhere by Taiwanese manufacturers over the past five years has given Koo his chance.
His strategy is to begin by serving offshore Taiwanese executives and their companies and then to crack the local markets. Chinatrust has already set up representative offices throughout Asia (map) and is opening joint-venture banks in Indonesia and the Philippines. Next year, Chinatrust will open its first two overseas branches in India, where returns on direct foreign investment are above average, and Paraguay, where the Taiwanese government is encouraging inroads. Chinatrust plans to have 20 branches outside Taiwan by 2000.
Koo holds an MBA from New York University and is nephew of Taiwan's de facto ambassador to Beijing, C.F. Koo. He formed his bank in 1966, dipping for capital into a family fortune built up over decades. Valuable political connections helped Koo cash in on business lending when Taiwan's economy exploded as a low-end, family-driven manufacturing power. Now, his office collection of French Impressionist paintings attests to his position as an aristocrat. High-school-age office assistants kneel while serving tea.
JUST REHEARSING? Indeed, Koo is one of Taiwan's most influential business leaders, with close ties to President Lee Teng-hui. He is also following in his uncle's diplomatic footsteps: During a visit to Beijing in September, he carried private messages between President Lee and mainland Chinese officials. The hope was that talks between the two sides, which broke down after Lee visited the U.S. in June, would resume.
The peacemaking role should stand Koo in good stead. Chinatrust has had to postpone plans for mainland China operations as Taiwan's relations with the People's Republic has soured. But the Koos' connections in Beijing could further Chinatrust's future mainland interests, should relations thaw after Taiwan holds its presidential elections in March.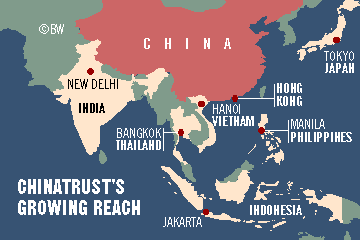 In fact, some analysts believe that in putting up branches around the globe, Koo is simply rehearsing for a bigger push into the mainland once politics allows it. And many think Koo's globalization strategy won't be complete until he can fully exploit his cultural and political proximity to China. "His real goal is the PRC," says a foreign lawyer with close ties to the financial community.
Skeptics also wonder whether Chinatrust can ultimately compete with giants such as Citibank, which has long had the products Chinatrust is only now launching. Yet in Taiwan, Chinatrust beat out all other banks--foreign and local--early last year when it introduced its international automated-teller-machine card service. And in July, the bank began a massive restructuring to decentralize decision-making, allowing individual branches to adapt policies to local markets. Koo seems determined never to be sidelined again.
Before it's here, it's on the Bloomberg Terminal.
LEARN MORE