Savior From Down Under?
Aussie Ian Diery's plan for AST: Get PCs to market faster
Larry Armstrong
For most personal computer makers, it has been another bountiful holiday season. Not for struggling AST Research Inc. and its new CEO, Ian Diery, though. This season, Diery was focusing on survival. His goal: Apply the brakes on AST's yearlong free fall and start mapping a recovery plan.
Diery, former executive vice-president of Apple Computer Inc., was named president and CEO of AST on Nov. 2, replacing founder Safi U. Qureshey, who remains as chairman. Within days, the 46-year-old executive had sketched out a turnaround plan to restore AST to its former glory. Its key points: be first to market with leading-edge products, coddle resellers so they prefer dealing with AST rather than Compaq or Hewlett-Packard, and get better at figuring out where the PC market is headed.
Can it work? It is, after all, the same strategy that helped AST grow into a $2.5 billion company. But somewhere along the way, about the time of its ill-fated $112 million acquisition of Tandy Corp.'s computer operations two years ago, AST lost direction. Since then, it has been plagued with endless reorganizations and revolving-door management. It hasn't posted a profit since March, 1994. Sales growth has been anemic, despite an industry boom, and the company has piled up $205 million in losses (chart). For the quarter just ended, Salomon Brothers Inc. analyst John C. Dean estimates that AST will post a $38.2 million loss on revenue of $616.5 million.
OUTSOURCING. Things hit bottom last fall. For the quarter ended Sept. 30, AST's revenues plunged nearly 20% from the same period the year before, to $403 million, and the company reported a $96 million loss. That was enough to drop AST, once the fourth-ranked PC maker, to 10th place for the year, according to market researcher International Data Corp. IDC estimates that in 1995 the company sold just 566,000 computers in the U.S., down more than 20% from 1994. With a horrendous product mix--the company had no low-end home PCs and was slow to market powerful high-end models--the 16-year-old veteran of past PC wars was displaced by companies such as Hewlett-Packard Co. and Digital Equipment Corp. that weren't even in the market two years ago.
The market rout has sent AST running back to Korea's Samsung Electronics Co. for help. Samsung, which acquired a 40% stake in AST in August for $378 million, on Dec. 21 agreed to guarantee AST a $200 million bank credit line and extend $100 million in credit for component purchases. In exchange, it gets options for 4.4 million shares that will bring its ownership up to 45%. More important, AST will let Samsung name another director, ceding it majority control of the board.
How to put AST back in the fast-changing PC game? Diery's first proclamation: Being first is more important than being best. In other words, even if AST's in-house engineers think they have a new twist on PC technology, Diery won't even consider building that into a new model if it means coming out late. After all, AST's problems started because it kept missing product-launch dates as engineers fiddled with features. As late as a year ago, it was designing everything from motherboards to keyboard-controller chips by itself. Rivals such as Packard Bell Electronics Inc. that bought such components were able to come out with new machines based on the latest Intel chips much sooner. "Now, we have to focus on what we should do ourselves and what we should outsource," says Qureshey.
FAST PROFIT. That extends all the way to the very guts of the computer. Diery is now ready to start buying motherboards from Intel--as most rivals already do. "At the moment, we're months behind delivering higher-speed systems," he says. "We're going to Intel--they do a fabulous job, and we should take advantage of it." With product development cycles as short as six to nine months, Diery says all the money must be made in the first four months in order to break even on a new product.
He's also putting AST back into mass-market consumer stores with a new line of home PCs. Concluding that most home PCs were unprofitable, the company had killed off the low end of its AST Advantage! brand last year--with dire consequences. Stores started dropping AST's single remaining home computer in favor of HP, which fielded a full line under its new Pavilion brand. Even Radio Shack, once a sure outlet because of the three-year supply agreement that came with the Tandy buyout, in August started featuring IBM's Aptiva computers in the ads for its 6,600 stores.
Now, Diery is reviving the company's home PC line and expanding the number of models to match rivals, though he missed the hot holiday selling season. "You can make money there if you have a well-balanced product line," he says.
"FUNDAMENTALS." The only way to get back in the game with companies such as Compaq and Packard Bell is to read the market minute by minute, says Diery. So the hyperactive Australian is demanding a more market-focused approach around AST's Irvine (Calif.) headquarters. The new boss is trying to make the company's sprawling operations--with plants in Texas, Ireland, Hong Kong, Taiwan, and China--more responsive to changing preferences among buyers. He demands that reports on each day's bookings and billings around the world be on his desk by 10:30 the next morning. "This business is all about trends," he says. "We've got to get the fundamentals in place."
Diery has shown he already knows how to read a trend. He built Apple into the No.1 U.S. brand in Japan with such marketing tricks as sponsoring Janet Jackson concerts. Later, as executive vice-president, Diery was instrumental in pushing multimedia to make the Macintosh a popular home PC. But he was forced out of that job in April in a restructuring orchestrated by Apple CEO Michael H. Spindler.
Diery, who was regarded as a bit abrasive in Apple's consensus-driven culture, didn't follow the typical career path to the top. He's a gregarious amateur rugby player and competitive horseman. After dropping out of college and trying his hand at a number of small businesses, including one to sell color TVs, he backpacked through Asia and Europe, doing odd jobs to pay his way. In 1977, he found himself driving a cab in London and yearning for a real job. So he called IBM, Xerox, and Wang Laboratories for interviews but skipped the first two when Wang hired him on the spot to sell word-processing systems. He rose quickly at Wang, eventually heading up the company's European unit, and then worldwide operations.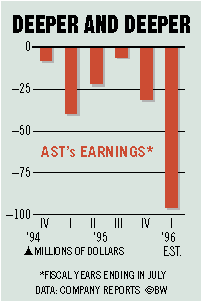 Turning AST around, though, is going to take more than super salesmanship. "There's no question that hiring him is a great start," says analyst Kimball H. Brown at Dataquest Inc. "But AST has been skimping on management for too long." Diery will have to move fast to refill the executive suite. In September, Qureshey fired President James T. Schraith and two managers. Three other executives have since left.
Despite AST's troubles, no one is willing is write it off. "The PC industry is full of companies who hit the wall and came bounding back," says Lise J. Buyer, technology analyst at T. Rowe Price in Baltimore. If AST does come back, Diery stands to make out on the deal. In addition to a base salary of $700,000, he has options for 1 million shares he can start to exercise once the stock--hovering around $8.50--hits $9.37. That should give this salesman incentive to make his quota.
Before it's here, it's on the Bloomberg Terminal.
LEARN MORE