R. R. Donnelley's Press Of New Business
The six billion dollar printer Donnelley thrives by seizing electronic tools
Richard A. Melcher
As he walks around a splendid Gothic-style library at the Chicago headquarters of R.R. Donnelley & Sons Co., John R. Walter proudly points to museum-quality material--everything from Ming Dynasty currency to leaves from The Canterbury Tales. The 48-year-old chairman pulls out an inaugural issue of Life magazine dated Nov. 23, 1936. But as he turns the aging pages, he says, with a trace of irony: "This isn't relevant anymore."
In recent years, Walter and his top managers have wondered whether Donnelley, the world's largest commercial printing company, was still relevant itself. In a world that's becoming increasingly dominated by software, electronic publishing, and the Internet, they worried that traditional ink-on-paper printing might be facing a gradual but inevitable obsolescence.
Now, those worries appear to have been premature. The company is thriving, thanks to Walter's two-pronged strategy: Donnelley is taking advantage of high-tech and electronic publishing tools to increase its share of the mature U.S. market while bolstering its position in the still-lucrative traditional print business in developing countries. Early this year, the company will begin a series of big new contracts, ranging from the printing of phone books in China to a huge 10-year pact to print 15 million copies a month of Reader's Digest in the U.S. Indeed, growth in its magazine unit--which prints Time, Newsweek, and BUSINESS WEEK--and growth in catalogs and phone books helped boost Donnelley's 1995 sales an estimated 31%, to $6.4 billion, and earnings 12%, to $301 million, figures James D. Dougherty of Dean Witter Reynolds Inc. He expects sales to jump a further 18% this year, to $7.6 billion, and income to rise 17%, to $353 million.
EXACT AIM. Yet Donnelley's future does indeed lie in the digital era. Walter talks of transforming the old-line printer from a manufacturer to a marketing-and-services company able to provide customers with editorial products in whatever format they want--from magazines to software disks and online material. "We will take any kind of content to the end-user," says Walter.
In fact, technology that once seemed so threatening is now strengthening Donnelley's ties to customers. A longtime printer of Microsoft Corp. software manuals, Donnelley is now one of the top duplicators and wholesale distributors of software disks for Windows 95. And insiders at Reader's Digest say Donnelley won the contract to print the American edition from Quebecor Inc., a Montreal rival, after agreeing to invest in new computerized sorting equipment at its Lancaster (Pa.) plant. The gear allows the publisher to aim promotional inserts or ads at specific groups or neighborhoods. While Walter figures that the rise of software and other market trends could make 25% of Donnelley's business obsolete, "the opportunities created by technology far outweigh the risks," he says.
But that means heavy spending: Over the past two years, Walter has invested roughly $225 million annually on new technology. In mid-1995, Donnelley acquired Corporate Software Inc., then merged it with its own Global Software Services. Now renamed Stream International, the $1.5 billion software producer, distributor, and consultant represents 23% of sales, up from an 8% sliver five years ago. Stream is growing at 25% annually and this year is poised to overtake catalogs as Donnelley's largest division. Its traditional business is getting a high-tech gloss, too: Donnelley opened a digital printing plant in Memphis that allows it to download information directly from customers and print targeted catalogs and promotional materials the same day.
THREAT OVERSEAS. To be sure, Donnelley isn't the only old-line printer going electronic. Rivals such as Quebecor, Banta, and Quad Graphics are also making the shift. But the sheer scale and range of Donnelley's services--funded by annual cash flow of roughly $700 million--are winning kudos from customers. "All of the printers have access to the same technology, but Donnelley understands the full implications of how we might market our products," says Steve L. Joss, vice-president for marketing at Capital Cities/ABC Inc.'s Agricultural Group. Joss now has 19 magazines under contract with Donnelley. Donnelley turns out thousands of variations of some of the titles, tied to data such as the size of subscribers' farms.
Investors have certainly cheered the shift. The company's return on equity had averaged nearly 17% in the mid-1980s--but early in the 1990s it fell to 13.5%. The stock mostly moved sideways, trading around 30 until late 1994. "Operating results never quite matched the rhetoric," says Dean Witter's Dougherty. Now, analysts expect ROE to return to nearly 17% by 1997, up from around 14.9% in 1995. Over the past year, Donnelley's shares have jumped 33%, to 39 3/8. Says E. Wayne Nordberg, an equity partner at Lord, Abbett & Co., a Donnelley shareholder: "They have become much more masters of their own destiny."
Overseas, too, Donnelley is becoming more of a threat. Over the past two years, Walter has poured an estimated $300 million into four ventures abroad. He has steered clear of the well-established heavyweights in developed markets. Instead, he's aiming to tap developing countries that have high literacy rates and a growing middle class, where conventional printing is still a growth business. Donnelley has acquired a 51% stake in Chile's Editorial Lord Cochrane and a 25% stake in India's Tata Press Ltd. It converted a military-jet hangar in Krakow, Poland, into a 350,000-square-foot printing plant and built a new facility in Shenzhen, China. Baltimore's Waverly Inc., a $140 million medical-book publisher, is eyeing Donnelley's Chinese and Polish plants as a springboard for its own expansion.
Such moves have pushed estimated international sales to 16% of the total, up from 7% five years ago. While Europe is crowded with printers, Hans Preising, an official at the print and publishing arm of Bertelsmann AG, says the German giant is taking "special note" of Donnelley. "It is making its way onto the marketplace with power and force," he says.
Much of the credit for the remake goes to Walter. Intense, hypercompetitive, and self-confident, Walter rose to the presidency at 39 in 1987 after stints in sales and manufacturing. He recalls asking one former chairman "to promote me until I fail. I don't want to be held back because of my age." When Walter became chairman and CEO two years later, he took over a company that insiders have described as bureaucratic, slow-moving, and beset by regional rivalries.
NIMBLER. Walter quickly set a new tone. He pushed contract negotiations and pricing decisions away from headquarters and into the hands of business-unit managers, and he urged them to spend more time with customers and employees. "This used to be a militaristic, autocratic operation where much of the management team and hourly workforce were administrators," says Jonathan P. Ward, head of the commercial printing unit. "Now, we're expected to make decisions."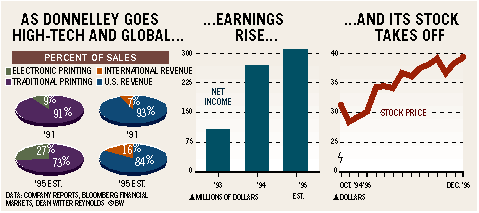 Still, it's hard to make a company of Donnelley's size very nimble. Although Lee E. Krubner, vice-president for operations at a Waverly unit, generally lauds Donnelley, he also says the company's marketing thunder sometimes exceeds its ability to deliver. "They move into markets with the brute force of a [$6 billion] company," says Krubner. "They can tell the right story, but getting all the pieces to work together takes time." Warns Harry V. Quadracci, CEO of $1 billion privately held Quad Graphics Inc.: "Donnelley's challenge will be dealing with size. They'll see smaller companies that are more flexible and guerrilla-like in their sales." Quadracci says he has picked up contracts from publishers that became wary of a growing Donnelley dominating the market.
It's a dilemma that Walter insists he's well aware of. "Size can be our greatest asset," he says, "but it can also be a big problem if we are not nimble and fast." If he can continue to bring about change at the company, he's certain to ensure Donnelley's future, even if its printing presses one day end up in a museum.
Before it's here, it's on the Bloomberg Terminal.
LEARN MORE