More Smooth Sailing In Santiago
by
Chile is an anomaly in Latin America. Unlike in Mexico or Argentina, policymakers aren't grappling with recession, a weak currency, or a dearth of foreign capital. It's just the opposite.
Chile's economic fundamentals are solid: a 25% saving rate, excellent external finances, an expected eighth straight budget surplus, and a strong dollar-pegged peso. Chile's economy appears to have grown more than 8% in 1995, with inflation continuing to trend downward, hitting a 35-year low of 8.2%.
Officials were worried that growth, led by a 15% advance in domestic demand, would be too fast to assure another year of declining inflation. That concern prompted the central bank to lift benchmark interest rates by a full point, to 6.7%, in early December. Chile has also issued new curbs to further limit the inflow of short-term "hot money" into its already tightly regulated financial markets. So analysts expect economic growth to cool a bit in 1996 to about 7%, with inflation slowing to a similar pace.
If policymakers can pull off a soft landing, Chilean equities should show another good year. They were something of a regional haven in 1995 amid uncertainty over Latin America. Also, analysts expect robust domestic demand in '96 to fuel 20%-to-30% growth in corporate earnings.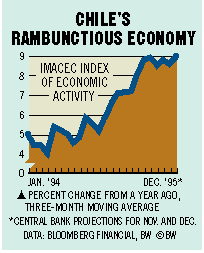 One downside of such vibrant demand, combined with last year's 5%-to-6% appreciation of the peso, is more imports. Chile's trade balance went into deficit at midyear, although the full year should post a surplus. That surplus may slip this year, especially amid weaker prices for copper, which accounts for a third of Chile's exports. Still, Chile holds a generous $14.5 billion in foreign reserves.
In an effort to further enhance its trade prospects, Chile is working to gain entry into the North American Free Trade Agreement and the Mercosur trade groups. Temporarily stymied in those efforts, officials announced on Dec. 29 that they will negotiate their own trade agreement with Canada. Chile already has a separate pact with Mexico.
Before it's here, it's on the Bloomberg Terminal.
LEARN MORE